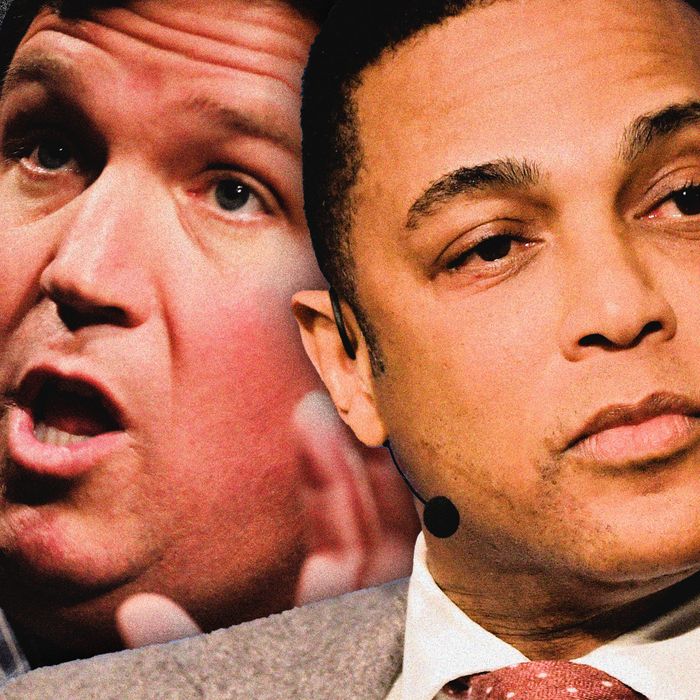 Photo-Illustration: Intelligencer; Photos:Getty Images
Both Democrats and Republicans had reason to celebrate Monday morning at the downfall of the two smuggest, most hectoring faces of the Trump-era American cable-news landscape. Don Lemon and Tucker Carlson were shilling for the opposite sides of the partisan divide — and, let's be honest, one (Carlson) was the bigger and more dangerous star — but at their respective networks, they had become the same, ultimately unemployable character: the office asshole. Eventually, their bosses just had enough.
Yet, not so long ago, the idea of the two of them being kicked to the curb in one morning, without warning, seemed inconceivable. They had certain things in common.
They could be misogynistic. Fifty-seven-year-old Lemon infamously talked about women being past their "prime" and "mommy brain," and then there was April's explosive Variety report headlined "Don Lemon's Misogyny at CNN, Exposed." Carlson, according to text messages in the Dominion suit, referred to his own guest Sidney Powell as a "cunt."
They did not play well with others. Lemon snapped at his younger co-hosts after he was bumped to the morning show, unable to share the spotlight. Carlson sniped live on air at Fox contributors who appeared on the network at other hours.
Lemon succeeded as a prime-time blowhard when Jeff Zucker and Allison Gollust ran the network, but the host's antics didn't translate into a morning time slot or with CNN's new regime. His gaffes kept piling up, and the show suffered.
In Carlson's case, it was reported by Stephen Battaglio in the Los Angeles Times that his exit was directly related to a discrimination lawsuit filed by former producer Abby Grossberg. Her attorneys said Carlson's departure was "an admission of the systemic lying, bullying, and conspiracy-mongering" he oversaw at his show.
Rupert Murdoch reportedly soured on Carlson over his wacko January 6 commentary. And I couldn't help but be reminded of a line in the current Vanity Fair cover story on Murdoch about how the mogul's latest girlfriend was a little too taken with Carlson. "She said Tucker Carlson is a messenger from God, and he said nope," a source told Gabriel Sherman.
Because Carlson was a ratings juggernaut, and because he for a while seemed to have been allied with Lachlan Murdoch, there was an aura of invincibility around him. But the Dominion files revealed how poisonous his position was inside the network. His texts demanding that reporter Jacqui Heinrich be fired for accurately fact-checking Trump pissed off many at Fox. And Carlson was shown to be talking arrogantly about Fox leadership — including his boss, Suzanne Scott, who replaced Roger Ailes. "We devote our lives to building an audience and they let Chris Wallace and Leland fucking Vittert wreck it," he texted fellow opinion hosts Sean Hannity and Laura Ingraham.
Inside Fox, staffers obsessively read the blog Mediaite, so tails were wagging last month when that publication's editor, Aidan McLaughlin, dropped a report loaded with blind quotes saying how Carlson had "gone rogue." The host gave a rare on-the-record response refuting a feud with Scott — "The idea that there's a 'power struggle' between us is absurd" — but few bought it.
The network finds itself at a tricky juncture. Scott's signature accomplishment since taking over from Ailes has been to build out the streaming Fox Nation. The elderly viewers who tune in each night for a dosage of political bile from their favorite personalities are slowly being converted into users of the app, on which Carlson awaited them in softer light, framed by wood paneling, in a slightly less rage-y mood. There, he presented interviews with gun manufacturers, Russell Brand, someone named "Chicken Lady," and, just last week, Elon Musk. Fox hasn't just lost its highest-rated nighttime host — it's pulled the main turbine out of its streaming engine. "He's the face of it," says one Fox contributor. "His footprint there is so huge."
Last Friday, according to a Fox source, Scott and Lachlan Murdoch made the decision that Carlson's time was up. He wouldn't find that out until Monday. He used his final minutes on air Friday night to promote the app he had helped build. "By the way, the entire episode of Let Them Eat Bugs — not quite as good as pizza — streaming now on Fox Nation. Use the promo code 'originals' for 30 days free," he said. "And we'll be back Monday!"
It's difficult to say if Carlson's hypocrisy got through to his (and the streamer's) base. He sucks up to Trump's face while saying "I hate him passionately" behind his back.
Carlson was cunning and, for millions, convincing. He sometimes commanded as many as 3.7 million viewers. Many on the right considered his 8 p.m. show to be the most influential hour of conservative television since William F. Buckley's Firing Line, and there's a whole constellation of right-wing media figures today who exist only because they appeared on Tucker Carlson Tonight. He was the "Lonesome" Rhodes for our mad era — I'm not just an entertainer. I'm an influencer, a wielder of opinion, a force, a force! — and the MAGA wing of the party, already deeply skeptical of Fox News for about a thousand different reasons, is reeling.
"Fox has essentially canceled the single most influential conservative commentator in the country, at the same time killing a cash cow for the network," Roger Stone told me. "I think it changes things permanently," Donald Trump Jr. said in an interview with Charlie Kirk. "It's mind blowing to me." News of Carlson's firing sent Fox stock tumbling, erasing $507 million in value on Monday, according to Bloomberg.
The other highest-rated show on Fox is The Five, which Ailes used to say internally was more like The Ten because, for every five people on that show, there was always another five behind them he could swap in at any time. Each time a star falls at Fox — Bill O'Reilly, Megyn Kelly, Glenn Beck — they seem to plummet right into irrelevance as soon as that red light stops blinking. Maybe Carlson will be the exception? "I have no doubt whatsoever that Tucker Carlson's massive audience will follow him wherever he ends up going," says Stone.
One thing is for sure: Cable news just got a little more reasonable, if only for a day.