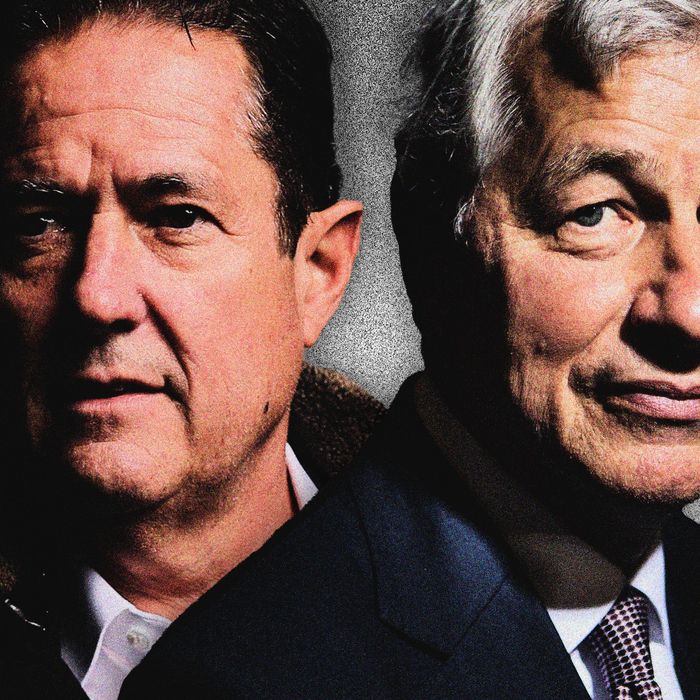 Photo-Illustration: Intelligencer; Photos: Getty Images
There aren't that many ways left to get a fuller understanding of the life of Jeffrey Epstein. The man died in 2019. His enabler, Ghislaine Maxwell, has been convicted for facilitating his sex-trafficking enterprise and is serving 20 years in prison. Prince Andrew privately settled abuse claims made against him by Virginia Giuffre. Even the fund created to compensate Epstein's victims puts strings on the money, reportedly curbing their ability to sue some of his associates, including Maxwell. Any remaining discoveries or revelations may come simply from continuing to follow the money and scrutinizing the fake hedge-fund manager's financial dealings with the megabanks and financial titans that allegedly ignored, or even participated in, his criminal operation. On Monday, a ruling in Manhattan federal court handed one of those Wall Street titans, former banking executive Jes Staley, a legal victory by giving him more time for discovery in his defense against claims that he personally facilitated Epstein's sex-trafficking operations, though he lost a bid for a separate trial. Late Wednesday, a related suit revealed that the bank knew Epstein was paying for underage girls as far back as 2006, and top executives had held at least four meetings about him years later. The next few months are likely to reveal, in granular detail, the ways Epstein tapped the financial system and key players within it to help build his criminal enterprise.
Right now, there are at least three related cases making their way through the Manhattan federal courts that probe how Wall Street may have supported and enabled Epstein. At the center of all of these is Staley, a former protégé of JPMorgan Chase CEO Jamie Dimon, probably the most powerful person in finance. Staley spent more than 30 years at JPMorgan, rose to be the CEO of its massive asset-management and investment-banking divisions, and went on to helm Barclays, one of the U.K.'s most important banks. Two of the suits are purported class-action suits brought by David Boies and Sigrid McCawley, the lawyers for Giuffre, on behalf of anonymous victims — one against JPMorgan, the other against Deutsche Bank, apparently one of the only banks that would take him after Staley briefly helmed a hedge fund. These suits argue that the banks made it possible for Epstein to run his sex-trafficking operation and turned a blind eye to suspicious activity because they were benefitting from his money and network.
The other suit, accusing JPMorgan and Staley of criminal trafficking and fraud, is brought by the U.S. Virgin Islands, where Epstein had his so-called Pedophile Island. It's a strange case since the prosecutor was dismissed from her job just a few days after she filed it. But Virgin Islands' prosecutors, who have subpoena power, have uncovered bleak revelations about the lengths to which Staley and the bank had supported Epstein. Staley called his friendship with Epstein "profound," having visited him personally in Florida, at the private island, and in prison. Among the 1,200 emails they exchanged are ones that discuss women code-named for Disney princesses — "Snow White" and "Beauty and the Beast" are discussed. In another, Staley replied "Yep" to a question from Epstein about whether he would need anything during a visit. After that, Epstein wired $3,000 to a woman with an Eastern European name; according to the Virgin Islands' suit, Epstein had trafficked many women from Eastern Europe after 2008. Internal red flags raised by the bank's security team appear to have gone unheeded. JPMorgan has denied any wrongdoing and claims the law doesn't require it to protect a victim from a client. Staley, too, has denied any wrongdoing.
It's around this point that you start to wonder why this all wasn't settled quietly before it made it to court. JPMorgan isn't new here, and like any bank, it gets accused of wrongdoing all the time — frivolously or not. But most lawyers try to keep such revelations out of the public record, and these kinds of plaintiffs have been open to settlements in the past, if the compensation-fund and Prince Andrew deals are any guide. The answer as to why we're here remains a bit murky, but in March, JPMorgan all but guaranteed it would stay in the courts longer by filing its own complaint, which tries to shift the blame solely on Staley. The real problem, the bank says, is that Staley didn't follow a code of conduct he signed. "Staley repeatedly abandoned the interests of JPMC in pursuit of his own personal interests and benefits and those of Epstein," JPMorgan claims in the filing.
It is up to Judge Jed Rakoff to decide if that's credible. After all, Staley was a man who rose to prominence in part because of his ability to make extraordinary amounts of money for the company, who for a time was part of Dimon's inner circle, and who helped steer the bank as a member of its operating committee. And to be clear, the legal theory against the bank essentially boils down to whether it had enough information about Staley's relationship with Epstein to do anything about it. Staley's successor, Mary Erdoes, said in a deposition that the bank "was aware by 2006 that Epstein was accused of paying cash to have underage girls and young women brought to his home," according to an updated complaint from the Virgin Islands prosecutors. Other emails appear to show speculation that Dimon personally would have reviewed a $120 million account controlled by Epstein that flowed out of the bank in 2008, though Wexler said "there is no record of, nor does he recall, such a review." In 2010, the bank's compliance officers had noted that Epstein "is also an alleged personal associate of the CEO of the Investment Bank (Jes Staley)" and wondered "whether Epstein if further exposed could have a potential serious impact." Another email called him a "Sugar Daddy!" And there may very well be more coming out, since Dimon's deposition is scheduled for May 15, according to a person directly familiar with the case.
JPMorgan's strategy here is to amplify the women's claims — which, to be fair, is better than Prince Andrew's strategy, which was to attack Giuffre's credibility. "Bottom line, both plaintiffs have accused Staley of misconduct," Trish Wexler, a spokeswoman for the bank, told me. "Indeed, the anonymous accuser herself has directly accused him of horrific sexual misconduct, which, if true, he must be held accountable for. We brought him into this because he is inextricably linked to these cases," referring to the bank's motion to bring in Staley as a defendant, thereby laying the blame entirely on him.
But take a look at this from the other side. Since the bank is trying to pin Staley as the sole perpetrator, it's in his interest to spread the blame around. Didn't he have executive assistants who managed his calendars? Didn't he have deputies who discussed major accounts at regular meetings? Didn't he have revenue targets to meet? All these details may not exactly exonerate Staley, but they could add to the appearance that he wasn't the sole rogue banker that Wall Street is now making him out to be. More than three years after Epstein's death, the extensive record of trials, lawsuits, and investigations makes it clear that the pedophile never did anything without someone else's patronage. If Staley was Epstein's main supporter for years, Wall Street has to reckon that it was responsible for backing him, too.
Update: This story was updated to include an on-record statement from a JPMorgan spokesperson saying that there is no record of Dimon reviewing any account from Epstein, nor does the CEO recall any such review.