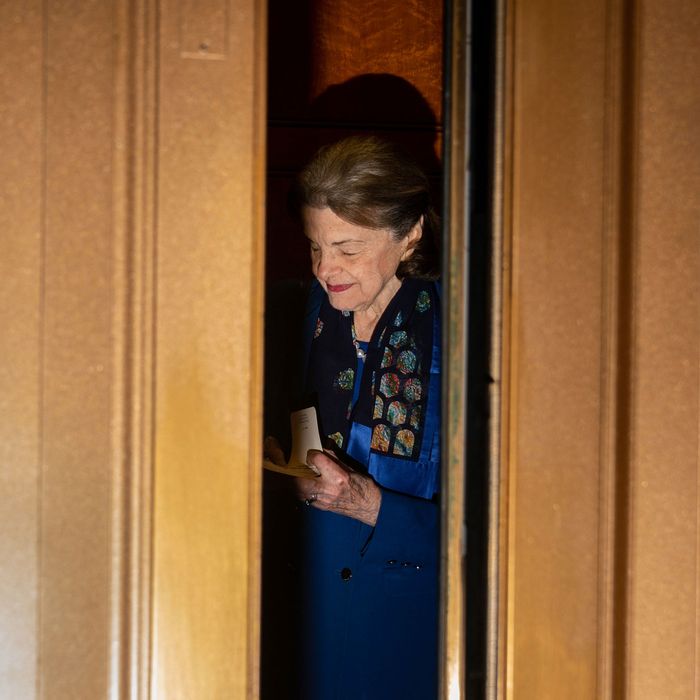 Diane Feinstein, absent senator in a closely divided chamber.
Photo: Kent Nishimura/Los Angeles Times via Getty Images
Ever since she won a fifth full term in the Senate in 2018 at the age of 85, California's Diane Feinstein has been bedeviled by talk that she's no longer able to discharge her duties and arguments that Democrats should push her into giving up her seat. The chatter reached a crescendo in early 2022, when the San Francisco Chronicle — her hometown newspaper — published a long article full of blind quotes from colleagues, staffers, and other close observers of the senator suggesting she needed to go sooner rather than later. Personally, I got some flak for writing that ending Feinstein's career was a prerogative of California voters, who reelected her handily in 2018 despite her age being the principal campaign issue.
In any event, she weathered that storm and took much of the pressure off herself by announcing in February of this year that she would definitely retire at the end of her current term, even as would-be successors were already lining up.
But now concerns about Feinstein are back with a vengeance, as NBC News reports:
Alarm bells are ringing among prominent Democrats about Sen. Dianne Feinstein's lengthy absence from the Senate and the roadblock it presents to confirming judges.




The 89-year-old California Democrat hasn't cast a vote in the Senate since Feb. 16, announcing during her absence that she was hospitalized and recovering from shingles. The chamber returns to session next week after a two-week recess, but Feinstein spokesperson Adam Russell said they "don't have an update at this time" on when she will be back.
As a member of a narrow Judiciary Committee majority, Feinstein's attendance is crucial, NBC notes: "The panel needs a majority present and voting to send nominees to the floor — a tie vote doesn't cut it. [Chairman Dick] Durbin has been forced to repeatedly delay committee meetings to approve batches of nominees that lack Republican support."
With the pressure on Feinstein steadily increasing, she has reportedly moved to make sure her absence doesn't hamstring Judiciary:
But her vote on the floor is being missed as well in the closely divided Senate, where Democrats have a 51-49 majority. And the longer she is away, the more her colleagues have to wonder if she's coming back at all:
Democrats are acutely aware that the Biden administration and its window for getting crucial business done could end in January of 2025 (when Feinstein's term ends as well) with either a Republican Senate, a Republican White House, or both. It's not a time for any wasted effort.
So those pressuring Feinstein to return to Washington or step down immediately could eventually include a lot of her colleagues and eventually even her friend the president of the United States.
But if she does resign, Governor Gavin Newsom would be in a position to fill the vacancy even as three highly qualified U.S. House members are running for a full term in the seat in 2024. And that's where it gets complicated, as SFGATE observes: "While facing a recall effort in 2021, Newsom vowed to appoint a Black woman to replace Feinstein should she leave office ahead of her term's expiration."
Of the three current candidates for the seat, only one — Oakland congresswoman Barbara Lee — is a Black woman (her opponents are white progressive woman Katie Porter and white centrist man Adam Schiff). So does Newsom put Lee in the seat to redeem his promise and make the 76-year-old progressive legend the instant front-runner? Or does he appoint a different Black woman as a "caretaker" senator with all the condescension that implies? If said appointee isn't Lee, and isn't a caretaker, could Newsom's action create a four-candidate 2024 pile-up in the Senate race, perhaps creating an opening for a Republican to make the general election under California's top-two primary system? Or could someone broker a deal wherein Lee gets the interim Senate appointment but doesn't run for the full term?
It's all unclear. But it's not surprising that one of the high-profile voices calling for Feinstein's immediate resignation is Lee's campaign co-chairman, Silicon Valley congressman Ro Khanna:
The 2024 Senate race in California was already destined to be insanely expensive and perhaps very divisive for Democrats. I don't know what Porter and Schiff will say publicly about the burgeoning campaign to push Feinstein into retirement. But they probably hope she recovers quickly and returns to Washington to start voting those judges onto the bench.