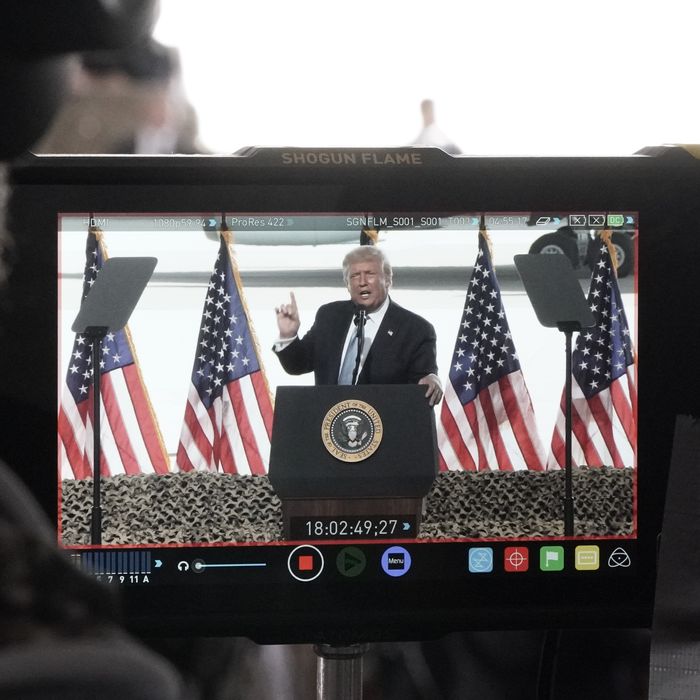 Photo: Bing Guan/Bloomberg via Getty Images
As the city prepares for Donald Trump's Tuesday arraignment in Manhattan, one big question still looms: What will the public be able to see? Here's what we know about the likelihood of our seeing Trump in the courtroom or his mug shot.
Will we see his mug shot?
Trump is expected to be photographed and fingerprinted just like any other average citizen facing charges once he arrives at the Manhattan courthouse. It's not yet certain that the public will get to see Trump's mug shot, however. Photographs of the arrested are not automatically made public under New York law, but as the New York Times notes, an exception could be made in this instance due to "the intense public interest." Changes were made to the state's legal statutes concerning mug shots in 2019, the Albany Times Union reports.
What will we see at the courthouse?
Trump traveled from Florida to New York City's La Guardia Airport on Monday and spend the night at his Trump Tower penthouse in midtown. His Tuesday appearance before a judge is scheduled for 2:15 p.m. downtown, where law enforcement has been preparing by closing off access to streets around the Manhattan Criminal Court.
Reuters reports that "courtrooms on higher floors of the courthouse will be closed at 1 p.m.," and cases in nearby buildings will be adjourned in anticipation. It's highly unlikely that Trump will be perp-walked, largely for security reasons. According to CNN, he could be brought into the courthouse via a rear or underground entrance. He is not expected to stay long and will then head to Mar-a-Lago, where he plans to make a speech on Tuesday evening.
Will the arraignment or trial be aired?
The New York Daily News reports that several news organizations have pushed for Trump's arraignment to be broadcast, citing its historic nature.
"The gravity of this proceeding — the unprecedented and historic arraignment of a former U.S. President — and, consequently, the need for the broadest possible public access, cannot be overstated," wrote attorneys representing CNN, the New York Times, and the Washington Post in a letter to the presiding judge, Juan Merchan.
CNN reports that Trump's legal team was arguing against broadcasting the proceeding, writing in its own letter to Merchan that "it will create a circus-like atmosphere at the arraignment, raise unique security concerns, and is inconsistent with President Trump's presumption of innocence."
In his ruling issued Monday night, Judge Merchan noted the gravity of this moment.
"That this indictment involves a matter of monumental significance cannot possibly be disputed. Never in the history of the United States has a sitting or past President been indicted." he wrote. "The populace rightly hungers for the most accurate and current information available. To suggest otherwise would be disingenuous."
Ultimately, Merchan ruled that five pool photographers would be briefly allowed in the courtroom before the proceeding begins in order to take still images, but any further photography in the courtroom after that is barred. Video is also prohibited, as well as the use of cell phones or laptops:
Currently, New York does not allow cameras into its trials, so it's unlikely that the nation will get to watch Trump's trial whenever it starts. Senator Brad Hoylman-Sigal is co-sponsoring a bill in Albany that would amend the law to allow recording. "America has a right to watch the trial of the century," he tweeted.
This post has been updated.