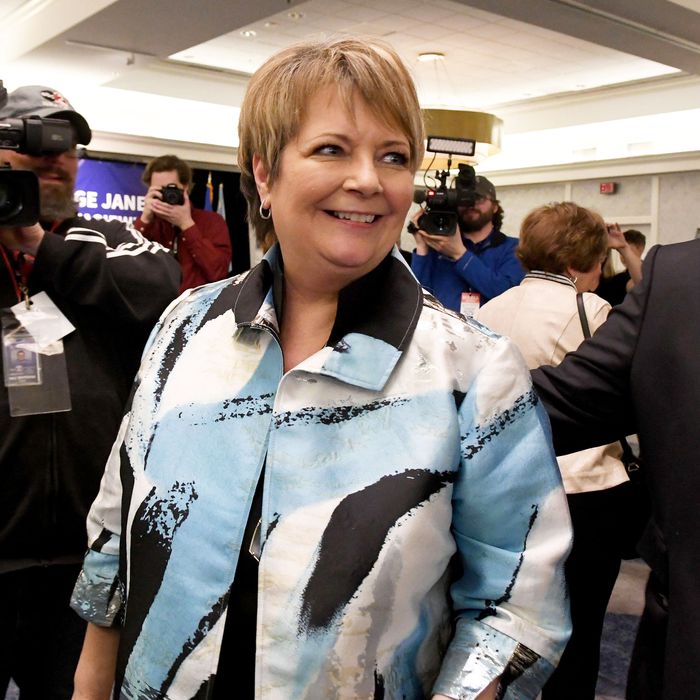 Judge Janet Protasiewicz arrives at her Election Night watch party on Tuesday, April 4, 2023, in Milwaukee.
Photo: Mark Hertzberg/ZUMA Press Wire
In the most expensive state judicial contest ever, and arguably the most-watched 2023 election, liberal candidate and circuit court judge Janet Protasiewicz won a crucial seat on the Wisconsin Supreme Court on April 4, defeating conservative former justice Dan Kelly by a comfortable margin. It was technically a nonpartisan election, but no one doubted which party was backing each candidate. Despite a variety of extreme-weather threats on Election Day, turnout was very high for one of Wisconsin's unusual spring elections, especially in a non-presidential, non-midterm year. Protasiewicz won huge margins in the Democratic strongholds of Dane and Milwaukee Counties, while holding down Kelly's percentages in the Milwaukee suburbs. The win gives liberals a majority on the court for the first time in 15 years.
This election has enormous consequences in Wisconsin and could affect both major parties' strategies in the upcoming 2024 elections.
Most immediately, the new liberal majority is very likely to strike down the 1849 law banning virtually all abortions that sprang back life like a zombie when the U.S. Supreme Court struck down Roe v. Wade last year. Protasiewicz campaigned on her belief that the state constitution protects abortion rights, while Kelly noted that he's been a longtime ally of the anti-abortion movement. The flip in control of the Wisconsin court means a probable effort to revisit the blatant Republican gerrymanders of both congressional and state legislative districts enacted after the last decennial redistricting process. Democrats will also secure a new line of defense against Republican-generated election-law changes aimed at giving GOP candidates an advantage in 2024, when Wisconsin is expected to be a key battleground state for the third straight presidential cycle.
But for the national party leaders watching this contest, perhaps the most important implications stem from the relative effectiveness of the messages sent to voters. (Both sides spent roughly $45 million, "more than every State Supreme Court election that occurred in 2018 combined," said Douglas Keith of the Brennan Center for Justice.) It was basically a battle between Protasiewicz's abortion-rights crusade and Republican efforts to label her and her backers as "soft on crime," as the New York Times reported:
"Judge Janet Protasiewicz believes in women's freedom to make their own decisions when it comes to abortion," her closing television ad states …




Republicans, as usually happens in Wisconsin, have tried to make the election about crime. Outside groups backing Justice Kelly have bombarded Judge Protasiewicz with ads attacking her as soft on violent criminals …




The Republican Party of Wisconsin, while southern Wisconsin was under a tornado watch last week, texted to voters a replica of an emergency weather alertwarning that Judge Protasiewicz was "a soft-on-crime politician with a long history of letting dangerous criminals go free."
Perhaps Wisconsin Republicans will react to their setback as petulantly as Dan Kelly (who lost by a similarly decisive margin in 2020):
There's even talk that the Republican legislature will try to impeach Protasiewicz instantly. But they really ought to go to school on how and why they lost.
If, as is largely expected, the 2024 presidential election comes down to a close battle in which each party is struggling to mobilize its base while persuading a small number of swing voters, it won't be surprising if the abortion-versus-crime messaging fight that dominated some states (notably Pennsylvania) in 2022 could become even more important. For Democrats, who know there is a pro-choice majority nationally and even in many red states, the Wisconsin judicial election provided further proof that abortion rights is a winning issue that can boost turnout and attract many independent and even Republican voters. GOP strategists now have more reason than ever to wonder if another law-and-order campaign — particularly if it is once again waged by the increasingly lawless Donald Trump — can effectively counter it.