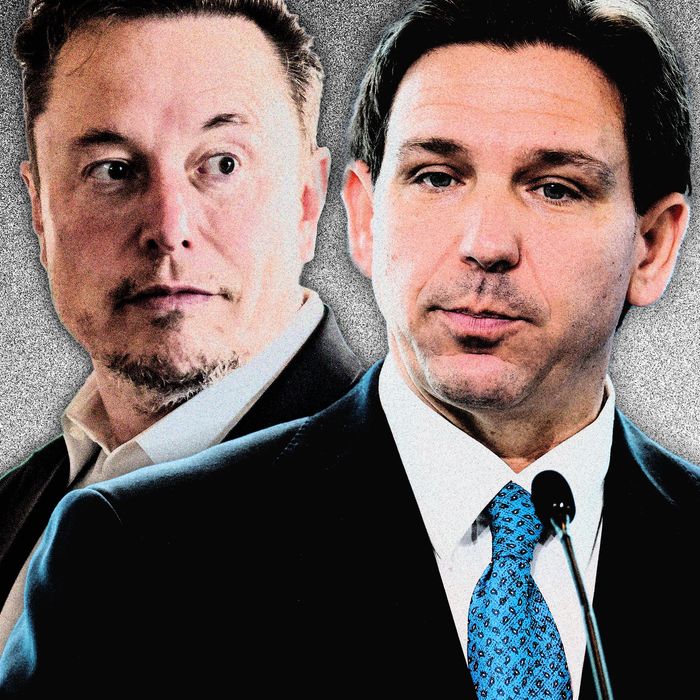 Photo-Illustration: Intelligencer; Photos: Shutterstock/Getty Images
After months of unofficial campaigning across early-voting states, Florida governor Ron DeSantis finally announced on Wednesday that he is running in the 2024 Republican presidential primary. "Well, I am running for the president of the United States to lead our great American comeback," he said.
The method DeSantis chose for the big day was a little unorthodox. Instead of appearing onstage in front of supporters in his home state, he made the announcement in an audio stream on Twitter Spaces with its celebrity CEO, Elon Musk. Normally, people running for president don't like to launch their candidacy while someone much more famous than them is in the same room. And if it is a virtual appearance, usually it's at least a video — or an audio stream that is actually functioning. Below are five takeaways from the first night of the official DeSantis campaign.
It started out with comically bad technical issues.
It's not a great sign when the first trending topic from your campaign launch is #failuretolaunch. The first several minutes of the conversation on Twitter Spaces between DeSantis, Musk, and moderator and DeSantis megadonor David Sacks were marred by glitches. Microphone feedback was the first thing Twitter users heard when the stream went live. Then it cut out entirely for a few moments. When it came back, Sacks said that the extra volume of listeners was "melting the servers." Like with explosions involving Musk's other companies, he said this was a "good sign." Then the stream went out again for several more minutes. (For reference, the basic technology for the evening of audio streaming — better known as radio — was invented in 1895.)
When the stream came back, Musk said they were allocating more server space for the call. Then it went out again. After about 24 minutes, they figured it out, hosting the stream on David Sacks's account instead of Elon Musk's. According to Platformer's Twitter sources, it was Musk's app that had crashed:
If only the CEO had kept around a few more engineers to deal with easily foreseeable problems like server demand when more than 200,000 people tried to tune in.
There weren't any surprises in DeSantis's stump speech.
The Florida governor largely stuck to the script of his midterm-reelection platform. From his view in Tallahassee, the rest of the U.S. is in ruins. The border has "collapsed." Cities are suffering from "spiking crime." President Biden "lacks vigor" and "takes his cues from the woke mob." (He is also a victim of the "woke-mind virus.")
"We chose facts over fear," DeSantis said on Wednesday. "Education over indoctrination. Law and order over rioting and disorder." If the lines sound familiar, they are from his victory speech in November.
DeSantis spoke of the need to end the GOP's (national) losing streak, though he did not mention Donald Trump specifically:
There is no substitute for victory. We must end the culture of losing that has infected the Republican Party in recent years. The tired dogmas of the past are inadequate for a vibrant future. We must look forward, not backward.
A concerning sign about the election?
At one point, DeSantis vowed that if he wins the Republican nomination, he will take the White House. "If you nominate me, you can set your clock to January 20, 2025, at high noon, because on the west side of the U.S. Capitol, I will be taking the oath of office as the 47th president of the United States. No excuses," he said. "I will get the job done."
While that could be an innocuous expression of his confidence in the general election, it's possible that the line is a nod to the last presidential contest — when Trump refused his loss and obsessed over proving false allegations of election fraud. If DeSantis is saying that he "will get the job done," he could be committing to a platform to refuse to back down if he loses the Electoral College.
Musk was mainly focusing on Twitter navel-gazing.
It was definitely a weird broadcast. There would be a question about education for DeSantis, then Musk would butt in talking about how Twitter crashed in January. And Republican congresspeople like Thomas Massie and operatives like Christopher Rufo came on to ask DeSantis softball questions and thanked Musk for purchasing Twitter:
Trump who?
One problem with hosting an event with Elon Musk and one of your biggest donors — aside from the danger of technical issues — is that the questions aren't going to be that difficult. A very basic and important question for Republican-primary voters might be "Why should I vote for Ron DeSantis over Donald Trump?" But this wasn't asked on Thursday night — though they did have enough time for a dogecoin shoutout (a Musk favorite). In fact, the only time the word trump was used was in DeSantis's stump speech, when he said that "merit must trump identity politics."
This post has been updated.