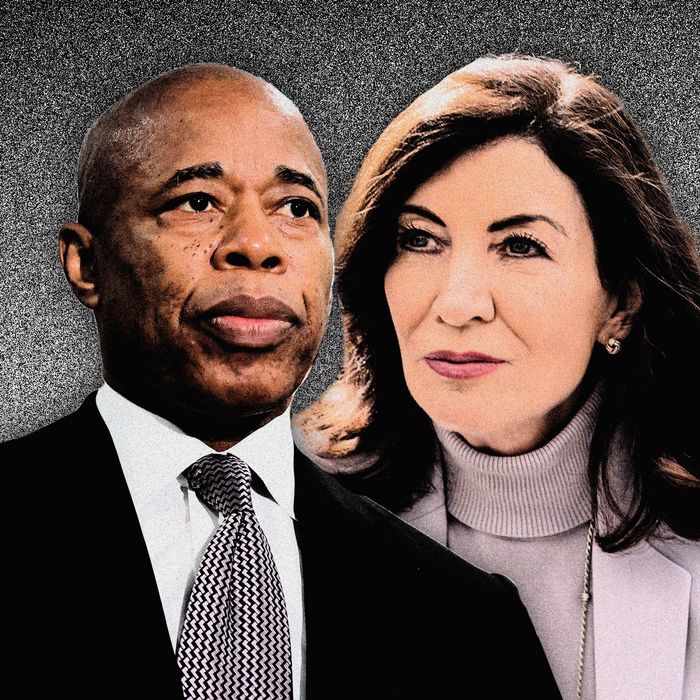 Photo-Illustration: Intelligencer; Photos: Getty Images
Governor Kathy Hochul joined Mayor Eric Adams in Brooklyn on Monday to call for more federal assistance in contending with the significant influx of migrants to the city and state. Although Adams had previously specified a need for more financial support and change in strategy at the southern border, the two leaders came together on a specific issue: changing work-authorization policies to allow asylum seekers to apply to join the workforce in an expedited fashion.
"They're eager to work. They want to work. They came here in search of work and a new future," Hochul said of the thousands of asylum seekers who have traveled to the state since last year.
As the system currently stands, a person seeking asylum would have to wait 180 days after they've filed for asylum to start applying for work authorization. Hochul feels a change in the policy could have a dual effect — helping migrants looking for work while helping to fill open positions across the state. According to the governor, the state currently has 5,000 open farm jobs as well as 5,000 roles in food service and 4,000 cleaning and janitorial positions available.
"This is an ask. We're asking again. We're pleading, saying, 'This is a great opportunity here in the state of New York to solve two problems: how to help these people get on their feet and support their families,'" Hochul said.
Adams thanked Hochul for her partnership, laying out what he called a "challenge of epic proportions" in dealing with the rapid increase of asylum seekers in the city. He noted that "5,800 people came to our city last week. Those are factual numbers. They're not made-up numbers. And we are seeing, the week before, 4,200. Just in one location alone, we had over 800. Not only by buses. Through the airports, through cars, through every mode of transportation."
The mayor reiterated Hochul's call for an expedited work-authorization process, saying that the long wait times result in some asylum seekers falling victim to the "underground market," where they can be exploited into working dangerous jobs. "We have one message: Let them work. That is our clear message that we're sending," Adams said.
Adams is calling for direct action from President Joe Biden via executive order, casting doubt on the possibility that Congress would intervene with legislation. "Republicans, as we know, have blocked all attempts at fixing our broken immigration system, intentionally causing chaos and dysfunction. We cannot believe, all of a sudden, that's going to change with a Republican-controlled Congress," Adams said.
The city has sought to find additional housing to accommodate the thousands of asylum seekers arriving. A City Hall proposal to house migrants in standalone school gyms was walked back after swift protest from parents and students. Adams has also sent migrants to be housed in suburban counties, receiving pushback from some local pols. Hochul indicated that officials are looking into various locations including hangars at John F. Kennedy International Airport and Floyd Bennett Field in Brooklyn.
Adams said that a change in work-authorization policies would have a direct impact on the city's ability to handle the migrant crisis. "Having the right to work would allow us to take some pressure off of the situation, so we can move people out of the care of the state and city and move them into the stability they're looking for," he said. "The city and state cannot stay in emergency mode. That is not the way you manage a crisis."