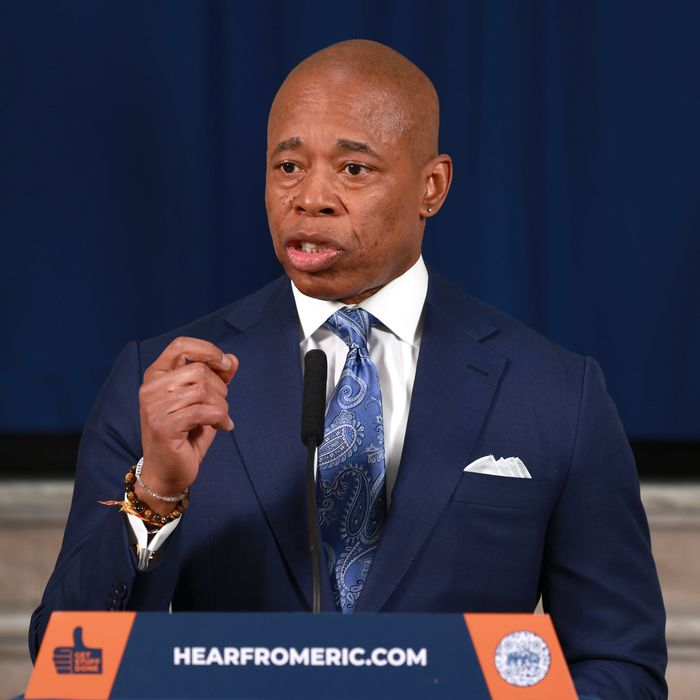 Photo: NY Daily News via Getty Images/NY Daily News via Getty Images
Immigration has become a central issue of Mayor Eric Adams's tenure, and not by choice. The city has contended with a staggering increase of asylum seekers from the southern border, many of whom were bused to New York from southern states like Texas and Florida, whose Republican governors are using the migrants to make a political statement. According to official tallies, more than 65,000 migrants have arrived in town since last year.
Now, Adams's handling of this influx is sparking major backlash among public officials in and around the city, which has already forced him to backtrack on at least one of his controversial proposals.
During an interview with NY1 Tuesday, the mayor said the city was looking at housing migrants in 20 standalone gyms that are separate from the school buildings themselves. "None of us are comfortable with having to take these drastic steps. But I could not have been more clear for the last few months of what we are facing," Adams said.
The announcement was met by swift protest by both parents and students, some of whom demonstrated outside of P.S. 17 in Williamsburg on Tuesday in opposition of the proposed use of its gym.
That tactic seems to have worked. The City reported Wednesday that City Hall is stepping back from its plan and would bus migrants who were staying at Coney Island's P.S. 188 — the only active school whose gym was being used for housing — to an undisclosed location. A source from City Hall told The City that a closed Staten Island school that is currently housing asylum seekers would continue to do so.
Tensions over the migrant issue came to a head last week as Adams took new steps in anticipation of Thursday's expiration of Title 42, the COVID-era restriction that allowed the United States to expel migrants who crossed the U.S.-Mexico border. Title 42's removal was expected to result in a significant increase of asylum seekers.
Earlier this month, the mayor announced plans to voluntarily relocate asylum seekers from the city to surrounding suburbs. But county executives in Orange and Rockland counties came out against Adams's idea of housing migrants in local hotels, and both have issued a state of emergency to challenge it. Several dozen asylum seekers were bused to an Orange County hotel last week, according to Gothamist.
On Tuesday, a judge granted Orange County a restraining order that will temporarily bar New York City from transporting migrants to the county, according to Spectrum News.
In announcing that program, Adams once again pointed the finger at the federal government and President Joe Biden, whom he has consistently said has not provided the city with the support it needs.
"Despite calling on the federal government for a national decompression strategy since last year, and for a decompression strategy across the state, New York City has been left without the necessary support to manage this crisis. With a vacuum of leadership, we are now being forced to undertake our own decompression strategy," he said. This stance has helped lead to an increasingly strained relationship with the president.
In another move that prompted backlash, Adams last week signed an executive order that suspended certain aspects of the city's right-to-shelter law in anticipation of the suspension of Title 42. In a tweet, Public Advocate Jumaane Williams called the move "a misguided and harmful action."
The administration is still continuing to expand its search for feasible locations to house asylum seekers and is keeping all options on the table. The Daily News reported Wednesday that City Hall is considering using the shuttered Otis Bantum Correctional Center on Rikers Island to house migrants.
It's not yet clear how these policies might affect Adams's popularity with his constituents. A recent Siena poll showed Adams with a 49 percent approval rating among voters in New York City, which was considerably better than a January Quinnipiac University poll showing the mayor with a 37 percent approval rate.