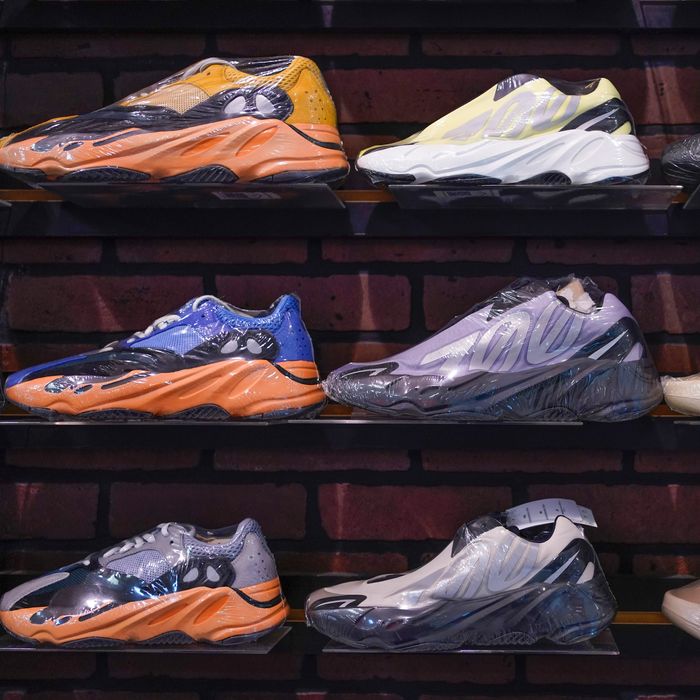 The artist formerly known as Kanye West wasn't the only one who lost a lot of money when he went on a monthlong tirade against Jewish people — culminating in an appearance on Infowars, in which which his unabashed antisemitism made even Alex Jones queasy. When Ye lost his billionaire status, Adidas, maker of his hugely popular Yeezy line, was left with an enormous sunk cost.
After Adidas dropped Ye in October, it put tens of thousands of Yeezy sneakers in storage, announcing that if it could not figure out a way to sell them, it would be forced to eat a $1.3 billion revenue loss in 2023. But the brilliant minds in Herzogenaurach, Germany, have come up with an idea so crazy it might work: They're simply going to start selling Yeezys again. The sneakers and slides, absent from the Adidas site for months, will be back on sale as of Wednesday afternoon.
According to CEO Bjørn Gulden, the company considered burning the shoes, giving them away, or removing the Yeezy branding before selling them — as if the line's bubbly silhouette wouldn't make their provenance clear. A company press release stated that, under the new plan, Adidas will give a "significant amount" of Yeezy revenue to nonprofits including the Anti-Defamation League and Philonise & Keeta Floyd Institute for Social Change, which was founded by George Floyd's brother. "We believe this is the best solution as it respects the created designs and produced shoes, it works for our people, resolves an inventory problem, and will have a positive impact in our communities," Gulden said earlier this month, when he first announced the plan.
For consumers still enraged by Ye's hateful comments, this is not a perfect fix. In March, Gulden made clear that the rapper would still receive some royalties if Adidas sold off his remaining sneakers. (Perhaps Ye can use the cash injection to fund his new habit of buying absolutely massive shoulder pads for everyday wear.) Once Adidas offloads its remaining inventory, the company's relationship with Ye will officially be kaput. But that doesn't mean demand for Yeezys will disappear. Putting aside the lucrative sneaker resale market, it looks like there's a huge appetite for the final Yeezy season: Customers had to sign up for a drawing that opened on May 25 in order to get a chance to buy the $230 Boost models coming out on Wednesday.