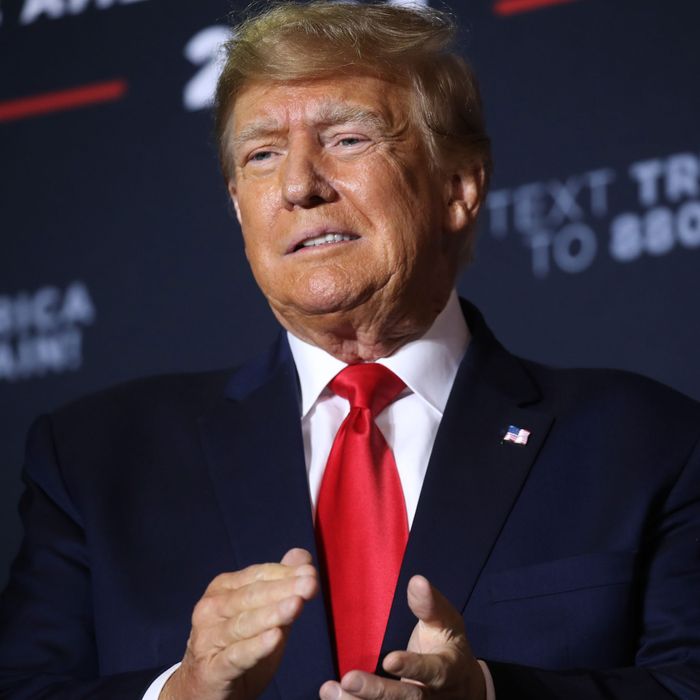 Trump gives himself a hand.
Photo: Spencer Platt/Getty Images
Donald Trump has led every single national public poll of the 2024 Republican-presidential nomination. He currently leads his closest rival, Florida governor Ron DeSantis, by a 52-23 margin in the RealClearPolitics polling averages. But it's still early days in the presidential cycle, and DeSantis hasn't even formally announced — though in every other respect, he's behaving like a candidate. There are at least three lines of attack on Trump that his rivals and critics can be expected to raise as the campaign gets real: that DeSantis is more anti-woke, Trump is soft on abortion, and Trump is not electable.
As it happens, there is a new CBS News–YouGov survey exploring why so many Republicans back a Trump comeback, and it throws cold water on the vulnerabilities some have discerned in the 45th president's intraparty appeal.
In the poll, the top-line candidate-preference numbers are reasonably close to those in other recent polls — with Trump at 58 percent, DeSantis at 22 percent, Pence and Ramaswamy at 5 percent, and Haley at 4 percent. But when you look at the advantages over Trump that other candidates might boast of, they seem to disappear.
Asked which quality people want most in a presidential candidate, the top answer (cited by 85 percent of likely GOP-primary voters) is "challenges woke ideas." That's DeSantis's signature, right? He's the man who constantly tells us that his state is "where woke goes to die." But Republicans who tout that quality prefer Trump to DeSantis by a 59-24 margin.
Mike Pence (and possibly Tim Scott) definitely wants to exploit Trump's opposition to a national abortion ban, which has enraged many anti-abortion activists. The CBS-YouGov survey shows about half of likely Republican-primary voters supporting such a ban. But 61 percent of those who favor a national ban support Trump — compared to the 19 percent who support DeSantis and 5 percent for Pence. On a parallel question, 44 percent of respondents said they want a presidential candidate who prefers Christians over people from other religious groups, and 64 percent of these hyper-Christians favored the perpetually heathenish Trump — with the pious Pence coming in at his usual 5 percent.
Without question, the idea that Trump just isn't "electable" in 2024 is the top criticism of most anti-Trump Republican elites who want to "move on" from the ex-president. But there's not a lot of evidence that rank-and-file Republicans share that concern. For one thing, a sizable majority believe that Trump won in 2020 — 61 percent of respondents to the CBS-YouGov poll want a 2024 presidential nominee who's willing to support Trump's "stolen election" claims. Unsurprisingly, 84 percent of Trump supporters believe he can and will defeat Biden in 2024. But of those who do not support Trump, only 38 percent cite "he may lose to Joe Biden" as a factor. It doesn't seem that electability is top of mind for either Trump or non-Trump supporters in the GOP.
How about the often cited factor of "Trump fatigue," of Republicans dreading another four years of this wild man in the White House? Again, looking at those in the CBS-YouGov survey who said that they do not currently support Trump, only 26 percent said his past performance as president is a factor in their disinclination to back him right now. Trump supporters, of course, think he was a fabulous president — 94 percent cite his first-term record as a factor in their desire for his return.
All in all, this peek into the psyche of everyday Republicans at this early stage of the 2024 campaign shows some support for other candidates but not the sort of deep fear and loathing of Trump that Republican elites possess. If Trump's rivals want to overtake him, they need to find some better arguments than those we've heard so far.