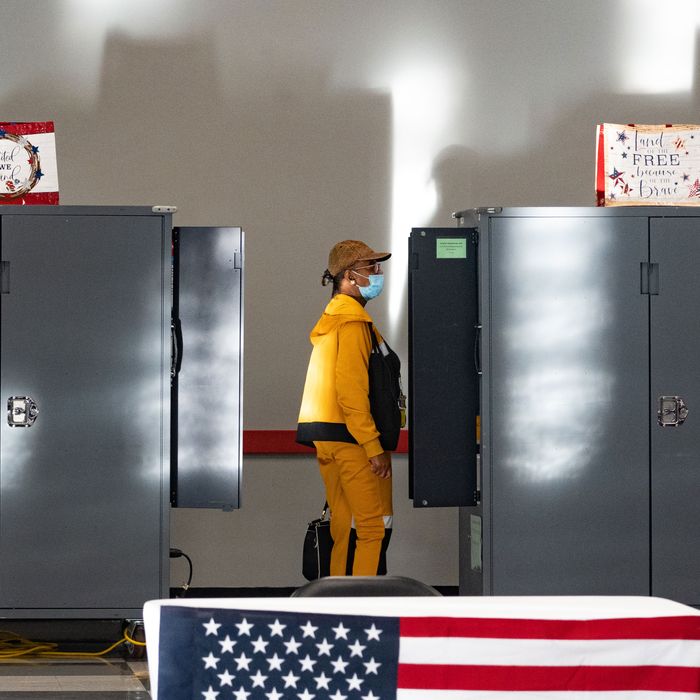 Black voter turnout needs to bounce back for Democrats in 2024.
Photo: Megan Varner/Getty Images
Looking at the 2022 midterm-election turnout numbers as validated by the Census Bureau represents a sort of "glass half empty, glass half full" proposition. As the Washington Post reports, total turnout was down from 50 percent of eligible voters in the previous midterm election in 2018 to 46.6 percent in the most recent contest. But that 46.6 percent was still the second-highest midterm turnout number since 1968. As a rule, midterm voting participation is significantly lower than in presidential years; the turnout number for 2020 was a robust 66.1 percent. And historically, the "falloff" between presidential and midterm voting has been most significant among young and minority voters. Indeed, this "midterm falloff" issue has been a particular problem for Democrats in the years since these voter groups began leaning their way.
Indeed, while the "falloff" among Democratic-leaning voter groups was much lower than usual in 2018, it was quite significant last year, as the Washington Post reports:
Black voter turnout dropped by nearly 10 percentage points, from 51.7 percent in 2018 to 42 percent in 2022, according to a Washington Post analysis of the Census Bureau's turnout survey. White voter turnout slipped by only 1.5 points to 53.4 percent. The 11-point turnout gap between White and Black voters is the largest in any presidential or midterm election since at least 2000 …




Turnout dropped by 5.4 points among Hispanic voters to 31 percent and by 5.5 points among Asian and Pacific Islander voters to 33 percent … Turnout among American Indian and Alaska Native voters dipped 2.1 points to 32 percent.




Turnout also dropped sharply among voters under age 30, falling from 32 percent in 2018 to 26 percent in 2022, a 6.5-point drop.
Again, 2022 turnout among all these groups was better than in most recent pre-2018 midterm elections. But the trend lines weren't good, and turnout patterns may have cost Democrats some close races.
Vote share obviously can matter as much as turnout; overall, Democrats went from an 8.6 percent national House vote plurality in 2018 to a 2.8 percent deficit in 2022. According to the 2022 exit polls, Democrats also lost in some of their most important voter categories. Democrats won just 60 percent of the Latino vote (compared to 69 percent in 2018), 58 percent of Asian Americans (compared to 77 percent in 2018), 87 percent of Black voters (compared to 90 percent in 2018), and 63 percent of under-30 voters (compared to 67 percent in 2018).
The good news for Democrats is that turnout among young and minority voters is likely to bounce back (relatively speaking) in the 2024 presidential elections, particularly if Donald Trump is the GOP nominee. Democrats, moreover, have won the popular vote in seven of the last eight presidential elections. If they can avoid close losses in battleground states, and unexpected turnout and vote-share erosion among young and minority voters, they should be able to hold onto the White House next time around.