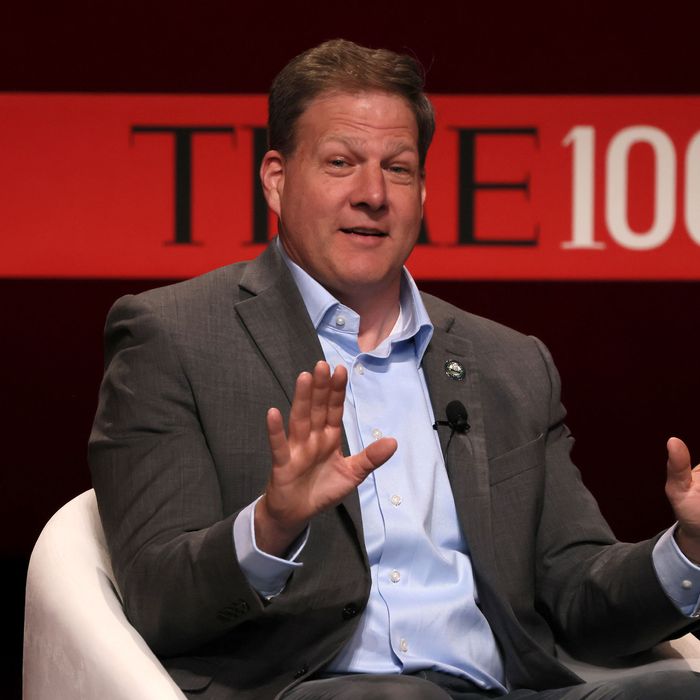 Chris Sununu, a very big deal in mainstream media-land.
Photo: Jemal Countess/Getty Images for TIME
With Ron DeSantis, Mike Pence, and Tim Scott all poised to make their long-running unofficial presidential candidacies official in the next week or so, you'd figure there isn't a lot of room for additional dark horses in the field, particularly those not exactly in sync with the 2024 Republican Zeitgeist. Asa Hutchinson is already there for those who think the GOP needs to repudiate the 45th president's legacy and go back to the pre-Trump Reagan-Bush orthodoxy. And to some extent all of Trump's rivals are suggesting that sort of restoration, give or take some new culture-war savagery they want to preserve from the MAGA playbook.
So it's unclear why New Hampshire governor Chris Sununu is plotting his own candidacy, according to the Dispatch:
Chris Sununu is accelerating plans to run for president, with close allies telling The Dispatch the New Hampshire governor wants to seek the Republican nomination and is exploring avenues for mounting a viable 2024 campaign.




In telephone calls and in-person meetings, Sununu is pitching a potential White House bid to wealthy Republican donors in New Hampshire who have backed his four gubernatorial campaigns—and to top GOP financiers across the country. The response is encouraging the governor to move forward. Sununu's political operation has conducted polling to test messaging and political competitiveness with Republican voters and is holding conversations with prospective campaign staff in the key, early primary states. 
Maybe his polling will identify a previously unperceived vacuum in the presidential field, but it sounds like maybe the governor is hearing the sound of a fantasy bandwagon creaking over the horizon, as this tidbit from the Dispatch piece suggests:
"I'm getting texts and emails from people all over the country who know that I know him," added Phil Taub, a Sununu donor and attorney in Manchester. "He is being told: 'You should run.'"
If "all over the country" means all 19 counties of the Washington, D.C., metro area, I can believe it. As Michael Schaffer acerbically explained in March, Sununu is this year's version of a very familiar figure: the favorite of the alleged "swamp people" that Trump has taught actual Republican voters to despise:
The Republican primary season hasn't even started, and already one contest appears to have a runaway winner: The Permanent-Washington Primary, where New Hampshire Gov. Chris Sununu is absolutely crushing it.




Being the quadrennial favorite of the GOP base's most despised demographic may or may not be a useful career move for a wannabe president. But right now, in the battle for the hearts and minds and television bookings and annual dinner invites of that Beltway-media-industrial complex, the 48-year-old governor of the Granite State — officially "interested" but not declared as a candidate — is making all the right moves.
It's a credential that once gave fool's gold glitter to doomed presidential candidacies like those of Jon Huntsman and John Kasich, though as Schaeffer noted, it was an identity mastered by the late John McCain, an actual presidential nominee of a long-eclipsed Republican Party (it was richly symbolic that one of Trump's first big moments in the 2016 cycle was his shocking mockery of McCain's long-hallowed record as a POW). It mostly leads to once-priceless exposure in media outlets that Republican primary voters don't see.
Irrespective of the esteem he enjoys in Washington, it should have worried Sununu a bit that his own state was the venue for Trump's riotous CNN Town Hall event, with Granite State Republicans and independents hooting and cheering and generally behaving like the deep-red-state MAGA acolytes who populate the ex-president's campaign rallies. Sununu said he found the spectacle "embarrassing."
Sununu's problems as a 2024 Republican presidential candidate go beyond his regularly expressed disrespect for Trump, which polls indicate doesn't go over well even with those Republicans who don't plan to vote for the ex-president in the primaries. He's also pro-choice, which is an absolute deal-killer in today's national Republican Party, though he's tried to paper that position over by claiming to oppose abortions after 24 weeks of pregnancy (the same fetal viability gestational standard set by Roe v. Wade). His whole political message revolves around the ancient pre-Trump Republican creed of free markets, limited government, and local control; he's been harshly critical of Ron DeSantis's highly popular-among-Republicans war with "woke corporations."
What would a candidate Sununu offer Republicans? Best I can tell, other than his media savvy and pleasant personality, he can mostly tout his political domination of an otherwise competitive New Hampshire. Obviously every Republican rival will try to make an I'm-more-electable-than-Trump argument, though that cuts against the strong belief among Trump supporters that he will over-perform polls in 2024 just as he did in 2016 and 2020. But evidence that he's electable in his own tiny state isn't likely to take Chris Sununu very far.
So can we safely ignore Sununu if he does run for president? Not necessarily. If he does run and stays in the race until his own state votes (New Hampshire goes second on the calendar after Iowa, just eight months from now), he could complicate the path to the nomination for rivals, particularly those not named Trump. Early polling in the Granite State shows Sununu as a prospective candidate running a relatively strong third behind Trump (at 45.3 in the RealClearPolitics averages) and Ron DeSantis (21.5 percent at RCP; Sununu is at 12.5 percent). It would be ironic if Sununu's presence in the race gave Trump a crucial boost, but maybe the governor will wake up and smell the bitter coffee of futility by then.