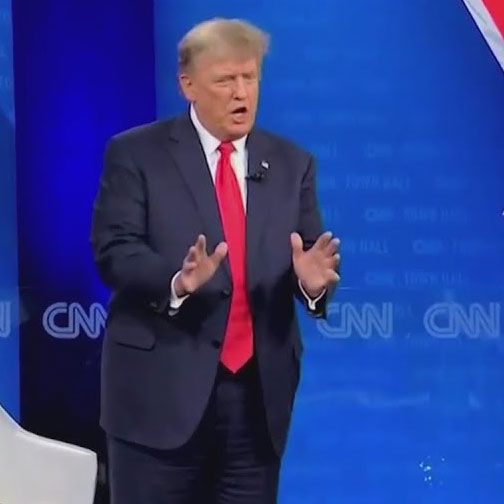 CNN's prime-time town hall with Donald Trump on Wednesday night, which went so badly that Intelligencer's Ed Kilgore called it a "CNN-sponsored MAGA rally," has ignited a firestorm of criticism inside and outside the network. Below are the latest updates on the ongoing fallout and reaction.
Trump allies predictably throw CNN under the bus, claim he used them
Per the Guardian's Hugo Lowell:
Donald Trump believes he got everything that he wanted from the controversial town hall hosted by CNN, according to multiple people close to him … The former president was interested in doing a town hall mainly because it would give the campaign material to clip for social media. He was interested in doing it on CNN because the campaign reached an understanding – which a spokesperson denied – that it would book more Trump surrogates.




Trump was not particularly concerned by whether the broadcast would get high ratings, though he told CNN's chief executive, Chris Licht, backstage that he would boost their ratings, to which Licht nodded and said he should have "a good conversation and have fun", two of the people said.
CNN brass reportedly "summoned" reporter who covered town hall critically
Puck's Dylan Byers reports that Reliable Sources writer Oliver Darcy, who reported overnight Wednesday that the town hall had prompted internal strife at CNN and wrote that "it's hard to see how America was served by the spectacle of lies that aired on CNN" — received a talking to afterwards:
Licht summoned Darcy and his editor Jon Passantino to a meeting with himself, CNN comms chief Kris Coratti, editorial executive vice president Virginia Moseley and senior vice president of global news Rachel Smolkin, in which they told him that his coverage had been too emotional and repeatedly stressed the importance of remaining dispassionate when covering the news, be it CNN or any other media organization.
Anderson Cooper acknowledges and responds to outrage over the town hall
During his show on Thursday night, the longtime CNN host offered his thoughts on the town hall as well as some comments on the criticism:
E. Jean Carroll may sue Trump for defamation, again, after his Town Hall comments.
"It's just stupid, it's just disgusting, vile, foul, it wounds people," Carroll told the New York Times on Thursday in response to Trump's latest attack on her on Wednesday night. With regards to whether or not Carroll will file a third defamation suit against Trump over what he said, her lawyer, Roberta Kaplan said they'd decide soon: "Everything's on the table, obviously, and we have to give serious consideration to it. We have to weigh the various pros and cons and we'll come to a decision in the next day or so, probably."
Pushback on the pushback
On his Substack, Josh Barro defends CNN:
I don't think it's the proper role of a news network to decide that one party's electorate is mature or moral enough for a live town hall with its leading candidate and the other isn't — at least if that news network aims, as CNN does, to be a news source for people across a broad ideological spectrum. Trump is the frontrunner candidate for the Republican nomination. The ways in which he appeals to that electorate are news, and indeed we got a lot of news out of the town hall, from his pledge to pardon many of the January 6 rioters to his repeated refusal to commit to a position on federal abortion policy. If you're going to do town halls, it's obvious he should get one in the format the other candidates do.
He also argues the town hall was useful:
A big part of how the media has gotten itself into such a mess over the last few years has been by treating Trump as special, and allowing itself to be drawn into a role as a political opponent in a way that media outlets do not with other politicians. Organizations have literally changed their editorial standards for Trump, opining in headlines about whether his comments are racist in a way they would not have in the past. And to what end? What has this achieved, other than convincing Republican readers that news outlets are an oppositional force, constantly inserting their value judgments into news stories, and not trustworthy on questions of fact?
The ratings were good
Former CNN reporter Brian Stelter notes that the town hall averaged 3.1 million viewers, beating the other cable news networks for the time slot, and, more important, "in the key 25- to 54-year-old demo, the town hall averaged 703,000, about five times higher than CNN's typical performance at 8 p.m." It was the second-most-watched town hall in the network's history.
Trump fundraises off the idea that he turned CNN into TNN (the Trump News Network)
His campaign emailed out this fundraising appeal on Thursday afternoon:
CNN employees are pissed off, while new CEO Chris Licht is insisting the broadcast was an enormous success
At the network's morning editorial meeting on Thursday, CNN CEO Chris Licht was looking on the bright side of things after the town hall the night before in which Donald Trump was given 70 minutes to go off in front of a friendly audience in New Hampshire. "You do not have to like the former president's answers, but you can't say that we didn't get them," he said, according to an account of the call. Licht, who rose to the top of the network last February, praised the performance of host Kaitlan Collins for making "a lot of news," which he described as "our job."
But many at CNN weren't as pleased with the results of giving free rein to Trump, a politician who doesn't have much respect for things like live fact-checking or the rules of political television. During the broadcast, one staffer told Washington Post reporter Jeremy Barr that it was "a disaster, and totally predictable." Another said it was a "total debacle."
"Kaitlan is in a no-win situation," another CNN staffer told the Post. "I can't believe anyone thought this was a good idea." It's a good question: Did any executives at CNN expect that Trump would actually respond to Collins's pushback on bogus election-fraud claims?
Another big programming flaw last night was the live audience in New Hampshire, which was filled with vocal Trump supporters who responded generously to his applause lines. That includes his insult of E. Jean Carroll, who on Tuesday received a verdict from a civil jury finding Trump liable for sexual abuse and defamation. After describing her as a "whack job" and claiming her rape allegation was "fake," Trump said the $5 million court-ordered payment would help him in the 2024 race. "My poll numbers just came out — they went up," he said to applause.
"Having people applaud those sexual-abuse comments definitely made me question my allegiance to this network," one CNN executive told Insider. A former CNN exec described the night to Insider as "an unmitigated disaster. The audience was like a Trump rally. Kaitlan had no support in the room. They were mocking her."
Despite Licht's rule against guests pushing disinformation, Trump's first appearance on CNN since 2016 appeared to be catered to a Fox News audience amid the network's reported soft ban on the chaotic ex-president. But while CNN executives are stating on the record that it went well, at least one network staffer — media reporter Oliver Darcy — is facing the consensus head-on. In his Wednesday-night newsletter, Darcy wrote of "Trump's abuse of the platform that he was given" and emphasized that "it's hard to see how America was served by the spectacle of lies that aired on CNN." He also wondered whether executives like Licht would "express some regret" after the debacle.
So far, Licht hasn't. "I absolutely, unequivocally believe America was served very well by what we did last night," he insisted on Thursday morning. A CNN spokesperson added in a statement that Collins "exemplified what it means to be a world-class journalist" as she "asked tough, fair and revealing questions … That is CNN's role and responsibility: to get answers and hold the powerful to account."
This post has been updated.