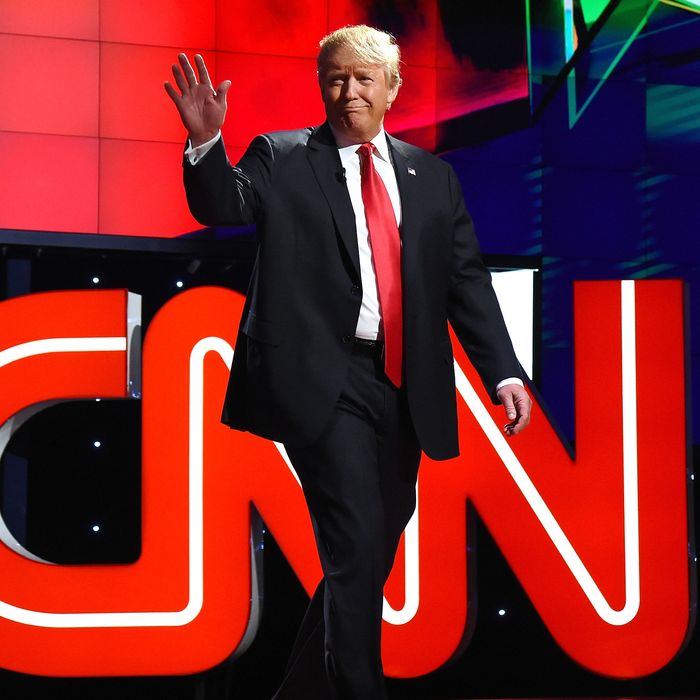 Photo: Ethan Miller/Getty Images
Many people expected CNN's Town Hall event with Donald Trump on Wednesday night to be a high-drama affair. This was understandable, given the timing: just a day after a Manhattan jury found that he had sexually abused and defamed writer E. Jean Carroll. Nobody is entirely sure how voters will respond to this horrifying development, which underscores the 45th president's despicable reputation for violating and disrespecting women. You had to wonder if moderator Kaitlan Collins or members of the audience would give Trump a stiffer challenge than he's had so far in a 2024 presidential campaign he's dominated. I half-expected Trump to come out half-deranged, raving about his persecution by liberal elites and their judicial-system hirelings. Even the ex-president himself said the event might "be a total disaster for all — including me!"
It didn't go down that way at all. For much of the New Hampshire town hall, the crowd of Republicans and independents cheered Trump and hooted at Collins. Most of the relatively few audience questions were softballs. All that was missing from this CNN-sponsored MAGA rally was Trump doing his weird "dance" steps to "Y.M.C.A." Most shockingly, when Trump again defamed and mocked Carroll for suggesting he assaulted her, the audience laughed and applauded. It was a brutal politician feeding on a brutal crowd.
Trump broke no new significant ground. Collins began the town hall by repeatedly challenging his hallucinatory account of the 2020 election and of January 6, 2021. Trump did not give an inch. Confronted yet again with the terrifying conduct of the mob that broke into the Capitol, he went out of his way to promise he would pardon "a large portion" of those jailed for their actions. Even where a bit of candor might have helped him with the crowd or the broader public, he wouldn't budge, refusing repeatedly to say whether he would sign a national abortion ban. When Collins tried to corner him, he mixed one of his patented word salads and filibustered the clock away.
Trump rarely broke a sweat. Indeed, he almost looked bored for the first 45 minutes, only getting animated toward the end. In the post-event analysis from a clearly chagrined group of CNN talking heads, the fact-checking and exposure of lies was fast and furious. But the damage was already done.
All in all, CNN did Trump a huge favor, unless you think that so unvarnished a reminder of his essential nature will hurt him among swing voters. How can Ron DeSantis compete with this man in expressing the rage of his party's base? Trump didn't invent it, but he has mastered it. And in a fundraising email after the CNN Town Hall, he even began a victory lap:
I had a lot of fun taking questions from voters tonight at the town hall in New Hampshire — home of the FIRST-IN-THE-NATION primary. No other Republican candidate has been working this hard to WIN the primary. …




That's because I firmly believe that we need to wrap up the primary as soon as possible so that we can focus 100% of our energy on beating Crooked Joe.




And our hard work is paying off — a new poll now shows that we have a 41-POINT LEAD in the Republican primary.
Nothing we saw in Wednesday's town hall suggests that Trump's legal problems or incessant lying or well-cultivated cruelty will keep him from a rematch with Joe Biden. And then anything can happen.