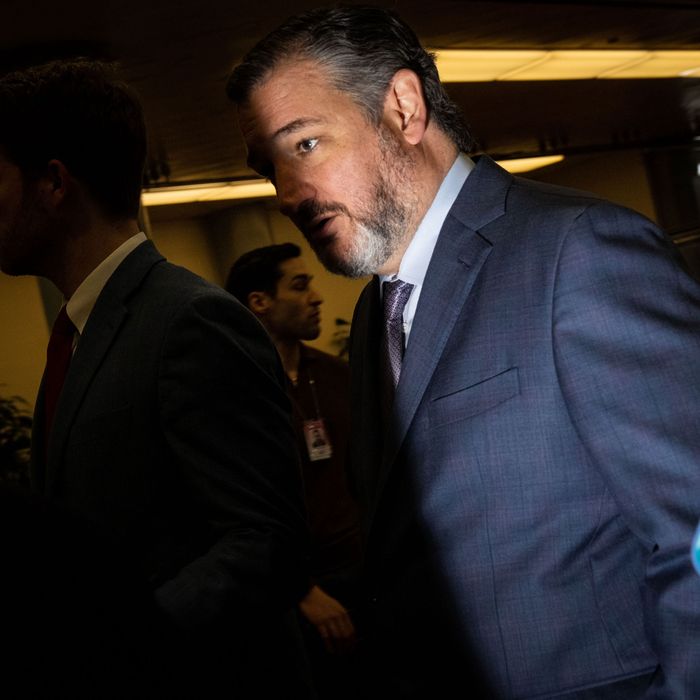 Ted Cruz is an easy man for Democratic donors to loathe.
Photo: Kent Nishimura/Los Angeles Times via Getty Images
It's no secret that Democrats face a "brutal" or "dark" landscape in seeking to hold on to their narrow 51-49 margin of control in the Senate. Of the 34 seats up for election in 2024, 23 are held by Democrats (or independents who caucus with Democrats) and only 11 are held by Republicans. Of the Democratic seats at risk during what is expected to be a close presidential contest, seven are in states carried by Donald Trump in 2016 and three are in states carried by Trump twice. Arizona's Kyrsten Sinema has left the Democratic Party (while still caucusing with it) and has triggered an unpredictable three-way contest in Arizona. Joe Manchin is in deep trouble, while Montana's Jon Tester and Ohio's Sherrod Brown will be bucking the partisan dynamics of their states.
Meanwhile, in contrast to all of this peril facing Senate Democrats, eight of the ten Senate Republicans up for reelection in 2024 are considered slam dunks; Republicans are also heavily favored to hold an open seat in Indiana. That leaves Rick Scott of Florida — an extremist nightmare in Congress but at home a shrewd politician who has won two gubernatorial races and one Senate race in environments more difficult than he is expected to face in 2024 — and Ted Cruz of Texas.
It makes abundant good sense for Democrats to put a bull's-eye on Texas because Cruz is potentially the most vulnerable of a not very vulnerable batch of Republican incumbents. In 2018, Democratic congressman Beto O'Rourke came within 2.6 percent of the vote to upset Cruz. Of equal importance, the loathing in which Cruz is held among progressives nationally gave O'Rourke a massive small-dollar fundraising base. There's no reason a credible opponent in 2024 couldn't replicate that level of resources, particularly if the national party prioritizes the race.
Fortunately for the Donkey Party, it does have a credible candidate now that Dallas-area congressman Colin Allred has entered the Senate race. A former NFL player and civil-rights lawyer who knocked off veteran Republican Pete Sessions in 2018, Allred has served notice in an announcement video that he intends to remind Texas voters of the many annoying things their junior senator has done over the years, as the New York Times reports:
"We don't have to be embarrassed by our senator," he said, after describing Mr. Cruz as someone who "cheered on the mob" during the Capitol riot and who left Texas to go to the resort city of Cancun, Mexico, during the 2021 winter storm and power grid failure that killed hundreds of Texans. "We can get a new one."
Cruz is not, as it happens, terribly popular. According to a recent Morning Consult survey, his approval-to-disapproval ratio in Texas is a meh 46-45. But he will at least initially be favored to win a third term because he's running on a Republican ticket in a presidential year; a year, moreover, when partisan polarization is likely to make ticket splitting difficult. The last Democratic presidential candidate to carry Texas was Jimmy Carter in 1976. Now it's true that thanks to the growth of the state's urban and suburban population centers, the GOP margin in presidential races has declined, but that's a relative thing: In 2016 Trump carried Texas by nine points and then by only 5.6 percent in 2020. But the 2022 statewide Republican sweep showed that Texas's reputation as a red state is still well founded, as the Texas Tribune noted:
Texas Republicans maintained their nearly three-decade grip on state government on Tuesday, comfortably fending off a vigorous run to unseat Gov. Greg Abbott and dashing Democratic hopes that the state would turn purple.




Voters returned GOP incumbents to their jobs at the top of the ticket and handed the state's dominant party its 14th consecutive sweep of statewide offices. Republicans also seemed poised to add slightly to their majorities in the Texas Legislature, where they've controlled both chambers for 20 years, and held large leads in all statewide judicial races.
That "vigorous run" against Greg Abbott, by the way, was conducted by O'Rourke, who lost by just under 11 points. So Democrats will need some skill and luck to seriously challenge Cruz in 2024; in particular, they must reverse a recent pro-Republican trend among South Texas Hispanic voters while building on their recent strength in the state's metro areas. It won't be easy, but a nasty piece of work like Cruz offers at least some extra motivation.