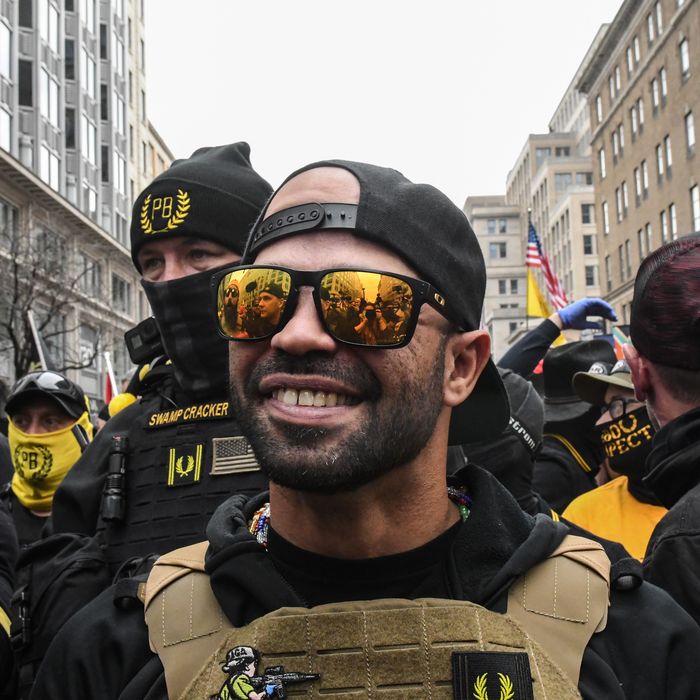 Photo: Stephanie Keith/Getty Images
A Washington, D.C., police officer was arrested on Friday after being charged with lying about sharing confidential information with the leader of the Proud Boys.
Shane Lamond, a 47-year-old lieutenant in the Metropolitan Police Department, was indicted on one count of obstruction of justice and three counts of making false statements, according to the U.S. District Attorney's Office for the District of Columbia. He is expected to be arraigned later on Friday.
The indictment alleges that Lamond, who was head of the department's intelligence branch, was in "regular contact" from July 2019 to January 2021 with Enrique Tarrio, then-leader of the far-right militia group, communicating at least 500 times via different channels including encrypted messaging app Telegram.
On December 12, 2020, Tarrio took part in a D.C. rally protesting the results of the presidential election the previous month and helped to steal and burn a Black Lives Matter banner belonging to a historic Black church. After the MPD launched an investigation into the incident, Lamond allegedly kept Tarrio up to date about the inquiry and, at times, seemed to advocate on Tarrio's behalf to the department.
"They wanted to know what I know about your group and if think you all are racist," Lamond said in an encrypted Telegram chat with Tarrio. "I told them you are made up a lot of Latinos and blacks so not a racist thing. If anything said it's political but then I drew attention to the Trump and American flags that were taken by Antifa and set on fire."
Lamond appeared to alert Tarrio when it became clear that a warrant was going to be issued for his arrest.
"Just a heads up, CID had me ID you from a photo you posted on [social-media website] kneeling down next to the BLM banner so they may be submitting an arrest warrant to US Attorney's Office," Lamond wrote in another message.
In the time between the investigation and Tarrio's arrest, the two exchanged several calls and messages that were set to auto-delete after being read, according to the indictment. Tarrio would ultimately be sentenced to five months in prison for desecrating the church.
Lamond and Tarrio's interactions continued even after the January 6, 2021, attack on the U.S. Capitol, in which several members of the Proud Boys participated. (Tarrio, who had been arrested in connection with the banner burning days earlier, was barred from the city by a judge and did not take part in the riot.) The day after the insurrection, Lamond allegedly shared with Tarrio the names of several people identified by the FBI in its investigation.
In another exchange, Lamond expressed support for Tarrio and his group.
"Looks like the feds are locking people up for rioting at the Capitol. I hope none of your guys were among them," Lamond wrote.
Tarrio responded, "So far from what I'm seeing and hearing we're good."
"Great to hear. Of course I can't say it officially, but personally I support you all and don't want to see your group's name or reputation dragged through the mud," Lamond said.
Lamond's charges of making false statements stem from responses he gave to investigators from the U.S. Attorney's Office about his interactions with Tarrio. When asked if Tarrio would ever "fish" for information in their conversations, Lamond said, "No, not really. He never really asked me questions about, like, you know, what we were doing or anything. It was more, you know, one-sided with just him telling me, you know, what their plans were."