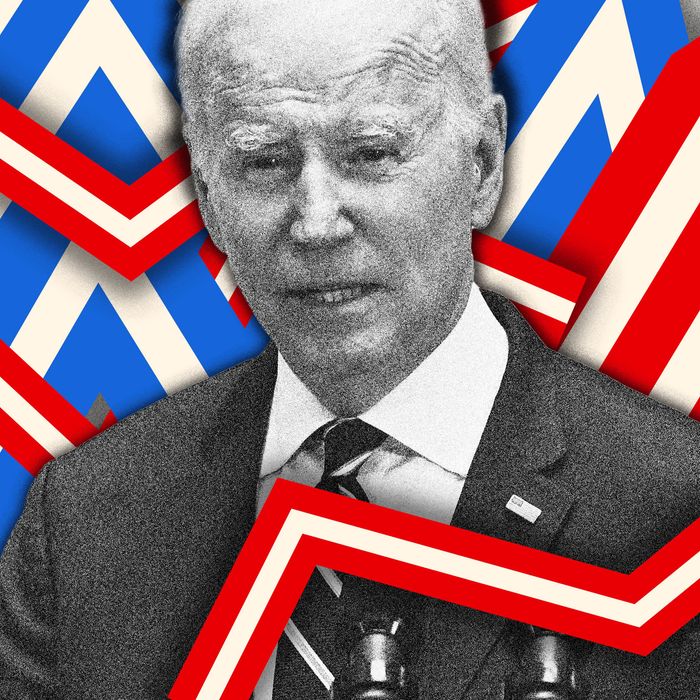 "Yikes!" said the donkey.
Photo-Illustration: Intelligencer; Photo: Getty Images
Democrats are famous for being pessimistic, and you can't blame them for being worried about going to war in 2024 behind an octogenarian president who has never generated much activist enthusiasm. So when a really bad poll comes out from a credible source, some nervous Democrats tend to freak out.
Without question, the ABC-Washington Post poll that came out last weekend caused coffee to be spewed during many Beltway breakfasts. How bad was it for Joe Biden? This bad:
As he begins his campaign for reelection, President Biden faces substantial and multiple challenges, according to a Washington Post-ABC News survey. His overall approval ratings have slipped to a new low, more Americans than not doubt his mental acuity, and his support against leading Republican challengers is far shakier than at this point four years ago …




Biden's approval rating is underwater among a slew of groups that supported him by wide margins in 2020. He stands at 26 percent approval among Americans under age 30, 42 percent among non-White adults, 41 percent among urban residents and 46 percent of those with no religious affiliation. Among independents who voted for Biden in 2020, 57 percent approve while 30 percent disapprove.
The poll showed the president trailing both Donald Trump and Ron DeSantis by six points in general-election trial heats.
This wasn't some random, low-budget survey from an obscure college looking for attention. ABC-WaPo is a traditional polling power employing what used to be known as "gold-standard" live-caller methodology, and its work was assigned an A grade by FiveThirtyEight in its latest pollster ratings. FiveThirtyEight also calculated that ABC-WaPo had a slight pro-Democratic bias in its past findings.
Even "good" polls, however, sometimes produce outlier findings, which is why it is always useful to consult polling averages instead of fixating on any one survey. And this ABC-WaPo poll has a pronounced outlier aroma. It shows Biden hitting an all-time-low 36 percent job-approval rating (among all adults). The RealClearPolitics polling averages place Biden's approval rating at 42.4 percent; it has been above 40 percent since August 10, 2022. The very same day the ABC-WaPo survey came out, the Rasmussen tracking poll of Biden's approval ratings (hardly a firm prone to Democratic bias) showed the president hitting 51 percent. That's almost certainly not right, either; outliers are not uncommon.
Similarly, ABC-WaPo's finding that Biden is trailing Trump and DeSantis by six points in general-election trial heats doesn't accord with the averages, either. At RCP (which includes the ABC-WaPo data like a big thumb on the scales), Trump leads Biden by one point, and DeSantis leads the president by 1.6 percent — basically statistical ties.
When you look under the hood of the ABC-WaPo survey at the cross tabs, which show how different groups of voters contribute to the top-line numbers, the findings get significantly more suspect. Ron DeSantis's pollster, who was apparently concerned about Trump's robust numbers in the survey, usefully summarized some of the problems. Here's a sample:
Again, this is not an indictment of the pollster; even the best have problematic findings. And it also doesn't mean Joe Biden is actually in great shape as he moves into the heart of what will likely be a tough reelection cycle. But to Democrats suffering from anticipatory despair, and to Republicans already plotting authoritarian vengeance on their "woke" enemies, it's a very good idea to avoid overreacting to limited data, while also eschewing the boneheaded temptation to reject all data as "fake." When it doubt, you should probably assume that 2024 will feature another close presidential election, just like 2000, 2004, 2012, 2016, and 2020.