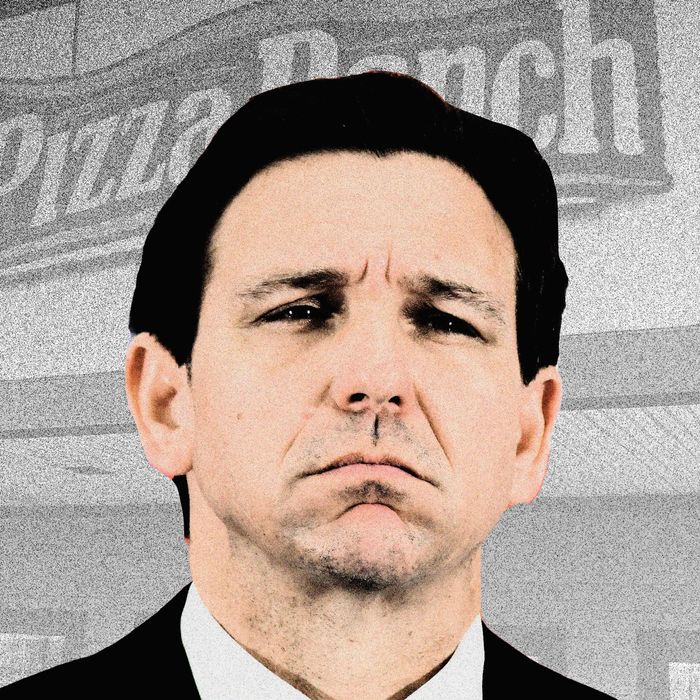 Photo-Illustration: Intelligencer; Photos: Shutterstock, Getty Images
In the last few months, soon-to-be-official Republican presidential candidate Ron DeSantis has pursued varying strategies in his effort to deal with 2024 front-runner Donald Trump. Initially, the Florida governor seemed to be well on his way to eclipsing the 45th president by putting together a pan-ideological coalition of Republicans ready to move on from the founder of the MAGA movement. More recently, as Trump has surged into a lead in the polls and among elected officials, the DeSantis rationale has been more subtle: Trump may own the hearts of the GOP base, but he's toast in a general election, and will inevitably sacrifice his party and his country to a narcissistic campaign doomed to fail.
Evidence of DeSantis's superior electability isn't that easy to come by, so presumably his team has been looking for something a bit more immediate to help him get a leg up on his rival. It may have arrived in a sudden dispute between the candidates over the red-hot issue of abortion.
Trump started the brouhaha on Monday with a strange comment in an interview with the Messenger about the six-week abortion ban DeSantis recently signed into law.
"He has to do what he has to do," Trump said. "If you look at what DeSantis did, a lot of people don't even know if he knew what he was doing. But he signed six weeks, and many people within the pro-life movement feel that that was too harsh."
Trump didn't explain how many people were "many," but anti-abortion activists were quick to explain that they want to outlaw all abortions. And many eyebrows were raised when one of Iowa's most important conservative Evangelical opinion leaders, Bob Vander Plaats, embraced the criticism of Trump:
Coincidentally or not, DeSantis, who often ignores Trump's sniping at him, responded quickly, as the Hill reported:
Florida Gov. Ron DeSantis (R) went after former President Trump over his stance on abortion restrictions, saying Tuesday that Trump dodged questions about whether he would sign a bill similar to the six-week abortion ban signed by DeSantis …




DeSantis fired back during a bill signing in Tallahassee on Tuesday, criticizing Trump for not saying whether he would sign a similar bill.




"I think that as a Florida resident, you know, he didn't give an answer about 'would you have signed the heartbeat bill that Florida did.'" DeSantis said. "He won't answer whether he would sign it or not."
This was interesting coming from a politician who wouldn't even mention the six-week ban in an appearance at conservative evangelical Liberty University the very day after he signed it. It sounds like he's now ready to lean into his base-pleasing record on abortion even though many swing voters (including Floridians) are horrified by it. The opening Trump gave him, and the issue's particular importance in Iowa (where Evangelicals dominate conservative caucusgoers) may just be too tempting.
More generally, DeSantis may see an opportunity to severely damage the 45th president in the very first contest of the 2024 GOP primary, instead of playing the longer game and hoping Trump fatally stumbles or Republican voters truly get tired of his act. His campaign surely made a big and successful opening play in Iowa last weekend with a little help from Mother Nature and an unusual Trump campaign misstep, as Politico reported:
A tornado watch kept Donald Trump away from his planned rally in Iowa on Saturday — and Ron DeSantis took full advantage, barnstorming the state in the former president's absence.
DeSantis fought his poor reputation for retail politicking by engaging in such Iowa Caucus rituals as an appearance at a Pizza Ranch restaurant and some burger-flipping time with a who's who of Iowa Republican politicians (including Governor Kim Reynolds and Senator Joni Ernst) in vote-rich northwest Iowa. His campaign also showed a deft touch by arranging an unscheduled detour to Des Moines, where DeSantis was able to point to the nice weather in order to lightly mock Trump for canceling his rally there. And the uncontested visit was nicely coordinated with a show of force by the DeSantis super-PAC, which announced DeSantis endorsements from over a third of the Republicans in the state legislature, a very impressive haul.
Going forward, if DeSantis is able to exploit Christian-right unhappiness with Trump's criticisms and equivocations on abortion, he could become the favorite in Iowa (for the record, the candidates endorsed by Vander Plaats won the caucuses in 2008, 2012, and 2016). But that's a big if: Aside from Trump's residual strength in conservative evangelical pews (if not pulpits), Mike Pence and Tim Scott have the same idea as DeSantis, and can boast records of personal piety and public bible-thumping that at this stage the Floridian has never even tried to emulate. And for them, it's Iowa or bust.
Perhaps DeSantis will become Iowa-centric as well, but to the extent that he tries to become 2024's version of 2016's Ted Cruz or 2012's Rick Santorum, he may be sacrificing some of that electability street cred that up until now has been so important to his candidacy.