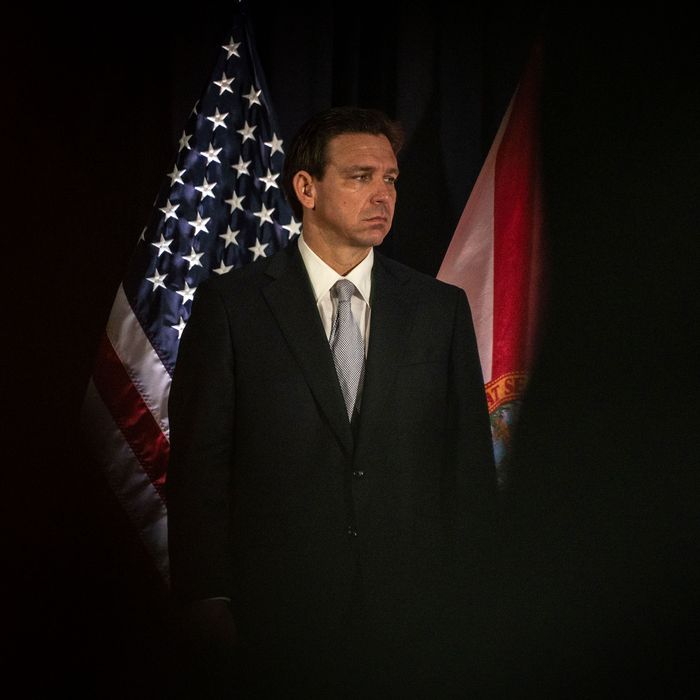 The presidential thing not looking so easy anymore.
Photo: Thomas Simonetti for The Washington Post via Getty Images
When Ron DeSantis formally enters the 2024 presidential race later today, he will already be a diminished White House aspirant. The Florida governor's pre-candidacy got off to a roaring start last autumn. His landslide reelection as leader of a party that had quickly turned Florida red gave him reams of admiring press in the conservative-media world, particularly in contrast to his presumed chief rival, Donald Trump, who got a lot of blame for Republican under-performance nationally and then spent weeks sulking in his tent. Very soon there was talk of Republican and conservative-movement elites consolidating behind a DeSantis candidacy to put Trump out to pasture once and for all without sacrificing the base-pleasing appeal of MAGA culture-war politics. Indeed, it looked like DeSantis could offer Republicans a steadier 2.0 version of Trumpism on the campaign trail and a much calmer (if still quasi-authoritarian) presence in the White House.
DeSantis faced plenty of thorny strategic questions in those early days, but one thing was quite clear: The governor needed to make the case that Trump could only win the 2024 nomination if the GOP field was as divided as it was in 2016. And thus every argument for DeSantis '24 became an implicit argument against other candidates entering the race, as reflected in the attention given to DeSantis's much stronger performance in polls testing a one-on-one contest.
From that perspective, DeSantis's strategy has already failed. Nikki Haley, Asa Hutchinson, and Tim Scott are announced candidates, as is at least one White House aspirant scratching the itch for new faces, entrepreneur Vivek Ramaswamy. Mike Pence is expected to make his candidacy official any day. Chris Christie may as well. New Hampshire governor Chris Sununu says he's "61 percent" likely to run. And suddenly Virginia governor Glenn Youngkin is reconsidering his earlier decision against a 2024 race. Reports Axios: "Some powerful GOP donors, who won't support Trump but are beginning to be concerned about DeSantis, are encouraging Youngkin to jump into the 2024 field."
None of these non-Trump rivals have as good a chance to win the nomination as does DeSantis. But together they significantly reduce his chances. And more immediately, all this competition in the non-Trump "lane" is just a negative market signal for the once almighty Florida governor.
Presumably DeSantis's rivals are paying close attention to the empirical evidence that he lost his momentum against Trump early this year and is steadily losing ground in the polls. In the RealClearPolitics polling averages, DeSantis trailed Trump by a manageable 15.8 percent nationally as recently as March 30. Now Trump's lead has ballooned to 36.9 percent. DeSantis's own support in the RCP averages has dropped from 30 percent to 19 percent over that same period. Once the subject of confident predictions that Trump had truly met his match, now "DeSantis can still win" has become a contrarian take (as it was recently for CNN's Harry Enten).
It's entirely possible, of course, that just as he's emerging from the shadows into the sunshine of a formal candidacy DeSantis has already bottomed out and begun an upward trajectory. As he announces on a wave of free media along with ads from his vast resources, it's logical that
DeSantis's name ID will go up, and perhaps with it his polling numbers. And while he's lost market share to Trump and let other candidates into the race, none of those candidates is currently threatening to break into the double digits in support. In some respects, moreover, his new and less powerful position in the contest has simplified his strategy going forward. He needs at the very least to challenge Trump seriously in Iowa (where he's actually off to a very good start); a strong showing there in the polls and then in the caucuses is absolutely the best way to marginalize and even kill off other candidacies, restoring the small field that gives him the best shot to catch up with the front-runner. Keeping Trump from running away with Iowa and New Hampshire is also the best way to keep Trump from becoming the "inevitable" nominee behind whom DeSantis's elite backers begin to unhappily consolidate.
Still, the time has come for DeSantis to play error-free baseball for a while. Gaffes and missteps are becoming intolerable for him, and he really can't afford any more stories about his lack of people skills and disinterest in retail politics — not with all those likely Iowa caucusgoers staring at him from very close up. On the issues, from abortion to "woke corporations" to retirement programs to Ukraine to whatever madness congressional Republicans are up to, he needs to decide on a clear message and stick to it without wavering; if the GOP wants an erratic candidate, they've got the one they nominated in 2016 and 2020. Meanwhile his wizards need to find and wildly exaggerate any evidence they can muster that DeSantis is truly and decisively more electable than Trump. Ron DeSantis has lost a lot of ground since last autumn, and he might as well campaign as though his back is to the wall.