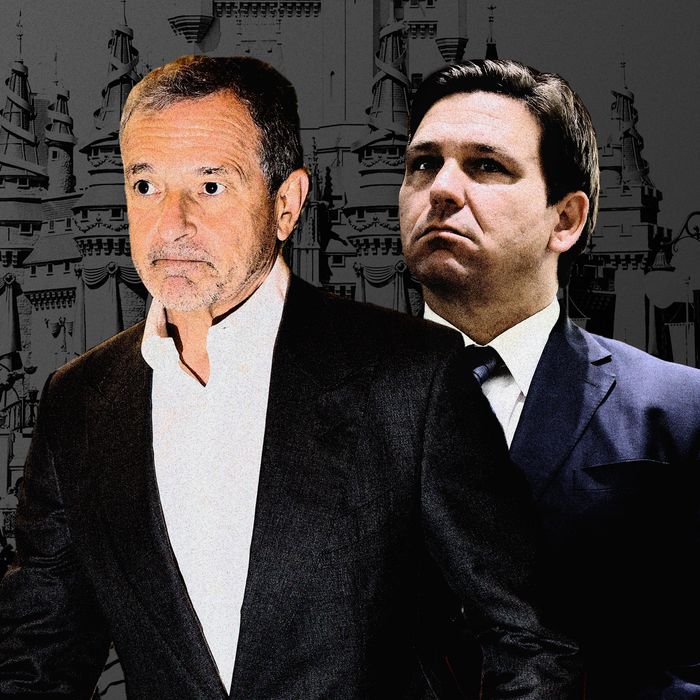 Iger and DeSantis.
Photo-Illustration: Intelligencer; Photo: Getty Images
Ron DeSantis is discovering that he can't push Disney around the way he can public-school teachers and transgender teens.
On Thursday, Disney announced that it would be nixing a $1 billion development plan near Orlando, Florida, marking another front in the bitter battle between corporate behemoth and far-right governor. In an email to employees, Disney Parks chairman Josh D'Amaro cited "changing business conditions" as a reason for exiting the deal. He did not need to elaborate further.
Per the Orlando Sentinel, Disney had paid $46.4 million in 2021 for 58 acres of land in Lake Nona, Florida, that was meant to house hundreds of members of its "Imagineering" team, many transplanted from California, who would make an average of $120,000. According to the New York Times, a number of employees didn't want to move to Florida — some quit rather than relocate — but Disney stuck with the deal until now because of the hundreds of millions of dollars in tax breaks the state had agreed to.
DeSantis has used his relentless attacks on Disney — which first drew his ire for criticizing Florida's so-called "Don't Say Gay" law — as a way to shore up conservative support for his anti-woke agenda in Florida and nationwide. After revoking the company's special-district status last year, DeSantis romped to reelection by almost 20 points, which seemed to prove that there was little political downside in going after a company that generates such goodwill with American children (and some strange adults). But recently, his strategy has shown signs of wear.
For one thing, Disney has been counterattacking in increasingly aggressive fashion, especially since last fall, when Bob Iger, who had personally objected to the Florida law, came out of retirement and snatched the CEO crown back from Bob Chapek. (Iger opposed the project Disney canceled on Thursday from the beginning, even before his feud with the governor.) Earlier this year, DeSantis proudly proclaimed that he was deposing the board of Disney's special tax district. But when the DeSantis-approved board reconvened, it emerged that the outgoing board had stealthily passed a measure hamstringing its replacement. The dispute between the two boards is now tied up in court. In April, Disney filed a broad lawsuit against DeSantis, alleging "a targeted campaign of government retaliation." Given that DeSantis hasn't bothered to disguise his motivations as much more than naked political revenge, the company appears to have a pretty good case. Donald Trump, who has soared to a vast lead over DeSantis in early primary polls, accused DeSantis of "getting absolutely destroyed by Disney."
But it's not just candidates directly competing against DeSantis who are criticizing the governor for his scorched-earth campaign against a private company. While Florida Republicans have generally gone along with DeSantis's war, some have clearly had enough of it — which makes economic sense given the company's enormous footprint in the state.
In his email on Thursday, D'Amaro said he retained "hope" that Disney could continue with a planned $17 billion of investment in Florida over the next decade, which would include 13,000 jobs. All that may depend on DeSantis's next few moves.