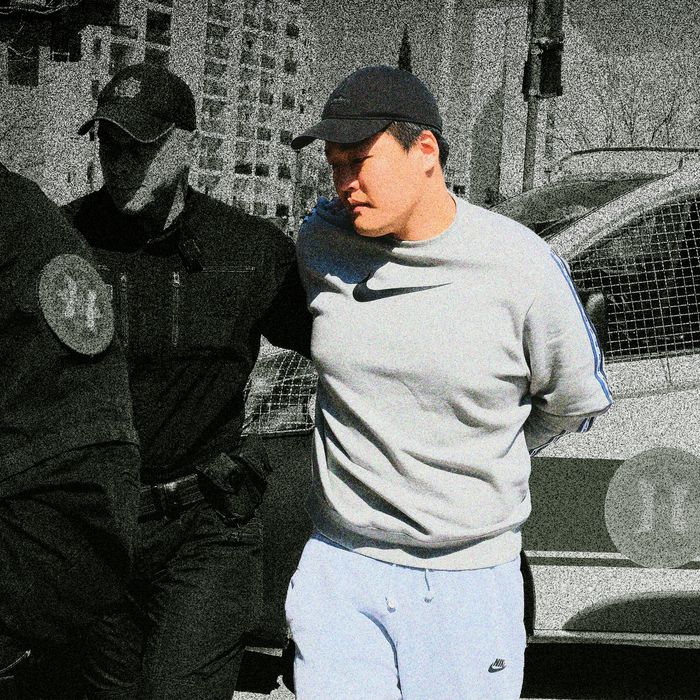 Photo-Illustration: Intelligencer; Photo: Risto Bozovic/AP Photo
Today, Do Kwon is awaiting trial in a small Eastern European country with a questionable human-rights record. But only 14 months ago, he was in a much more favorable place: sitting on billions of dollars' worth of crypto he created out of nothing, with millions of enthusiastic followers at his back, as he pursued a plan for world domination.
Since then, just about everything that could have gone wrong for his master plan did. It's not an exaggeration to say that Kwon, a 31-year-old coder and Stanford University graduate, was patient zero in the string of collapses that reduced the cryptosphere to a fraction of its former size, leaving most of those around the world who dabbled in it far poorer than they otherwise would have been. The digital currencies that he built his fortune on, terraUSD and luna, crashed to zero in a matter of hours, wiping out his $40 billion empire (and the wealth of many of his retail acolytes). There's a straight line that links the collapse of Kwon's digital currencies to the two other major calamities that defined 2022 as crypto's worst year: the cratering of hedge fund Three Arrows Capital and the arrest of Sam Bankman-Fried on charges of criminal fraud and illegal political-influence peddling.
With law enforcement circling Kwon in multiple countries, he went on the lam for about ten months, insisting on Twitter the entire way that he did nothing criminally wrong. Then, in March, authorities in Montenegro — a small country in the Balkans squeezed between Serbia and Albania — arrested him as he boarded a private plane headed to Dubai using an allegedly fake passport.
On Friday, Kwon and his chief financial officer, Han Chang-joon, were placed under house arrest by the Montenegro courts, their release secured by a roughly $450,000 bail payment. For Kwon, being under house arrest might be a big step down from his old life, but it is also a big step up from Montenegro's prisons, which were rebuked by the State Department over reports of torture and beatings. He is now set to begin the first of his trials in as many as three countries — that is, if he doesn't successfully evade his minders again.
What's clear about Kwon is that, though he may not be a billionaire anymore, he's still rich. The bail was sent over by Kwon's wife and Han's wife, and the apartment in which they live is "worth several million," according to the court. (It's not clear which apartment Montenegro authorities are referring to here. An apartment they bought last year in Serbia is worth about $2.2 million, and Korean authorities had earlier seized about $175 million in assets, including a Seoul apartment.) Where this money came from, or how much more they have access to, is unclear. Prosecutors are worried that the bail amount is too low — that it "does not guarantee the presence of the defendants" to show up to further court hearings. Translation: Kwon and his buddy might be happy to say good-bye to the bail money and the apartment and go on the lam again.
It's unclear what challenges and hurdles he might face if he tries to skip out on his trial. Montenegro does not have the capacity to surveil Kwon with an ankle monitor, according to his lawyer. Instead, the authorities there will have to rely on weekly police visits to his apartment in the country's capital, and there will be some security presence around his building to keep tabs on him. The view from Kwon's perspective is bleak: Even if he beats the charges in Montenegro, he's been indicted for criminal fraud in the U.S. and in South Korea. Both countries are seeking his extradition. Years of trials lie ahead.
From the time his cryptocurrencies crashed last April, he has played a worldwide game of catch-me-if-you-can with authorities. In late 2021, just months before everything collapsed, he'd moved to Singapore. This past summer, he gave a widely mocked interview to a crypto reporter whose company Kwon had invested in. By September, local authorities couldn't find him. After South Korean officials accused him of not cooperating with their investigation, he taunted them from his Twitter account. "I'm making zero effort to hide," he wrote in September. (Korean officials said he was "obviously on the run.") When Interpol issued a Red Notice for his arrest, he sowed doubt online that it was even true. (The policing agency doesn't post all its notices online, but Korea confirmed that there was one.)
It was a very modern and very crypto version of being a fugitive, continuously playing to his fans — known as Lunatics — and trolling his enemies on social media while making scarce in meatspace. But he'd always been a gifted and audacious influencer. This was the guy who had built up his following by being an asshole and roped in big-deal Wall Street types like Mike Novogratz to his crypto project. His stated ambition was nothing short of supplanting the whole idea of money itself.
Kwon's project centered on a pair of linked digital tokens called terra and luna. There was a complicated relationship between them — one was theoretically stable while the other floated with the markets, a design that was supposed to make an ever-shifting counterweight. What matters now is that the design proved to be unstable. In a few days last May, both melted down, vaporizing a sum of wealth equivalent to the GDP of Bolivia.
There were immediate calls to bring Do Kwon to justice, accusing him of defrauding his customers, knowingly taking money out of his companies, and being reckless with other people's money. In South Korea, where many terra and luna holders lived, officials started to investigate.
In the weeks after the crash, Kwon still appeared to believe that he could just move on from it, as he'd moved on from the implosion of a prior, smaller project that was similar to terra. He launched a new cryptocurrency called luna 2.0, then retweeted messages of support for him. "FTX supports Luna 2.0," Kwon posted on May 25 with a link to a since-deleted tweet from the now-bankrupt exchange. That same day, he retweeted a similar message of support from Huobi, a cryptocurrency exchange believed to be controlled by Justin Sun, another digital-currency billionaire who is now facing civil-fraud charges in the U.S. At that time, just a few months after bitcoin had hit an all-time high of nearly $69,000, the idea that he could just move on and instantly create another multibillion-dollar fortune was at least plausible. But luna 2.0 soon crashed, too.
After that, the sales pitch changed. No longer was he pushing cryptocurrencies very hard. Instead, he wanted his followers to buy something even more valuable, at least to him: Do Kwon's innocence. He would defend himself as merely a fallible entrepreneur, someone who got it wrong — definitely not a fraud. In November, the consulting firm J.S. Held finished an audit of one of his companies, the Luna Foundation Guard — its initials echoing a crypto meme meaning Let's fucking go! — which had spent $2.8 billion trying to keep his currencies from crashing. None of the money from that fund was stolen or embezzled, the firm found. "I was wrong, but that doesn't make me a scammer," he wrote in December. It's a strategy that's going to presumably get its first airing in the court system of Podgorica, Montenegro's capital city.
But civil and criminal prosecutors have already been saying otherwise. Even before the May crash, the Securities and Exchange Commission had sued him for illegally offering unregistered securities, serving him with a subpoena while he was onstage at an event in New York. The SEC alleged that he repeatedly misled the public, as Kwon argued that it didn't have the jurisdiction to sue him. In September, Korean authorities issued a warrant for his arrest as well as four former employees'. According to a civil class-action suit filed in California, Seoul's prosecutor's office had "obtained private messages of Do Kwon allegedly telling a Terraform Labs employee to manipulate the market price of the Terra stablecoin and the associated Luna cryptocurrency." After Kwon was arrested in March, U.S. and Korean prosecutors unsealed indictments.
It's not clear what will happen next for Kwon. Although Montenegro doesn't have an extradition treaty with the U.S., the country has sent back convicted fraudsters before. When I reached out to Su Zhu, the Three Arrows Capital co-founder who was close with Kwon, to ask if he'd been in contact with Kwon, he deleted an entire conversation on Telegram going back to the fall.
Still, Kwon's posting has retained him some fans. There are even some who still call themselves Lunatics, though there are fewer now that Kwon is a lot poorer than he used to be. One of his fans, who goes by MB and runs a luna Telegram chat, defended Kwon — even predicted that he'd be up to his old tricks in no time. "Do Kwon remains one of the top guys in this industry," he told me. "So when the time comes and the truth comes to light, he will continue his vision about decentralized economies and money."