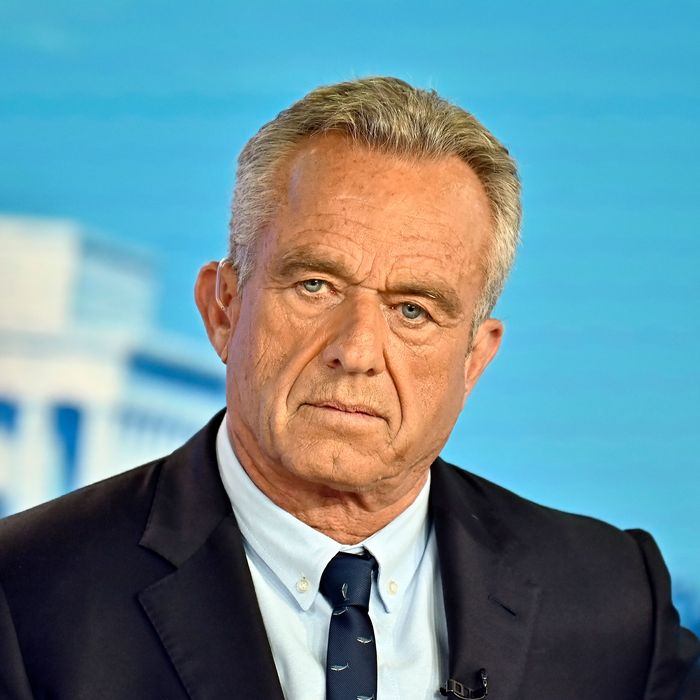 No chip off the block.
Photo: Shannon Finney/Getty Images
Joe Biden will almost certainly be the Democrats' 2024 nominee, but like most presidents with iffy job-approval numbers, he's dealing with nuisance candidates on the ballot in early states. One of them is 2020 retread Marianne Williamson, a lefty politician with some renown as a self-help author who has an ethereal (or if you wish, "spiritual") bent. But Biden's more notable challenger is Robert F. Kennedy Jr.; while the heir to the most formidable brand in Democratic politics can't win the nomination, he is drawing the attention of Biden critics on both the left and the right.
Many baby-boomers idolized the candidate's father, Robert F. Kennedy Sr., who was assassinated while seeking the Democratic presidential nomination in 1968. And many people have an attachment to the Kennedy family, anchored in admiration for John F. Kennedy and Ted Kennedy as much as for Bobby. So some support for RFK Jr. is likely due to associations that have nothing to do with the eccentric public figure he has become.
Unfortunately, most of the limited 2024 Democratic presidential polling available to the public doesn't explore the nature of RFK Jr.'s support, such as it is. But now CNN has a poll conducted by SSRS that provides some insights:
Within his own party, 60% of Democratic and Democratic-leaning voters say they back Biden for the top of next year's Democratic ticket, 20% favor activist and lawyer Robert F. Kennedy, Jr., and 8% back author Marianne Williamson. Another 8% say they would support an unnamed "someone else."
Another 44 percent of Democrats and "leaners" would "consider" backing Kennedy if they knew more about him.
Unfortunately for RFK Jr., it seems voters really don't know who he is, and his support will dwindle once they figure it out.
CNN asked respondents to offer their own responses on why they might consider voting for Kennedy. The answers showed how little they knew about his signature anti-vaccination views. Per CNN:
Among those who would consider Kennedy, 20% cite his connections to the Kennedy family as the main reason. One said, "I liked his dad (RFK) and his uncle (JFK) a lot. I would hope he has a similar mindset." Many suggested they are merely open to learning more: 17% say they just don't know enough about him to rule him out and 10% that they are open-minded and would consider any candidate. One respondent explained they would consider him, "Because a reasonable person considers things before making choices. It has nothing to do with RFK himself, just that I wouldn't automatically say 'no' without consideration first." Some say they'd back any Democrat (10%) or anyone who is not Trump (5%). About 1 in 8 (12%) say they would consider him because they support his views or policies and 4% mention his views specifically on environmental issues.
Not a word was offered about his "views or policies" on vaccinations, which notoriously preceded the COVID-19 pandemic, as my colleague Matthew Stieb noted when Kennedy announced his candidacy:
The founder of an anti-vaccine organization called Children's Health Defense, Kennedy Jr. has promoted the disproven claim that vaccines cause autism in children — and nearly led a presidential commission on the nonexistent connection in the early Trump years. When the pandemic hit, RFK Jr. hit the useless COVID treatments hard, promoting horse dewormers and anti-malarial pills that don't work. In 2021, he wrote a book called The Real Anthony Fauci, claiming that the former NIAID head pulled off "a historic coup d'état against Western democracy." At an anti-vaccine rally in Washington, D.C., last year, he compared the COVID-vaccine push — tied together with 5G and satellite surveillance — to the Holocaust. 
Should Kennedy get out of the low 20s in Democratic polls nationally or in any early primary state, it's likely he will get the exposure necessary to place a low ceiling on his support. Already in the CNN poll, 36 percent of Democratic and Democratic-leaning independents say they would not support RFK Jr. "under any circumstances." That number is likely to rise, particularly if Kennedy continues to draw praise mostly from the far right.
What does it mean that the incumbent president has drawn two challengers? Not a lot. Kennedy and Williamson are both counting on getting headlines for doing well against Biden in New Hampshire, where the president's name likely won't be on the ballot because the state is defying the Democratic National Committee's calendar for early presidential primaries in 2024.
Even if that all transpires, it probably doesn't matter. Back in 1972, incumbent President Richard Nixon had two ostensibly credible opponents in New Hampshire, both of them sitting congressmen (one, Pete McCloskey, opposed the Vietnam War; the other, John Ashbrook, opposed Nixon's détente with the Soviet Union). McCloskey won 20 percent of the vote and Ashbrook another 10 percent. Nixon ultimately won 1,347 of 1,348 delegates at the Republican National Convention and went on to win 49 states that November. Nuisance candidates are just that.