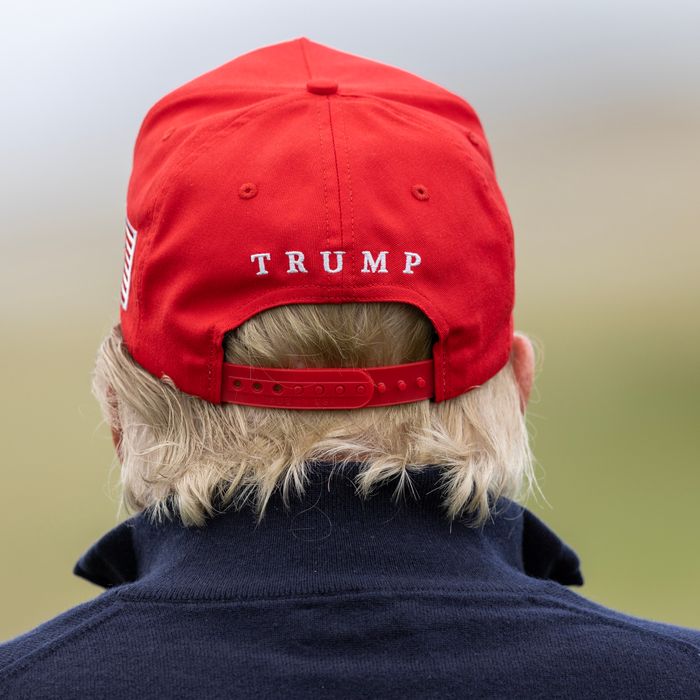 Donald Trump, today in Scotland.
Photo: Getty Images
When Jessica Leeds ran into Donald Trump at a charity gala in the early 1980s, he didn't say much, but his few words were searing.
"'I remember you,'" Leeds recalled him saying. "'You're that cunt from the airplane.'"
Leeds's recollection was delivered as she was testifying Tuesday afternoon in E. Jean Carroll's civil rape trial against Trump. The former saleswoman and stockbroker, now 81, described how a routine flight some five decades ago turned into an airborne house-of-horrors at Trump's hands.
Leeds is one of two women Carroll's team is calling to testify about their own encounters with Trump. She first came forward with her allegation that Trump groped her in the late 1970s in October, 2016. This was after, she said, he disavowed his "grab 'em by the pussy" statement during a presidential debate — claiming to respect women.
Leeds had been sitting in coach when a flight attendant asked whether she wanted to sit in first class.
"Yes, of course," she said. "When I got up there and sat down, the gentleman sitting by the window introduced himself as Donald Trump. We shook hands," Leeds recalled. They chatted, but not about anything particularly substantial. Leeds didn't know who Trump was.
"I was working out of Connecticut, living in Connecticut, so I wasn't aware of the social scene or the real estate scene in New York City." They were served a meal, which Leeds described as "very nice." The flight crew then cleared their plates. "We were sitting there when all of a sudden, Trump decided to kiss me and grope me," Leeds said. She dated the incident to 1978 or 1979.
Was there some type of conversation that could have led to this? Carroll's attorney Mike Ferrara asked. "There was no conversation, it was like, out of the blue," Leeds said. Did she recall saying anything that could have suggested it was a welcomed advance? "Not at all."
"It was like a tussle — he was trying to kiss me, he was trying to pull me towards him, he was grabbing my breast — it's like he had 40 zillion hands," Leeds said. "It was when he started putting his hand up my skirt that kind of gave me a jolt of strength, and I managed to wriggle out of the seat, and I went storming back to my seat in coach."
"Did you scream or yell?" Ferrara asked.
"No," Leeds said. (Trump attorney Joe Tacopina had just the day before repeatedly hammered Carroll for not yelling or screaming during the alleged encounter.)
"Why didn't you yell or shout or sort of exclaim something?"
"In my head, I think I called him a name. It never occurred to me to yell out."
"Why not?" Ferrara asked.
"I don't know."
Shortly before this, Ferrara had asked her whether anyone was around to help. Leeds recalled that there were people in the seats behind her, who must have seen her and Trump's chairs moving during the commotion. Another passenger, a man "whose eyes were like saucers" saw something, but didn't intervene.
"I can remember thinking: Where is the stewardess? Why doesn't somebody come and help me? And then I realized, nobody was going to help me," she said. "I had to do it myself and that's when I got the strength to get up and get out."
Leeds later moved to New York City and, in 1981, had a job at the Humane Society of New York City. She was working the door at a benefit, which counted Gloria Vanderbilt among its fashionable attendees. "Everybody was dressed to the nines," she said. That's where she had her second encounter with Trump.
As Leeds was telling attendees their table assignment numbers, Trump walked up with Ivana Trump, then married to him and pregnant, at his side.
Trump attorney Joe Tacopina grilled Leeds on this second encounter, suggesting that Trump would have been unlikely to use such language in front of Ivana. Did Trump, "standing there next to his pregnant wife," say "you're that cunt from the airplane?"
"Correct," Leeds said.
Before Leeds' testimony, Carroll's team called longtime friend Lisa Birnbach to testify. Carroll said she called Birnbach immediately after the alleged attack, which the journalist corroborated in her testimony this morning.
"E. Jean, he raped you," Birnbach recalled saying after Carroll described the experience. "You should go to the police." Carroll refused. At Carroll's urging, the two agreed never to talk about the alleged encounter again.