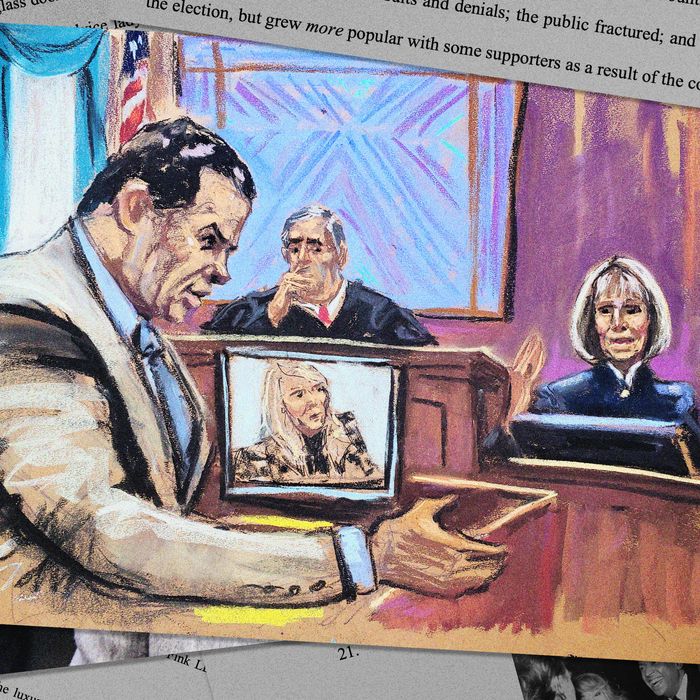 Photo-Illustration: Intelligencer; Art: Jane Rosenberg/Reuters
As E. Jean Carroll's testimony entered its third and final day Monday in her civil rape trial against Donald Trump, so emerged a sort of second trial — a dialogue on public persona and private suffering, as well as the entertainment value of rape.
The grim proceeding-within-a-proceeding unfolded as Trump attorney Joe Tacopina asked Carroll about not speaking up or going to authorities, as well as her public comments about the assault. Tacopina — who was confronted by hecklers as he entered the downtown Manhattan federal courthouse today — noted that she had made allegations of other assaults in her memoir and had not gone to police about these, either.
"Have you ever reported any of the alleged assaults to police?" Tacopina said in his second day of cross-examination.
"No," Carroll said, adding shortly thereafter, "Mr. Tacopina, I was born in 1943. I am a member of the Silent Generation, women like me were taught to keep our heads up — not call the police. I would rather have done anything than call the police."
"I was ashamed of what happened. I thought it was my fault," Carroll also said. "I would never go to the police." Later, he asked Carroll about comments she had made to people that she was "fine," the point seemingly being to undermine her allegation. "I have come to believe and to understand that I was not fine, but I put on the pleasant, Go get 'em face that I've always had," Carroll said.
Tacopina also asked about comments she made during a June 2019 interview with Anderson Cooper. Carroll's television appearance came several days after an excerpt of her book ran in New York — which was the first time she publicly accused Trump.
Carroll described the interaction as a "fight" during her interview with Cooper, who pointed out that such an allegation is "the definition of rape." Cooper effectively asked Carroll why she didn't use the word "rape."
"I was not thrown on the ground and ravished. Which, the word 'rape' carries so many sexual connotations. This was not — this was not sexual. It just hurt. It just—" Here, Cooper interjected, cutting Carroll off. "I think most people think of rape as a — it is a violent assault. It is not—"
"I think most people think of rape as being sexy," Carroll interrupted in turn. "Let's take a short break," Cooper said, as Carroll continued: "They think of the fantasies."
Today Tacopina grilled Carroll on this comment — what did she mean, that people think of rape as sexy?  "I think most people think of rape as being sexy because in our culture, we are saturated with entertainment shows which continually show rapes to gather an audience." Game of Thrones, she said, had multiple rapes and dozens of attempted ones.
"It is used because it excites people and draws an audience," Carroll said, making clear she did not think it sexy. "Rape is the most horrible, violent, act that can be done against a woman or a man."
Later on, Tacopina's questioning inadvertently proved Carroll's point about rape-centered entertainment.  "As you sit here today, you know there's a Law and Order episode from 2012 that featured a woman getting raped in the Bergdorf Goodman dressing room, correct?" he asked. Carroll replied, "I am aware, yes." Carroll, for her part, said she didn't see the episode, which involves a rape fantasy. Carroll liked Law and Order, but not Special Victims Unit, saying: "It's too violent."
Tacopina also asked questions about Carroll's television and social media habits. He asked about The Apprentice, a long-running show where contestants vied for an opportunity to work for Trump. Did Carroll admit that she enjoyed the show? "I had never seen such a witty competition on television," Carroll said. "It was something that was worth watching."
He then asked about the show's conclusion — where Trump would tell hapless contestants "You're fired!" before booting them. "I didn't watch that," Carroll said, "but I watched the competition." Tacopina pressed on "You made a Facebook post, you were a 'massive' — all caps Apprentice fan."
"Two friends were on The Apprentice," Carroll said, "and I wanted to boost The Apprentice. This was a very good television show."
Tacopina also asked about another Facebook post where Carroll wrote: "Would you have sex with Donald Trump for $17,000? (Even if you could A. Give the money to charity and B. close your eyes and he's not allowed to speak.)"
"You joked about having sex with Donald Trump?"
"Yes," Carroll replied.
After Tacopina's cross-examination was over, Carroll's attorney, Michael Ferrarra, asked Caroll to explain some of her comments, leading to the most emotional moments of the day's proceeding. Ferrara asked questions like: Do you feel like there's a right way for someone to live their life who's been raped?  Do you believe there's anything wrong with a person who's been raped having happiness later in life?  How do you feel about having found some happiness later in life?
"I feel good about it," Carroll said. "That's the goal of all of this, in this courtroom, is to find a little bit of happiness."
"How, if at all, has filing this lawsuit given you a sense of control?" Ferrara said.
"Instead of living with the feeling of shame which I've always covered up, and living with a feeling that I caused this horrible thing to happen, by telling my story, I started to take a little bit of control," Carroll said, choking up. "And it's been a long way, and this is a very satisfying moment to me, to be here, to answer your questions."
As for Carroll's comments that she described herself as "fabulous," or "fine," Carroll explained: "If anyone on the street came up to me, I'd say I'm fine, I am fabulous," Carroll said. "When someone asks me how I am, I'm more concerned with the person who's asking. I don't want to upset their day. I don't want to, as they say, unload on them."