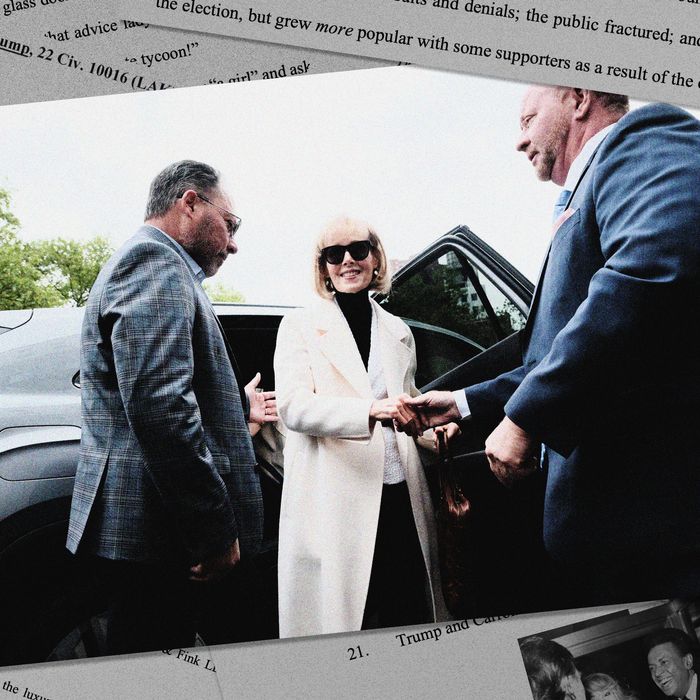 Photo-Illustration: Intelligencer; Photo: Getty Images
E. Jean Carroll's New York civil rape trial against Donald Trump entered a new phase Thursday: Her team rested her case. Trump's lawyers also rested without presenting a defense case, but it's still possible the ex-president, who has so far elected not to testify, could take the stand in his own defense.
The shocking possibility presented itself after today's testimony. Trump said from Scotland that he would "confront" Carroll and "probably" attend his trial, which so far he has skipped.
Judge Lewis Kaplan said that "in the interest of justice," he would give Trump's team until 5 p.m. Sunday to make a motion to reopen his case "for the purpose and the sole purpose of testifying as a witness in this case."
"I am not saying that I will grant it. If it is made, I will consider it,"  Kaplan said. "He has a right to testify that has been waived, but if he has second thoughts, I'll at least consider them and maybe we'll see what happens."
"I won't attempt to summarize them any further or comment in any way on the substance," Kaplan said of Trump's comments. "But I have taken the precautions I have just taken in light of those statements."
While the final day of testimony wasn't particularly a bombshell — many, many facts in this case have long been out there in unsealed exhibits and deposition transcripts — it was a fitting denouement. Carroll's team played still more of Trump's video deposition, and one of the witnesses they called was Carol Martin, a retired news anchor whom Carroll had told about the alleged rape. Carroll, who has accused Trump of raping her in a Bergdorf Goodman dressing room in early 1996, said she told Martin about the alleged attack several days later.
Calling Martin on the final day of testimony meant that one of the last people jurors would hear corroborated a key element of Carroll's account. While Martin wasn't at Bergdorf Goodman, of course, she testified to Carroll's telling her about the alleged attack.
Carroll and Martin both worked at America's Talking, a now-defunct television network launched by Roger Ailes. One day, after they both finished their shows, Carroll asked if they could hang out later, Martin recalled. They were in Martin's kitchen when Carroll "started telling me what had just happened."
"What did she say just happened?" Carroll's lead attorney, Roberta Kaplan, asked.
"She introduced it by saying, 'You won't believe what happened to me the other night,'" Martin answered. "I didn't know what to expect, and I just turned to her and she said, 'Trump attacked me.'"
"I was completely floored," Martin added. "I'm saying, 'What are you talking about?' But the next thing that came to my mind was if she was okay, and that's what I asked her."
"She kept telling me what happened, that 'he attacked me' — I think she said 'pinned me' — and I still didn't know what that meant," Martin said. She tried to get Carroll to explain, but it wasn't a "linear conversation," and "she was clearly agitated, anxious."
"She said she was at Bergdorf the night before, probably two nights ago, and that she ran into Mr. Trump going in one of the revolving doors, and she said they started up a conversation," Martin said. They kibitzed. Trump said he was looking for a gift, Martin explained. Carroll told Martin she suggested several potential presents. They ascended the escalator.
"Once they reached a level where there were dressing rooms, she said at that point he attacked her — those were the words that I remember," Martin said, explaining that as Carroll recounted the alleged attack, she wasn't crying but was visibly upset.
"What, if anything, did you say to Ms. Carroll about what she should do in the future?" the lawyer asked.
"She explained that she thought she was doing the right thing by not doing anything," Martin said. "But she wasn't asking me what I would do, and so at some point, I just volunteered that I didn't think she should do anything because he was Donald Trump, and he had a lot of attorneys, and I thought he would bury her, is what I told her."
"I have questioned myself more times than not over the years as to why I told her that," Martin said. "I am not proud that that's what I had told her."
In addition to corroborating Carroll's statements that she had told Martin, this testimony serves to explain why she didn't come forward for years — a point the defense has repeatedly brought up to undermine her claim.
Carroll's team also called an expert who claimed it could cost up to $2.7 million to repair her reputation. Closing statements are expected on Monday.