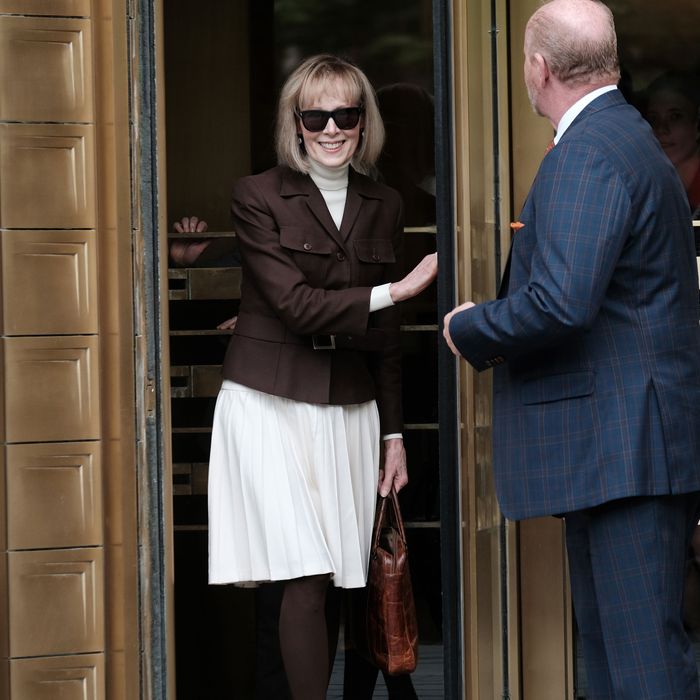 Photo: Spencer Platt/Getty Images
Donald Trump's own words might've gotten him into more legal trouble once again.
E. Jean Carroll is seeking $10 million in additional damages stemming from the former president's public comments about her after she won her sexual-abuse civil case against him. Trump made the comments in question during a televised CNN town hall held the day after the verdict against him came down. He called Carroll a "whack job" and the trial a "rigged deal."
"I don't know her. I never met her. I had no idea who she is," he said.
In 2019, Carroll, a former columnist, accused Trump of sexually assaulting her in a Bergdorf Goodman dressing room in the early 1990s. Trump immediately denied the accusation and alleged that Carroll was lying, crassly claiming that she was not his "type." These words prompted a defamation suit that is still pending against the former president. On Monday, Carroll's lawyers amended the suit with his new comments.
In their filing, Carroll's lawyers wrote that Trump's words "show the depth of his malice toward Carroll, since it is hard to imagine defamatory conduct that could possibly be more motivated by hatred, ill will or spite," per the New York Times.
They said Trump was "undeterred by the jury's verdict" and accused him of "doubling down" on his past defamatory statements on CNN to "enthusiastic cheers and applause."
"Carroll filed this lawsuit to obtain redress for her injuries and to demonstrate that even a man as powerful as Trump can be held accountable under the law," they wrote.
In 2022, Carroll sued Trump again, making use of a new law that allowed victims of sexual abuse to pursue civil cases against their alleged attackers even if the statute of limitations had expired. Earlier this month, a Manhattan jury found the former president liable for sexual abuse and defamation after deliberating for less than three hours and awarded Carroll $5 million in damages.
Even with the threat of a new defamation case hanging over him, Trump is being characteristically aggressive. In a Truth Social post on Tuesday, he once again claimed that he doesn't know Carroll, adding that he "wouldn't want to know or touch her."
"IT NEVER HAPPENED, IS A TOTAL SCAM, UNFAIR TRIAL!" he wrote.