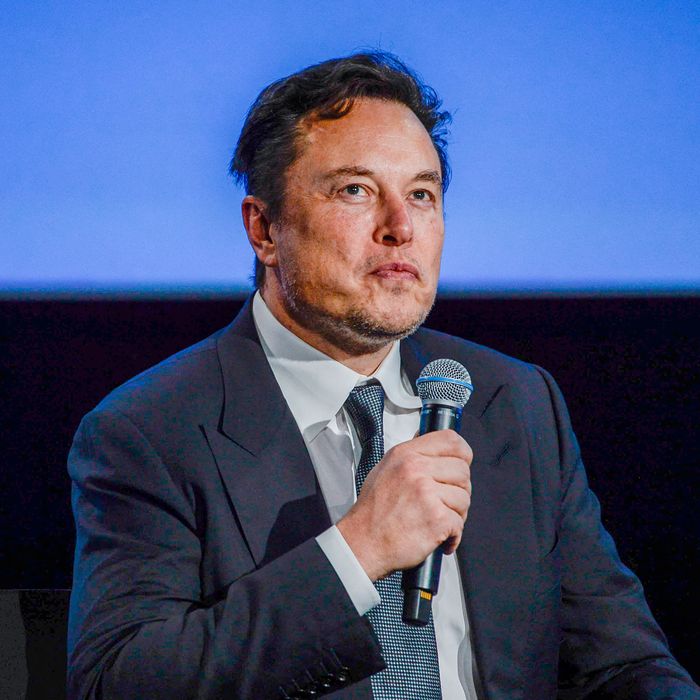 Photo: Carina Johansen/NTB/AFP via Getty Images
Since his announcement last April that he would offer an above-market price to buy Twitter and saddle it up with debt, Elon Musk has done a lot of damage at the social-media company. A staggering 80 percent of Twitter's workforce has been laid off thanks to the new CEO acting on his belief that the company was staffed too heavily in areas such as content moderation, product development, and marketing.
As a result, content moderation is basically nonexistent, which, in the mass-shooting era, means that unedited videos of dead victims spread rapidly, even before families can be notified. Owing to the cuts on the product side, glitches and outages are far more common than the pre-Musk era, when there were engineers around to fix those things. Billions of advertising dollars have dried up because of Musk's top-down decisions to transform the user experience, from allowing banned users back on to his overhaul of the verification process. (It turns out pharma advertisers don't want to be surrounded by anti-vaxx posts and verified accounts pretending to be Eli Lilly announcing free insulin for all.)
But after several months of mayhem, the self-damage control will begin soon. Musk tweeted on Thursday that he has hired a new chief executive — then confirmed on Friday that the new CEO would be NBCUniversal ad chief Linda Yaccarino.
Puck's Dylan Byers notes that she apparently lines up with Musk ideologically:
The Wall Street Journal has more on Yaccarino:
Yaccarino, chairman of global advertising and partnerships at NBCU, has been with NBCU for more than a decade, where she has been an industry advocate for finding better ways to measure the effectiveness of advertising. As head of NBCU's advertising sales, she was key in the launch of the company's ad-supported Peacock streaming service.
CNBC adds:
The longtime ad executive brings a wealth of relationships with top chief marketing officers and other advertising executives to Twitter at a time when the platform has seen advertisers flee – therefore losing billions of dollars – after Musk's takeover last year.
Since pretty much the beginning, Musk has said that he did not want to be Twitter CEO forever. But in February, the timeline was expected to be extended a little longer when the billionaire said he would need the rest of the year to get the company into "stable condition" for a new leader. Given that Musk himself estimated in March that Twitter was worth about $20 billion — less than half the $44 billion he paid for it — he might have realized that new management could achieve a stable condition faster than he could. Although Musk will still be in a place to cause more mayhem: He also announced on Thursday that he will remain executive chair and CTO, overseeing product, software, and systems operations.
This post has been updated.