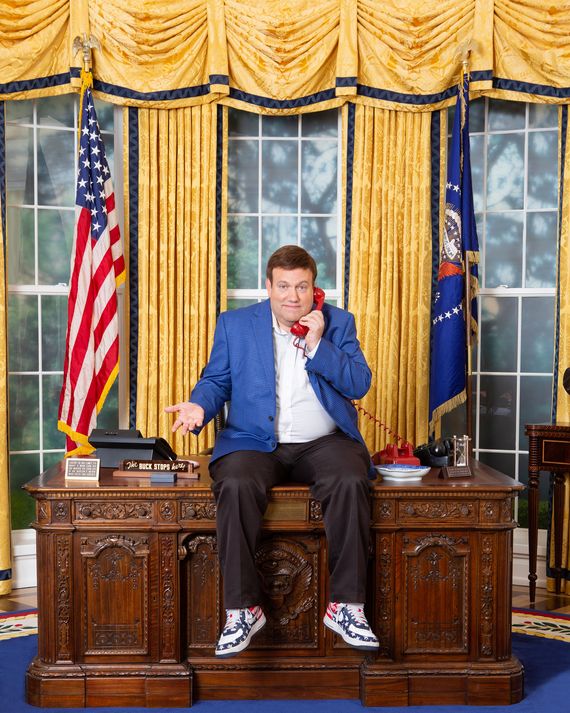 Frank Luntz in 2016 at his Los Angeles home with a replica of the Oval Office.
Photo: Noah Webb
"That's the original Big Boy," Frank Luntz said, gesturing to the deep end of a peanut-shaped swimming pool where the iconic restaurant mascot of a portly child triumphantly hoists a hamburger above his head.
We were standing in the backyard of Luntz's home — a property he long ago decorated with the zeal of a child who had lucked into a large sum of money. The 59-year-old had filled his kitchen cabinets with shoeboxes full of baseball cards. He'd installed a Riverboat Gambler pinball machine in the basement and placed a life‐size mannequin of the Terminator by his back door. "There was a Ronald McDonald too," he said, sighing. "But it's gone."
Back when Luntz was a hotshot Republican pollster, this Virginia home had been the center of his social life. Senators, representatives, lobbyists, Democrats, Republicans—they'd all come down from Washington to see him. He was known especially for his annual MLB All‐Star Game party, where Harry Reid, a serious baseball fan, showed up once. Another time, the Republican crew from the 2000 presidential recount came by to watch the game on the big screen and then tell war stories about hanging chads and Brooks Brothers rioters until the wee hours.
"Now, they don't drop by," he said, resting a hand on a rusty patio chair.
I'd dropped by because I was writing a book about people who were hoping to make Washington work for them — something that Luntz figured out a long time ago. Like everyone else, Luntz had been trying to get his bearings after Donald Trump's presidency. For him, that meant doing what he'd done for years: probing the hearts and minds of American voters. But I wasn't here to pick his brain on the mood of the electorate. I was here to size up Luntz himself. I already had an idea of what a life in Washington looked like to people whose futures lie in front of them. Here was a man who could show me the view from the other side.
It was February 2022, and Luntz's pool had been dry for months. Vines had begun to grow up the side of his house. The Terminator had been partially crushed by a felled tree, and a layer of green slime grew on the cherubic Big Boy.
It had been more than a year since Luntz had spent the night in this house, opting instead for time at his properties in Los Angeles or the U.K. He had returned to move out. "Nobody was coming to visit me here," he said. "I didn't have a choice."
He blamed the lack of guests on the house being too far away from Washington, D.C., but it wasn't the location that made the difference; it was his place in the Republican Party that had shifted under Donald Trump. Luntz hated Trump so much he said it nearly killed him.
"Donald Trump made my head explode," he said.
In early 2020, Luntz checked himself into a hospital after a tingling in his arm crept up his shoulder and began to spread across his face. Doctors told him his blood pressure was an alarming 197 over 122 and that he had suffered a stroke. His lack of exercise and unhealthy eating habits didn't help, but a lot of it had to do with stress and the fact that when Luntz got upset about the state of the world, he was less likely to take his blood-pressure medicine. He was at that time constantly upset about the state of the world. He blamed Trump.
"I had a stroke because of Trump," Luntz said. "I didn't have the guts to speak out enough about him, and it drove me crazy. Every time I spoke out, I felt the backlash, I felt it on social media, I felt it a little bit with my clients, I felt it with my friends here."
He opened the back door to his house and walked inside over a doormat with a faded cartoon of Bill Clinton and the words "I Feel Your Pain."
That morning, a crew, to protect the floors, had unfurled a roll of red plastic that looked just like a red carpet and began hauling Luntz's belongings in a dolly to a truck parked out front. All that was left on the first floor was an old‐timey British phone booth and a box of trinkets by the front door.
"I'm finding all this shit from ages ago," Luntz said, picking up an ashtray from the Hollywood Brown Derby, a long‐lost Tinseltown haunt. "One of the greatest restaurants of all time."
He hurried down to the basement, where he scanned the room to figure out what was worth keeping. There was a Margaret Thatcher poster on the wall: Gotta keep that. There was a dummy wearing a Bill Clinton mask crumpled up in a wooden electric chair, a prop from the original Addams Family movie: Keep. But what about the New York Post newspaper box in the corner? The one with the front page prominently displaying the headline "Rudy Would Win Today." That was Luntz's work. He had conducted that poll, and Rudy Giuliani liked it so much that he hired Luntz to work for him. Given what Giuliani had become — a Trump lackey, embarrassingly parroting the former president's biggest lies — maybe he would want to dispose of this particular artifact? Nope. Keep it.
"No regrets at all," he said. "He was the most amazing mayor. It's a shame what happened to him."
Frank Luntz may be a victim of a Republican Party gone awry, but he is not without blame. He was, after all, once one of the most prominent messaging gurus in the party. In 1992, he served as the pollster for Pat Buchanan, who made building a fence along the border with Mexico a signature issue in his "America First" presidential campaign. The next year, he helped Giuliani become mayor, and in 1994, he co-wrote the "Contract with America" with Congressmen Newt Gingrich and Dick Armey, which they credited with helping win 54 House seats and nine Senate seats that year.
"He was one of six or seven key people that worked through the language and tone," Gingrich told me. "He was a very good reflector of what was going on in the country. He observed it, codified it, and put language to it."
Luntz, a language guy through and through, helped Republicans win debates and elections with their word choices. He told them to call the estate tax the "death tax" so it sounded bad and to call global warming "climate change" because it sounded not so bad. Despite his self-proclaimed grip on the psyche of voters, he did not see Trump's rise coming. The first time I met him was at an event in 2015, an early gathering of potential Republican candidates for president.
"There are some very serious people here," he told me after I'd mentioned that I had just come from a Trump speech. "And some very not serious people here." When Trump won, "Luntz found that very hard to accept," Gingrich said.
But like most Republicans, the skeptic had a moment where he thought maybe he could work with this president after all. Instead of being shut out of the White House entirely, Luntz used his connection to Mick Mulvaney, his friend and then the White House chief of staff, to advise the administration. His big idea? If Trump wanted to get his border wall with Mexico built, he should use less‐politicized words. Instead of calling it a wall, he should consider calling it a barrier.
"What do you want me to chant, 'Build the Barrier'?" Trump had said, laughing, in a conversation aboard Air Force One.
The ridicule was too much for Luntz to bear.
"Everyone who goes to work for Trump thinks that they're special  and that they won't end up the punch line to one of Trump's jokes," he said. "It's like going up to the firing squad and being sure that this time the guns are going to jam."
Luntz said he was "done with D.C.," except he wasn't. In addition to the Virginia home, he has a condo in the Penn Quarter — a neighborhood of high‐end clothing stores and expensive restaurants near the National Portrait Gallery. He had bought four separate penthouse apartments and smashed down a bunch of walls to turn them into one enormous apartment. The construction had taken much longer than he expected; cost a bunch more too. And worst of all, Luntz said, it had been so loud that "everyone in that place hated me." He said he would love to offload the condo, but he put in too much to consider it.
He once shared that apartment with Kevin McCarthy, one of his closest friends. When reports of this arrangement first surfaced in 2021, Tucker Carlson devoted multiple Fox News segments to eviscerating Luntz and McCarthy for their friendship. After painting Luntz as an elitist squish who did work for "liberal" organizations like Google and Nike, Carlson broke the news that the consultant and the congressman were Washington roommates. "Kevin McCarthy promises Republicans he shares their values," Carlson said. "He tells them he's on their side. He says he will fight for them against permanent Washington, the forces that would like to destroy their lives … and at the end of the day Kevin McCarthy goes home to Frank Luntz's apartment in Penn Quarter and laughs about it."
"The worst professional moment of the last ten years for me was the onslaught of Tucker Carlson," Luntz said.
The future Speaker of the House had a different kind of relationship with Trump than Luntz did. After briefly saying Trump bore some responsibility for the January 6 attack on the Capitol, McCarthy flew to Mar‐a‐Lago and kissed the ring, signaling that the former president was still the leader of the party. This was the kind of behavior that inspired Trump to call him "My Kevin." Why would Luntz want to share his Kevin with the man who nearly made his brain explode?
"Because he is in person an even better person than he is in public," he said. "And I try to be 80 percent as good as he is."
They were friends since the early 1990s, dating to McCarthy's days as a staffer on Capitol Hill. Luntz and McCarthy worked closely over the years, mostly on messaging. Even after a lot of the party had turned on Luntz, McCarthy would invite him to speak at the Republican House retreat to share information on polls and focus groups. After his health scare, McCarthy was one of the only people to check on him daily, making sure his friend was taking the prediabetic medicine he needed to keep his blood sugar count in check.
"I can't jab myself," Luntz said. "People laugh at me; I know this will be the source of ridicule. But I cannot cause myself visceral pain." And so when they were together, McCarthy would sometimes grab the syringe and jab Luntz himself. (One can only imagine what Carlson would have done with this image if he still had a Fox News show.)
As movers carted away belongings from his Virginia home, Luntz told me he had to get into town for meetings on the Hill with seven senators (he wouldn't say who). In the coming weeks and months, he'd continue to show up on television to talk about polling and political focus groups he had run. He'd never stop giving his friend McCarthy strategic advice. It seemed unlikely Luntz would ever fully leave Washington. Washington may have almost ended his life, but it also has helped keep him alive.
Before I left, one of Luntz's neighbors walked in through the open front door. He walked up to Luntz and said he would like to buy the house.
"What's your number?" Luntz asked.
"I don't know," the neighbor replied. "I guess a lot like this will go for one and a half million?"
"I've already been offered one point eight five," said Luntz.
"Okay, okay, so we have a number to beat," said the neighbor.
"I'm not going to sell it immediately yet," said Luntz. "I'm going to try and rent it first because I can't get everything out. My guess is you'll want to knock it down. Everything else around here is so big."
It was true. Luntz's home no longer fit in with a neighborhood that was otherwise mostly mansions. But the neighbor shook his head. He didn't imagine it would be worth tearing the whole thing down.
"No," he said. "It's an easy type to remodel."
Adapted from THE BIG BREAK: The Gamblers, Party Animals, and True Believers Trying to Win in Washington While America Loses Its Mind, by Ben Terris (Twelve Books/Hachette Book Group)