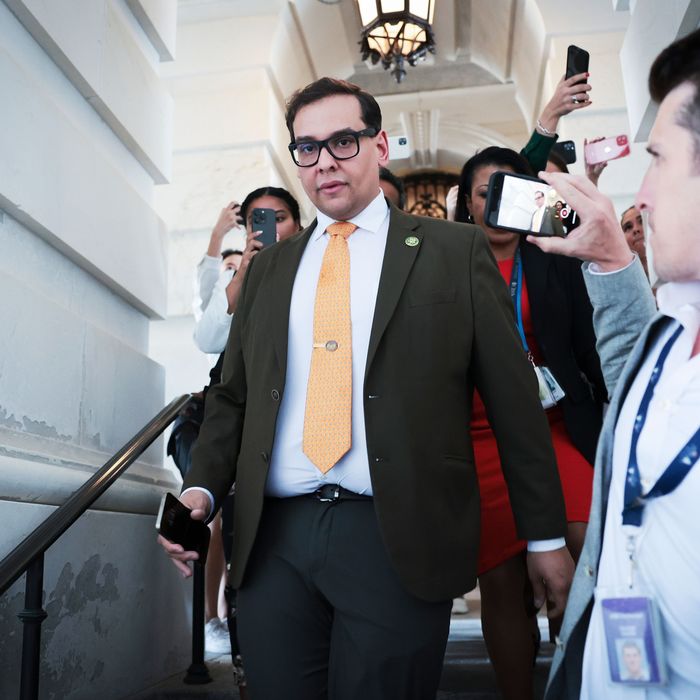 Photo: Win McNamee/Getty Images
It has been an eventful week for George Santos. On Wednesday, the freshman New York congressman turned himself in to authorities after prosecutors unsealed a 13-count indictment against him with charges ranging from money laundering to wire fraud. Just one day later, he settled another criminal accusation against him overseas.
The Associated Press reported that Santos officially signed a deal with Brazilian prosecutors to settle a criminal charge against him stemming from a 2008 incident. When Santos was 19, he allegedly wrote fraudulent checks in order to purchase clothing in a store in Niterói, Brazil, according to the New York Times, which first reported the details.
As authorities investigated the claim, Santos admitted to having stolen the checkbook from his mother's employer. The purchase made with the two checks came to about $1,350, per the AP, or 2,144 Brazilian reais. But by the time those charges were filed in 2011, law-enforcement officials were unable to locate Santos despite subpoenas, and the investigation was later suspended. The case was reopened soon after Santos reemerged in the public eye following his election and subsequent controversy surrounding his many fabrications about his life and biography.
Santos, who turned over his passport this week after he pleaded guilty to all federal charges and was released on $500,000 bond, appeared virtually to take part in the proceeding in Brazil. As part of that agreement, the congressman confessed to the crime and will have to pay about $4,878.45 in restitution, according to CNN. The outlet says about $2,800 of that money will go to the store clerk, with the rest going to the government.