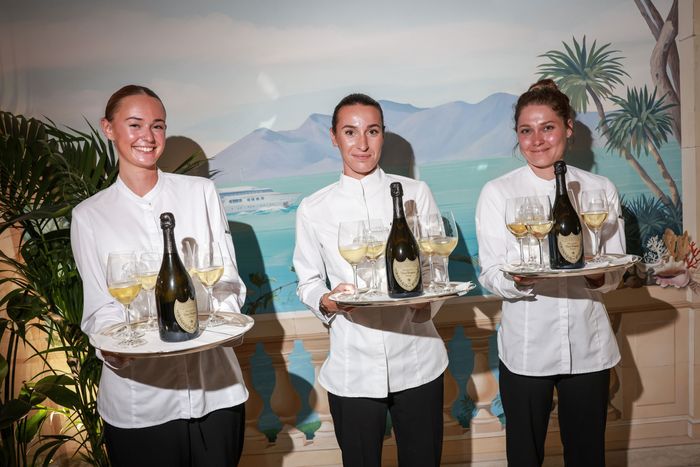 Photo: Arnold Jerocki/Getty Images for Air Mail/Warner
Tuesday night, thousands of miles away from the writers' strike that has paralyzed and polarized a post-pandemic Hollywood, Warner Bros. celebrated its centennial — encompassing almost the entire history of the movie industry, including several bygone golden ages — from the rarefied clifftop confines of the Hôtel du Cap-Eden-Roc outside Cannes.
The party was being thrown in partnership with Graydon Carter's weekly newsletter Air Mail, which meant that it would be something of a reprise of the glory days of the parties Carter once threw here when he edited Vanity Fair. Everybody who was in town for the film festival wanted to be invited, even if they were nervous that opulent optics were a bad look amid the labor disputes. Certain Hollywood types fretted about whether toasting Warner — and by extension its recently crowned king, CEO David Zaslav (or Zas, as he's already been mono-named) — was entirely, you know, the right thing to do quite so openly. Just a few days before, Zaslav had been heckled by protesters shouting "Pay your writers!" and "We don't want you here!" while giving the commencement address at his alma mater, Boston University. Disputes with the Directors Guild and the Screen Actors Guild are brewing, too. Netflix's Ted Sarandos even pulled out of the PEN Gala in Manhattan last week for fear of picketers causing a scene. Meanwhile, sniffed the purists, Zaslav had just renamed the nearly three-year-old streamer HBO Max to just … Max? Has he no respect for history?
Still, all of that melodrama felt quite distant from the well-fortified glamour of the Hôtel du Cap. It is entirely seductive, especially for someone like me who had never been anywhere near the place before but had seen the Slim Aarons photographs and read about how it had inspired F. Scott Fitzgerald's Tender Is the Night and heard about how it was where the Kennedys spent their summers when Joseph Kennedy was ambassador to the Court of St. James. (The patriarch carried on an affair with Marlene Dietrich here; "Papa Joe," she called him.)
At 7 p.m., I walked up the long driveway, wearing a velvety suit I really couldn't afford and was a little bit afraid of somehow ruining, past the honeysuckle and the cypress trees, toward the seacliff on which the hotel restaurant is perched. The co-hosts Zaslav and Carter were by the entrance, greeting the carefully selected guests. They were both dressed alike in creamy suit jackets and blue shirts. They assured me they didn't coordinate their wardrobe. They're an interesting pair: the man who once ran probably the most lavish magazine in a now-lost era of lavish magazines and the longtime New York–based entertainment executive best known for his reality-TV programming who is now running the most storied movie studio on the planet (as well as HBO, CNN, and more). They've been friends for years, they say, and Zaslav is an investor in Air Mail. The digital video invitation to this party featured retro Risko animations of Carter driving Zaslav in a vintage Mercedes convertible into the sunset.
In other words, I had lots of other questions for them, but that would have to wait until after the dinner.
In the meantime, I fueled up with some Dom Pérignon (another sponsor) and circulated. There's a massive deck that overlooks the Mediterranean. Sunlight and celebrity suffuse the room. Occasionally, I'd spot Zaslav greeting guests like Oliver Stone. And look over there — it's Leonardo DiCaprio with his posse: Martin Scorsese and Robert De Niro. Lily-Rose Depp slinks by in a sheer black minidress that evokes vintage Jane Birkin. All of the Warner bigshots are here too, of course. There's Mike DeLuca and Pam Abdy (they run the movie studio), Channing Dungey (TV division) Casey Bloys (HBO), and Peter Safran (the DC Universe). Quick! Got an idea for a superhero movie? Now's your chance!
"This party is so civilized," says Daphne Guinness, sparkling in a spangly Chanel getup, her Cruella up-do towering over me. "It's actually friends and not people being paid to sit in places. My God, I don't know what's happened to the world in the last ten years, but it's really become strange."
Soon, a squadron of Carter's stressed-out young Air Mail staffers try ever so politely to shunt the starry crowd into the dining room to take their seats, but it's an intimidating task.
Carter apparently loves nothing more than a seating chart and has been playing with this one all week. (Still to this day, he pores over the reservation book of the Waverly Inn, his restaurant in the West Village.) "When choosing who sits where at a dinner party, Graydon is somewhere between a royal wedding planner and Napoleon at the Battle of Borodino," says Alessandra Stanley, his co-editor at Air Mail. "A few of us went up to his house in Opio and sat around the dining table as he judiciously plucked one red or blue or yellow tab from one table and switched it with another."
Each table is named for a classic from the Warner Bros.' vault. At Carter's table (called Casablanca, as in, "round up the usual suspects"), he has placed his wife, Anna, beside the executive editor of the New York Times, Joe Kahn, who is dressed in a deep-blue velvet dinner jacket (I later spot him puffing on a cigar and grooving to Marvin Gaye). Bloys is at that table, too, and Carter is seated beside Ruthy Rogers, the British baroness who owns London's River Café and is the widow of starchitect Richard Rogers.
Zaslav is at the Maltese Falcon table (line from the film that might apply, but probably not: "I don't mind a reasonable amount of trouble."). He's sitting on DiCaprio's left. To his right is Aviv Nevo, the mysterious and well-connected venture capitalist who was a major shareholder in Time Warner.
As befits the location, there are lots of European aristos. Princess Grace of Monaco's granddaughter is at my table — named, as if it was the kids' table, "Harry Potter" — and I'm seated beside Scorsese's daughter, Catherine. Carter's daughter is here, too.
There are so many different forks and spoons in front of me I don't really know which one to pick up first. I try not to drink too much, but it's difficult — every time you turn around at this dinner, there's another waiter plying you with Dom Pérignon. As the sun dips, a bluish mist descends on the Alps in the distance. A glowing yacht armada is anchored at sea. The lighting in here is so magical that DiCaprio, at the next table over from me, is beginning to look like Jack Dawson again.
There's a lot of amusing party anxiety and status freakout at Cannes, a lot of Hollywood wannabes scrounging to get into the right rooms and on to the right carpets. It's all a bit like a comedy of manners. I ask a player at my table about it, and he explains it this way: "Once you're here, you know there's no other party happening that you'd rather be at. You're not thinking, Hmm, where will Lily-Rose be? Where will Leo be? You can rest assured you made it to the right place."
The dinner wraps, and the party gets underway downstairs, as supermodels and movie stars arrive and spill out onto the stony terrace. Original Risko illustrations plaster the hotel walls, and classic Warner Bros. movies are being beamed onto the infinity pool that abuts the sea down below. Jack Nicholson's face from The Shining refracts eerily onto the crystal-blue water. It stirs, and the picture changes. The ghostly faces of Bonnie and Clyde appear for a moment and then the image swirls again. Now Alex DeLarge is glugging milk at the Moloko Bar. All the while, massive klieg lights atop the hotel flash across the rocks that ring the pool.
Jeremy O. Harris is here, too, wearing a foppish black tuxedo, glass of red wine in hand and French fries wrapped in Warner Bros. and Air Mail–branded sheet paper in the other. Is this the best party he's hit at Cannes? "So far, yes," he says.
Before things really started swinging, I fought through the crowd to sit at a small table out on a deck with both hosts. So how did Carter, 73, and Zaslav, 63, become friends in the first place? "I taught him everything he knows; he doesn't listen to me, but I try my best," cracks Carter as he lights a Camel Blue cigarette and orders a minion to fetch him a glass of rosé.
They met a quarter-century ago, through the Newhouse family, owners of Condé Nast, which was the parent company of Vanity Fair. Zaslav knew them as major shareholders in Discovery.
But now Carter is running Air Mail, which he likes to describe as the "weekend edition of a nonexistent international daily newspaper." What is it that Zaslav likes about the publication? "Graydon has great curation and taste," he says. "This party was fabulous for me. We're best friends, but for me it was basically, This is what Graydon does better than anyone else in the world."
"No," says Carter. "David wanted to do an Oscars thing, and I said, 'Too much pressure.' This is fun, and this is glamorous but relaxed. The Oscars party is, like, big business." Zaslav says that for this party, they wanted "our best friends, and our real friends, you know, no assholes. We're coming here with our friends, and to celebrate also what Cannes is about, which is the motion-picture business, the storytelling. It's what inspired Graydon. He's one of the storytellers. It's what inspired me; it's what inspired this whole town."
Another topic of gossip all week among the coiffed heads at Cannes is how Carter is here to outdo his successor at Vanity Fair, editor Radhika Jones, whose own party was days earlier and also at the Hôtel du Cap. Does Carter feel like he's competing with Jones? I ask. "No, no, no," he insists, "I'm like Al Pacino in Godfather III. I swore I'd never do this again." Zaslav cuts in: "I pulled Graydon back in. I'm like, 'I need you!'"
They're like a screwball comedy, these two. Or maybe Mogul Entourage. They tell me how they traveled here to the Hôtel du Cap for vacation after the pandemic. "Not just the two of us," says Carter. "We had other guys." "Yeah," says Zaslav. "We had a crew of like eight. We planned it for a few months."
Zaslav seems to know that if anybody can help him harness the glamour of the past to help him move the company into the future, it's Carter. He is a deft evoker of various golden ages who filled his magazine's pages with Art Deco fonts and Old Hollywood features and once made a movie (which of course debuted at Cannes) about producer Robert Evans, whose Beverly Hills home Zaslav bought to live in as he took on his current gig.
And so maybe it shouldn't come as a surprise that Zaslav now plans to bring Carter on to the Warner Bros. lot to redesign its commissary. "That commissary," says Carter, "looks like a Marriott. This is fuckin' Hollywood!" He's working with the architect Basil Walter on the redesign and imagines red banquettes, a hotel bar, dignified lighting, and murals by the illustrator André Carrilho.
The two men's minders and long line of well-wishers encircle our little table ever closer, tugging at them. Hold up, guys! Now that Zaslav has the big job, does he hit up Carter for advice on how to navigate Hollywood? "We talk all the time," says Zaslav. "Hold on, let me say this," says Carter. "David is, let me tell you — despite his success, David is literally one of the finest human beings I've ever met. They don't always rise to the top, but it's great when they do."
But a great many people in Hollywood are currently very steamed at this fine human being. His name, his face, and his $246 million executive compensation package are plastered on picketers' signs across Hollywood. One typical sign seen held by a well-employed television writer outside the Warner Bros. Burbank studio the other day read, "Each Day Out Here I Get Stronger, I Get Hungrier, and Studio Execs Look Tastier. Watch Me Eat David Zaslav."
I ask Zaslav how it feels to be the target of such resentment. "Look," he says, "it's painful, because some of my best friends are writers and there's no way that you can tell great stories — and this entire business is dependent on great writers and great stories — and so ultimately I'm the biggest advocate for great writers, and not only should they be paid fairly, but they should feel fully valued. And so that's the journey, and I hope it gets settled quickly."
And then it's time to get back to the party. But wait — which one of these two selected the Tim Burton–era Batman and the Beatty films being beamed onto the pool? "Graydon picked everything," says Zaslav. "Every three days, I just called Graydon." Carter chuckles and says, "I'm like a party planner with one of those headsets, you know?"
I melt back into the star-studded scrum: Colin Jost and Scarlett Johansson, Sting and Trudie Styler, Troye Sivan, Da'Vine Joy Randolph, Moses Sumney, Sam Levinson, Jason Statham, Rebel Wilson … and Boy George, whose big blue cartoon hat must've counted as his plus-one.
I run into Hari Nef. She tells me this is her first Cannes. She describes it as "alternately the most fun, glamorous time I've ever had, punctuated by moments of abject, guttural stress and dread, like people are just bringing jewelry to your hotel room and then there's six pieces on the piece of paper they gave you and you can only find five and then you find it in a corner and then you have to get there earlier, and the dress is lost; the world is mad …"