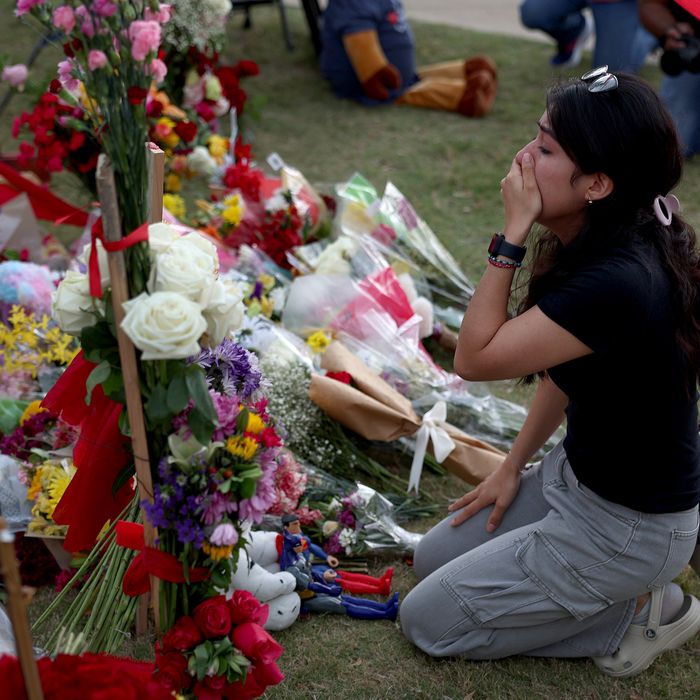 Citaly Ramirez reacts as she visits a memorial, set up near an entrance to the Allen Premium Outlets, on Monday.
Photo: Joe Raedle/Getty Images
A heavily-armed gunman dressed in black tactical gear open fire at a busy outlet mall in Allen, Texas, on Saturday afternoon, killing eight people — including three children — before he was shot and killed by police. The 33-year-old shooter reportedly espoused white-supremacist and neo-Nazi views on social media. The identities of the victims we made public on Monday.
The attack was the second-deadliest mass shooting of the year and continued what the Associated Press has determined to be a record pace for mass killings in the U.S. in 2023. Below, what we know about this still-developing story.
The Gunman and Motive
Authorities have identified the shooter as 33-year-old Dallas resident Mauricio Garcia. Police found multiple weapons on the gunman and in his car, including an AR15-style rifle and a handgun. No motive has been confirmed, but there is also a growing pile of evidence indicating that he held white-supremacist and neo-Nazi views, and authorities are investigating the shooting as an act of racially or ethnically motivated extremism.
The gunman wore a patch on his chest during his massacre that said RWDS — an acronym for Right Wing Death Squad — a term that is popular among white supremacists and right-wing extremists. Investigators have also reportedly found hundreds of social-media posts apparently authored by Garcia containing violent, extremist rhetoric as well as espousing incel, white-supremacist, and neo-Nazi views. One online profile investigators found included a Google Maps screenshot indicating when the outlet mall would be busiest plus posts praising Hitler and images of weapons and ammunition he had purchased. Bellingcat's Aric Toler has assembled a Twitter thread showing posts from Garcia's purported account.
The shooter reportedly joined the U.S. Army in 2008 but was "terminated" after only three months. An Army official told the Associated Press that Garcia was discharged before he could complete his training over mental health issues. Neighbors told the AP that Garcia had been working as a security guard.
The Victims
All eight people killed in the attack have been publicly identified as of Monday evening.
Three members of the Cho family
A Korean-American couple, Cho Kyu Song, 37 and Kang Shin Young, 35, and their three-year-old son were among those killed by the gunman, according to a GoFundMe launched for their six-year-old son, William, who was injured but survived the attack.
Elio Cumana-Rivas, 32
The Texas Department of Public Safety announced on Monday evening that Cumana-Rivas was among those killed at the mall on Saturday.
Christian LaCour, 20
Lacour, a resident of Farmersville, Texas, worked as a security guard at the mall. A relative told the Dallas Morning News that he was "a sweet caring young man who was loved greatly by [their] family."
Daniela Mendoza, 11
Sofia Mendoza, 8
The two sisters lived in Sachse, Texas and were both in elementary school, where Daniela was in fourth grade and Sofia was in second grade. They were at the outlet mall on Saturday with their mother, Ilda Mendoza, who remained hospitalized in critical condition as of Monday, according to a letter sent to parents in the Wylie Independent School District.
Aishwarya Thatikonda, 26
Thatikonda was a project engineer from Hyderabad, India who lived in McKinney had been working for the Frisco-based construction company Perfect General Contractors since 2020. She had been living in the U.S. for about five years, having moved here to attend graduate school. She earned a master's degree in construction management from Eastern Michigan University. The owner of Perfect General Contractors told the Dallas Morning News he thought of her as a member of his own family. Arrangements are reportedly being made to have her body sent back home to India, where here parents still live.
She was reportedly at the mall with her fiance, who was also shot by the gunman, but survived.
The Injured
The identities and conditions of all the people who were reportedly injured in the attack is not year clear. Allen Fire Department chief Jonathan Boyd said on Sunday that six victims were pronounced dead at the mall, and another two were pronounced dead after being transported to the hospital. Medical City Healthcare, which operates trauma facilities in North Texas, said on Saturday that it was treating victims who ranged in age from 5 to 61 years old.
The Attack
Shortly after 3:30 p.m. on Saturday in the parking lot of the Allen Premium Outlets shopping center, the gunman stepped out of a silver sedan and immediately began opening fire on people walking on the sidewalk.
Allen police later said that an officer already at the mall for an unrelated call heard the gunshots and quickly responded, ultimately engaging and "neutralizing" the shooter.
In bystander footage shared on social media, what appears to be the body of the shooter can be seen lying in a pool of blood outside one of the stores, a long gun at his side.
The beginning of the attack was captured by a survivor's dashcam camera as they drove away; dozens of shots can be heard on the video. One nearby resident told CNN that his son said he'd heard as many as 70 gunshots.
Videos shared on social media of the mayhem that followed showed people running away from the mall through the parking lot. Many survivors who were unable to flee hid inside stores, where employees quickly rolled down security gates while people sheltered in back storage areas.
It's not clear how many people were at the mall at the time the shooting began, but the Dallas Morning News notes that the mall, which is about 35 miles north of Dallas, is one of the busiest shopping centers in North Texas, so it was likely packed on Saturday afternoon. Just before 5 p.m., live footage from a local-news helicopter showed hundreds of survivors leaving the mall after apparently having been given the all clear by law enforcement. Many held their hands up as they walked away.
What appeared to be four bodies covered with white tarps or blankets could also be seen in helicopter footage just outside an H&M store. Many witnesses have told reporters that they saw bodies lying motionless on the sidewalk following the attack. One witness, Steven Spainhouer, told CBS News that he rushed to try to help those gunned down by the shooter and came upon a harrowing scene:
Spainhouer said he got there before any first responders and while a handful of people around him recorded videos of the bodies on the ground, he tried to save lives. "I never imagined in 100 years I would be thrust into the position of being the first first responder on the site to take care of people," he shared. "The first girl I walked up to was crouched down covering her head in the bushes, so I felt for a pulse, pulled her head to the side and she had no face."




Spainhouer said he also found a child, who survived while covered by his protective mother who had been killed. "When I rolled the mother over, he came out. I asked him if he was OK and he said, 'My mom is hurt, my mom is hurt.' So rather than traumatize him, I pulled him around the corner, sat him down, and he was covered from head to toe … like somebody poured blood on him."
Another man who rushed to help, U.S. Navy veteran Joshua Barnwell, came upon the same scene and attempted to perform CPR on a young girl who ultimately did not survive:
The Political Response
Texas governor Greg Abbott, who has repeatedly weakened gun-ownership restrictions in the state, praised the quick response of local law enforcement on Saturday and called the shooting "an unspeakable tragedy." On Sunday, President Biden ordered flags to be flown at half-staff at the White House and other federal buildings and said that the shooting was "too shocking to be so familiar." He also, once again, called for Congress to pass legislation banning assault weapons and requiring universal background checks for firearm purchases.
This post has been updated.