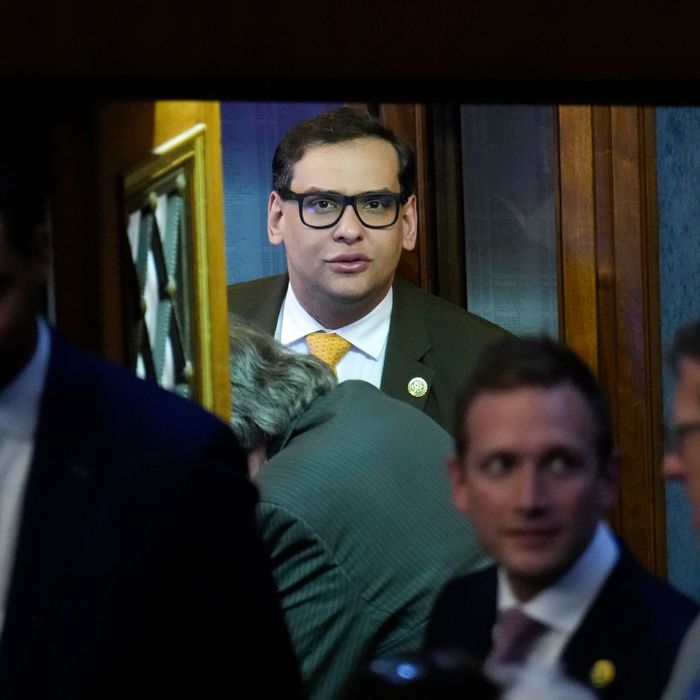 Photo: Drew Angerer/Getty Images
George Santos's time in Congress is not quite finished.
The House of Representatives voted on Wednesday to send a resolution to expel the freshman congressman to the chamber's Ethics Committee, allowing Republicans to avoid weighing in on a vote on Santos's fate.
The House voted on the Republican-led motion 221-204 along party lines after Democratic leadership advised its caucus to reject the measure. Seven Democrats, however, voted "present," including four members who serve on the Ethics Committee.
The resolution was put forward by Robert Garcia, a Democratic congressman from California. Garcia first introduced the measure in February but moved to force a floor vote on the resolution in light of the 13 federal charges recently filed against Santos.
A vote to expel a member of Congress would require a two-thirds majority, meaning Democrats would need the unlikely support of several Republicans in order to kick Santos out. Expulsions are also incredibly rare. Only five House members have been expelled in its history, three of which occurred during the Civil War. The other two, Michael "Ozzie" Myers and James Traficant, had been convicted of bribery charges.
On Tuesday, House Speaker Kevin McCarthy indicated his support for letting the Ethics Committee look into Santos, rather than holding a vote to expel him, saying there needs to be a "process."
"I think we can look at this very quickly and come to a conclusion on what George Santos did and did not do through Ethics," McCarthy said. "A safe bipartisan committee, equal number of Republicans and Democrats."
McCarthy has been relatively hands-off when it comes to Santos and his rumored misdeeds. The newly elected Speaker caught flak for placing Santos on two committees at the beginning of his term despite the numerous reports and allegations against him. (Santos ultimately stepped down from those assignments.) McCarthy has also held off from openly asking Santos to resign from office, even after his federal indictment. Santos has been a fairly reliable vote for the House Republican agenda, a necessity with the party's slim margin in the chamber.
After the vote, Santos spoke to reporters on the U.S. Capitol steps, thanking leadership for allowing the process to continue.
"There is a procedure. You can't be judge, jury, and executioner. I have a right — a constitutional right — to defend myself, and I will do that," Santos said.