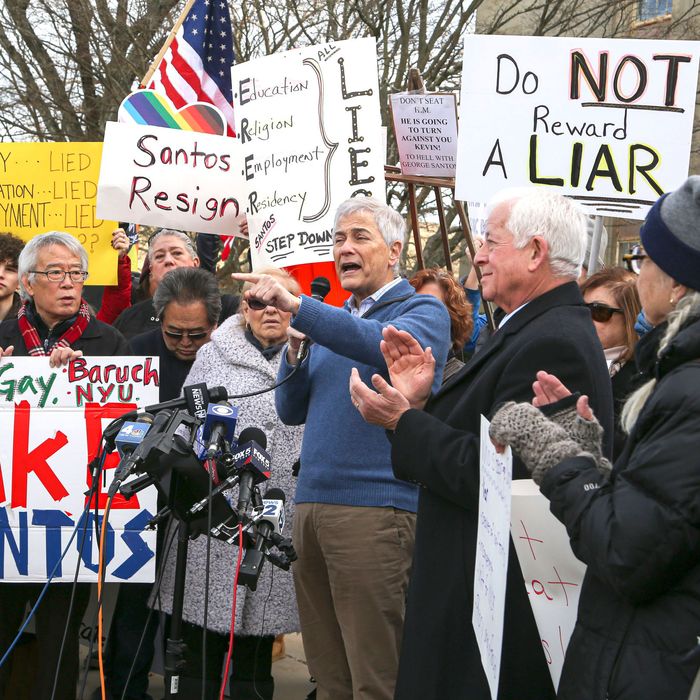 Photo: John Paraskevas/Newsday RM via Getty Images
Just last month, George Santos surprised the political world by announcing his plans to run for reelection. Then, on Wednesday, came a potential complication: He was hit with multiple criminal charges ranging from wire fraud to money laundering.
This is just the latest dizzying development in the saga of the notorious Long Island fabulist who last year narrowly flipped a Democratic-held seat in Congress before it was revealed that he had made up practically everything in his bio, from where he went to college to his mother's supposed death in the 9/11 attacks.
It's unclear what will happen to Santos now, but no matter what, Democrats will have to reclaim his district and three others in New York if they want to stand a chance to take the House from Republicans, who hold a five-seat majority. Despite a seat that looks ripe for the taking, some of the biggest names floated to run against Santos are still weighing their options. That doesn't worry Jay Jacobs, the chairman of the New York Democratic Party.
"Anything we can do to help him get the nomination, I would be happy to assist because we would relish the opportunity to have a candidate run against him," Jacobs said in a recent interview. Even before Santos was charged, Jacobs, who also leads the Nassau County Democratic Party, believed Santos was not likely to get far.
"He won't make it to the general because I don't think the Republicans are going to cede that seat to him. They're going to put up a candidate and, frankly, I think even a cartoon figure could probably beat him in a Republican primary," Jacobs said.
Given his lack of support from his own constituents, why would Santos announce a reelection bid in the first place? One theory is that it allows him to continue to raise money as a candidate, funds he could put toward paying his legal fees. Daniel Weiner, a former senior counsel at the Federal Election Commission and the current director of the Elections and Government Program at the Brennan Center for Justice, says the primary requirement for this usage is that "the legal expenses have to have arisen out of his candidacy."
"So it needs to be something more than just your broad reputational interest. But in this case, a lot of what he is accused of is illegally raising campaign money and then potentially misappropriating it, and that probably does arise out of his candidacy," he said.
One potential problem with this idea, Weiner said, is finding donors who actually want to support Santos. After all, federal prosecutors alleged in their indictment that Santos had defrauded at least two donors by telling them to donate to his campaign when, in fact, the money went into a shell company and then lined Santos's own pockets for personal expenses like expensive clothes. "This isn't exactly a foolproof strategy, but if you're facing major legal bills, it is certainly one thing that could be an incentive to run again for office," Weiner said.
Unless Santos somehow makes it to November 2024, the race for his seat is bound to be competitive — last year's was decided by a little over 20,000 votes. Spanning purplish parts of Long Island and Queens, the area was represented for six years by Tom Suozzi, a moderate Democrat who ran for governor last year. Over the past few months, he has reportedly fielded interest from senior Democrats to run again. "I don't think he's made a decision yet one way or the other," Jacobs said of Suozzi.
Then there's Robert Zimmerman, the Democratic Long Island businessman who lost to Santos last year. In an interview prior to Santos's arrest, he did not rule out another run. "The people that were with me in 2022 are certainly encouraging me to run again," he said, adding that his only focus was pushing for Santos to be forced out of office. "I will evaluate the politics of the congressional district at a later date. But I think we have to keep our focus on expelling George Santos from Congress and holding the Republicans accountable for defending him and being accomplices to his crimes."
Without Suozzi or Zimmerman, Democrats' current hopes rest on three candidates with less experience in running for Congress. Josh Lafazan, a Nassau County lawmaker who came in third in the Democratic primary for the congressional race last year, was the first to declare his candidacy. "We're supposed to have a member of Congress who delivers results and fights for Long Island and Queens. We have a member of Congress who's fighting to keep themselves out of prison," Lafazan said. Anna Kaplan, a former state senator from Long Island, recently filed paperwork to run after losing the 2016 primary to Suozzi. And Will Murphy, a professor at St. John's University, has filed for his candidacy, according to the New York Post. All would face off in a primary election expected to be held in June 2024.
Though the Santos seat may seem like easy pickings for Democrats, Jacobs said he wants to avoid a fractious primary that would divide the party ahead of the general election against whoever the Republican is. "I think having primaries in each of our competitive congressional seats last time — particularly when those primaries came late in August, only 11 weeks before the general election — was a contributing factor to our not succeeding. So I'm not a big fan of primaries," he said. "Right now, I'd like to see us coalesce behind the best candidate, so we'll see what we can do to encourage that."