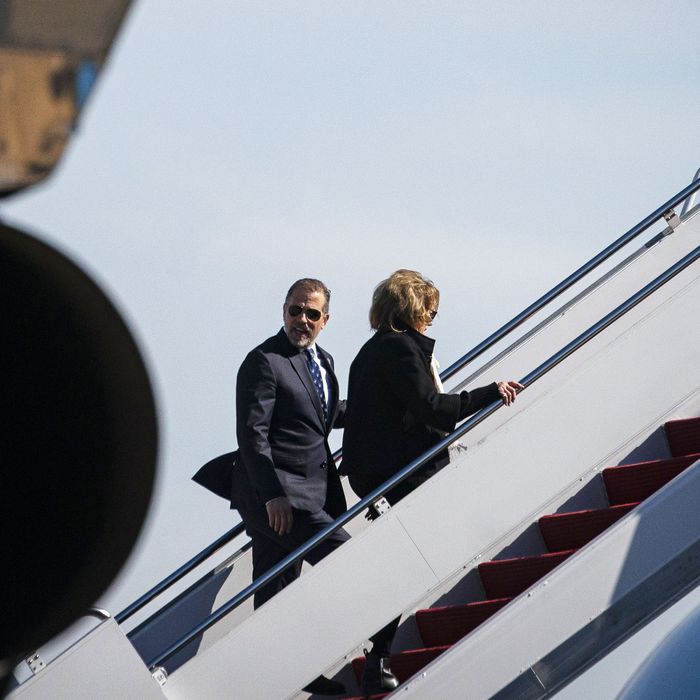 Photo: Al Drago/Bloomberg via Getty Images
For the past year or so, Hunter Biden's lawyers have spent the bulk of their billable hours responding to the Department of Justice's investigation into their client's questionable business dealings. But on Monday, the president's son headed to Arkansas after he was ordered to appear in court for a contempt hearing in his paternity case.
According to court filings, Lunden Roberts, the mother of Biden's 4-year-old estranged daughter, wants Biden to be held in contempt and placed in jail for allegedly withholding evidence in the paternity suit. In 2019, a DNA test confirmed that Biden was the father of the child, and he had been ordered to pay child support in a 2020 settlement. The paternity case was reopened last September when Biden asked if he could lessen his monthly support payments, due to a "substantial material change in financial circumstances" since the settlement. In a recent court filing, Roberts claimed that Biden has "never seen or contacted" their daughter.
In court on Monday, Biden's attorney, Abbe Lowell, revealed that his client has been paying $20,000 per month to support his daughter, for a total of $750,000 since the initial settlement. While the judge did not hold Biden in contempt, he did require him to answer written questions on his finances — from investments to art sales — to help determine if his payments should come down. A trial to determine if monthly child support will be reduced will take place in July.
Aside from the very public reminder that Biden has never acknowledged one of his children, the paternity case could impact him far beyond Arkansas. In addition to the DOJ investigation, the House Oversight Committee opened an inquiry into Biden's finances in January. In an interview with Fox News on Monday, Oversight chairman James Comer said that the judge's order in Arkansas for Biden to disclose his finances could help the committee understand if he has any offshore accounts and who has been buying his work. So far, the names of the buyers and prices of the ink-and-oil pieces have not been disclosed, though the top-dollar gallery that represents Biden was asking $75,000 to $500,000 a pop in 2021 — not exactly the industry normal for an artist's first show. "This has the potential to be very helpful," Comer said.