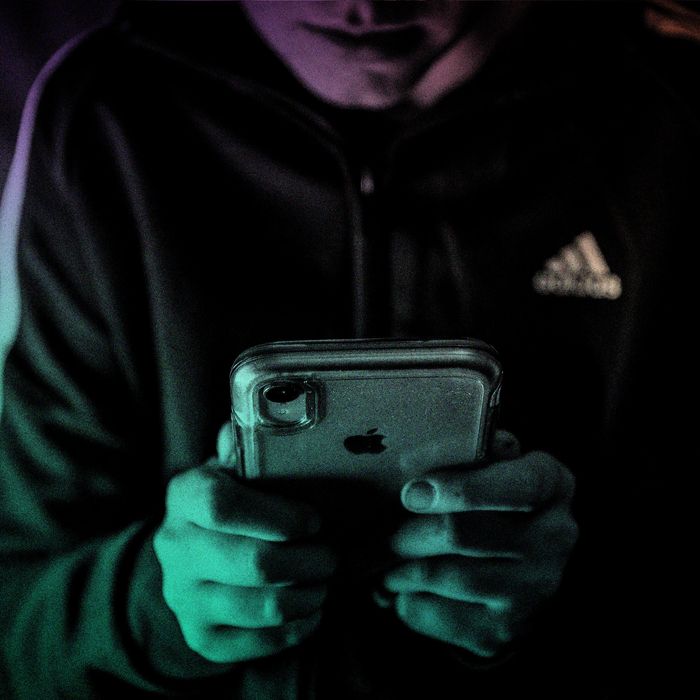 Photo-Illustration: Intelligencer; Photo: Matt Cardy/Getty Images
Free, ubiquitous pornography has been a fact of life online for many years, and it's not exactly difficult for young children to find it. Not everyone is comfortable with this arrangement. Utah state senator Todd Weiler, a Republican, has long been on the frontlines of the fight to crack down on porn accessibility for children — and on porn in general. In 2016, he led the charge to declare pornography a public-health crisis in his state, which led to many other states following suit. And this year, he authored legislation mandating that Utahns prove, via government-issued ID, that they're at least 18 in order to access pornography, a law that Pornhub, the leading adult website, took such issue with that it stopped operating in Utah. (A legal battle between the site and the state looms.) Weiler takes great pains to characterize himself as the opposite of a moral scold, and he says he has no interest in restricting porn for adults. But his bill is part of a resurgent anti-porn tide among conservatives around the country (including similar legislation in Louisiana), some of whom characterize porn as a societal scourge. I spoke with Weiler about why he thinks pornography is so damaging, whether he blames it for Gen Z's high-anxiety levels, and how it compares to guns as a danger to children.
I was watching a talk-show interview you did recently where the host, Tim Montemayor, expressed concerns that the age-verification part of this legislation will force people to cough up their personal information in a way that goes against the libertarian leanings of a place like Utah. The digital rights group Electronic Frontier Foundation has similarly argued that "this scheme would lead us further toward an internet where our private data is collected and sold by default. The tens of millions of Americans who do not have government-issued IDs may lose access to much of the internet." What's your counterargument?
Well, there's a catchall provision in the bill that the websites can utilize any commercially reasonable effort to verify that the person accessing adult content is actually an adult. We haven't told them that they have to use a government-issued ID, though certainly that's one method. And by the way, I want you to know — I'm being told that there are adult websites complying with Utah's age verification. Obviously, Pornhub has chosen not to, even though Pornhub is complying with Louisiana's age verification.
Isn't the difference that Louisiana has a government-run third-party verification system and Utah doesn't?
No. What Louisiana does is it has given a third-party vendor access to a digital ID, so it basically just has a direct line into the DMV website. I've talked to the company that's working with Louisiana, and every time they verify identity, they charge Pornhub 10 cents. And they've told me that they could have that available in Utah in 45 days, and we're talking to them.
But I think the bigger issue is that Pornhub's clicks went down 80 percent in Louisiana. So I believe that their argument about privacy and all of that is a pretext.
Utah is the second state to pass this legislation. Arizona and Alabama are on the verge of passing it. And when I passed a resolution declaring pornography as a public-health crisis in 2016, we saw 16 other states follow suit. I think you're going to see a similar pattern here, where most of the red states will jump on this bandwagon. My guess is Pornhub sees the writing on the wall, and instead of complying with the law like they did in Louisiana, they now want to challenge it on either privacy or First Amendment grounds. And we'll see. The courts have stepped up for the porn industry before.
The Free Speech Coalition has filed a lawsuit trying to block the bill. Its director of public affairs told NPR that Utah is "going to lose, and it's going to cost the state hundreds of thousands of dollars. It's a pointless exercise." How do you feel about your chances in court?
I like our chances in court. I'm a lawyer, and anyone who has studied the First Amendment understands that the courts have always recognized reasonable restrictions for time, place, and manner. And what people ignore in this debate is that for my entire lifetime — I'm 56 — it's been illegal in all 50 states to show pornographic material to children. It continues to be illegal. It's illegal for children to watch it as well. And then we had the internet, this new technology — well, new technology in the 1990s. It crept up on us and circumvented all of the guardrails that society had put in place.
The reason the Motion Picture Association of America rates films G, PG, NC-17, and R is because they didn't want the government to come in and do that for them. That was a great example of the film industry banding together and saying, "We've got this. We're not going to let little kids see pornographic content. We can regulate ourselves." We all understand that we don't let 11-year-olds walk into 7-Eleven and purchase a six-pack of Budweiser. And it's not because we're discriminating against adults, it's because it's illegal and it's harmful for children to have Budweiser at the age of 11. And we all understand we have to show our ID if we're going to buy cigarettes or alcohol. I honestly don't understand why this should be any different.
Pornhub could say, "We're not showing people porn, we're just hosting it." That's an argument backed by law, which is used by big tech companies to circumvent lots of restrictions. And it's easy to see how changing that standard would make the internet a much worse place.
Yeah, you're going back to this exemption that social-media companies have, where they're just a platform. But these companies are showing people porn. And that's why Pornhub and others have at least started in concept to make an attempt to remove child pornography, or pornography with compelled or unwilling participants. I don't think that they do a very good job at it, but at least they're saying the right things.
But in any event, I think that you have to balance the fact that this is illegal for children with the First Amendment. If we were telling adults in Utah, "You're no longer allowed to watch pornography," we would lose in court. I give that a 100 percent chance.
But that's not what we're doing. We're just saying, "Hey, make a reasonable effort to ensure that your customer is an adult." People order direct wine shipments over the internet, and we don't allow companies to send bottles of wine to 14-year-olds. Some people order vaping products or tobacco products on the internet. We don't allow 13-year-old girls in Topeka, Kansas, to order those.
In 2016, as you mentioned, you advanced a resolution declaring porn a public-health crisis. You wrote back then, "Pornography perpetuates a sexually toxic environment. And efforts to prevent pornography exposure and addiction to educate individuals and families concerning its harms must be addressed systematically." This doesn't sound like you're only concerned about kids viewing porn, but that you see it as more of a society-wide scourge. Is that right?
I think that is my personal feeling, but as a lawmaker, I'm not trying to force my morals or my religious beliefs on people. I'm really not. Some people, especially from out of state, call me, and they think all I do in the legislature is pornography stuff. And I'm the chairman of the judiciary committee. I generally pass 15 to 20 bills every year, which usually puts me in the top four or five legislators in the state. Less than 5 percent of my legislative body of work has anything to do with pornography. Most of my efforts are on criminal-justice reform and things like that. So this is not an obsession for me.
For the record, I didn't think that.
As soon as I was elected to the state senate, I had one of my constituents — her name is Jenny Brown; she's a local dentist — call me up and say, "I've got five young boys. What are you going to do to protect them from pornography?" In my mind, I thought: Nothing. I'm not going to do anything to protect your boys from pornography, because there's nothing I can do. But she's been working with me and pushing me for about 11 years now, and she's connected me with some national organizations and other things. Most legislation I've run has been in response to constituents like her. I did not campaign on an anti-pornography platform. And I never imagined if I got elected, I was going to be talking publicly about porn.
But I don't think porn is necessarily good for society. I think that's something that can be debated, and I've heard it debated. But what shouldn't be debated — what we should all be able to agree on — is that 8- and 9- and 10- and 11-year-old boys and girls should not be viewing hard-core free sex videos online. And that is the population I'm most concerned about.
The biggest criticism of our bill this year is — I get calls every day: "Have you ever heard of a VPN?" Yeah, I've heard of a VPN, but 8- and 9- and 10- and 11-year-old boys don't have VPNs. Some of them may be sophisticated enough to hack into their parents' VPN. But do the research, don't believe me — the average age of first exposure to hard-core sex videos online is now in that 8-to-11 age range for boys and for girls. And that's very alarming to me. And it should be alarming to everyone, because these kids are still figuring out who they are. They're still shaping their opinions of themselves, their own bodies, the opposite sex, gender, sex in general. And I don't know that their brains are developed enough to comprehend what they're going to see on a site like Pornhub.
Realistically, 16-year-olds will find a way to access it.
Absolutely. Every 16-year-old in this country, unless they're Amish — and I'm not trying to disparage the Amish — every 16-year-old in this country has seen porn.
Even the Amish probably have at this point.
Even the Amish have. And I'm not stupid. So all of my efforts have been geared toward those little kids. And I think — between us girls — I think a 16-year-old is much better prepared to handle viewing hard-core pornography than a 9-year-old.
I think that's indisputable. But you basically have no problem with adults consuming pornography?
I'll say this: Personally, I believe — and I've read this from marriage therapists and professionals; I'm just a dumb lawyer — but personally I believe if your relationship with your significant other or your spouse is contingent on pornography, there are probably bigger problems. But that's just a personal opinion. I have bent over backward to try and not use my elected position to force my moral beliefs or my religious beliefs on anyone else. And I think I have a very strong record on that. I get accused of it every day. And that's one of the reasons why I'm so sensitive to it. But again, before I was born, it was already illegal to show this content to children. And yet Pornhub is doing that every day. And everybody seems okay with that.
I don't know how Utah stacks up here, but are you in favor of a serious school sex-education system?
Absolutely. I'm in favor of it. And I'll tell you, people in Utah have been conditioned to believe that we're backward and out of the norm, but our sex ed is aligned with the majority of the states in the country. When I tell Democrats — and I'm Republican — when I tell Democrats that in Utah, they don't believe me.
Utah is not Mississippi.
No, it's like Goldilocks and the Three Bears. There's three levels of sex ed. There's abstinence-only, which only six states have. There's abstinence-based, which is what Utah and 30 states have. And then there's comprehensive. And we don't have comprehensive, so we're not like California or New York. But the only difference is we don't put the condom on the banana. And we don't talk a lot about venereal diseases and STDs.
Now, for me, I would be fine with voting for comprehensive sex ed in Utah if the parents opted in. What I don't want is families who are overly concerned about that stuff to pull their kids out of public school and homeschool because we're forcing sex ed down their throat. And I know that's probably not the way to say it, but you know what I'm saying?
My kids have grown, but I would've let all of my kids take comprehensive sex ed. But I'm probably more open-minded. And you don't know this, but I grew up in Illinois, in the Chicago suburbs. I've been Mormon my whole life, but I didn't grow up in Utah. And I have some non-Utah ways of thinking on things. So I'm pro–sex ed. And surprisingly, Utah is in the mainstream of states with what we allow in the schools.
I'm curious about your stance on a definite scourge of young people right now around the country and in Utah, which is gun violence. In 2020, 42 people under 18 in Utah were killed by guns. Whatever the effects of pornography, nobody's actively dying from that. And I saw that in 2018 you tweeted that "we've always had guns in the U.S," but that "the focus has got to be on mental illnesses." I'm just wondering if your stance on protecting people under 18 from porn carries over on this. Are you in favor of safe-storage laws, prosecuting parents who don't obey those laws, and so forth?
There's lots to unpack there. As an elected official, I am much more concerned about a child shooting themselves or somebody else with a gun than I am about them seeing pornography. Obviously, that is the bigger issue. Now, that doesn't mean that we can ignore pornography. But I'm also much more concerned about teens and kids dying from overdosing on fentanyl or other drugs than I am about pornography. Also, because I'm a thinking human being, I can also worry and think about more than one thing at a time. And so we have gun laws. And I'm guessing those shooting deaths that you were reporting in Utah were suicides, or primarily —
Most, yeah.
Yeah. The No. 1 cause of death of kids in Utah is by suicide. And the vast majority of those suicides are by gun. And I don't want to be flippant, but it's illegal in Utah to kill yourself with a gun. We don't prosecute it, obviously. But I only say that because I'm a lawmaker; all I can do is make laws. I don't get to enforce them, and I don't get to interpret them. I just get to make laws. And so people who want to compare efforts to protect children from pornography to suicide statistics, I think they're apple and oranges, because we already have gun laws. We don't sell guns to 8-year-olds, but we do sell free pornography to 8-year-olds.
There seems to be more momentum around the anti-porn movement than there has been in a while. Do you feel some kind of tide turning?
You're going to think I've left the conversation, but I haven't: Have you ever heard that Coca-Cola used to be sold with real cocaine?
Yes.
I think 50 years from now, it's very possible that people will be saying, "Did you know back in 2020, they used to let kids walk around with cell phones with free access to hardcore pornography?" I really believe that we have lived through this moment where in the future, people will say, "I can't believe parents allowed that to happen." I mean, every smartphone in the world can connect to pornography in three seconds. And we give these to our kids. And we say, "Hey, don't look at that stuff."
The technology happened so fast, and smartphones took the world by storm, and I don't think we thought it through. And I think it is time for the pendulum to swing back. Not because I'm crude, not because I'm a religious fanatic, but because I'm a responsible adult who says little kids should not be looking at this stuff.
Back to the mental illness and all that stuff, I think the biggest impact of porn is, you have a boy — let's be honest — who has grown up looking at porn every day or every other day from the age of 12 through 18. And he goes to college and he gets into his first sexual relationship. I think that he's going to be very surprised that his real-life sexual partner doesn't act like the thousands of women who he's seen onscreen, because they never have a bad day. They're always happy to have sex. They always enjoy it. They're never on their period. They never say, "No, not now." And I think that's devastating for people. And then they think the immediate conclusion is, "There's something wrong with my wife. There's something wrong with my girlfriend. She's broken and we need to fix her, because all of these other women love sex all the time. But my human girlfriend only wants to do it twice a week."
Although you could say that's where good sex education might come in handy.
Yeah. But how much are we going to do in junior high? So that's where I think you're going to see the effects of porn. I think it has shaped unrealistic expectations in people's minds. And I do think that can contribute to domestic violence and divorce and everything else, because you have all these men thinking that they have a product, i.e., a spouse or a partner, who is defective because all of the other women in the world, they want sex all the time, but their partner doesn't.
There's been an uptick in suicides among teens, and a major, much-documented rise in depression. Nobody's quite sure why, although social media is a leading culprit. Do you believe that porn itself is in part to blame for this malaise? Because some conservatives have connected porn to larger social problems, including birth rates, teens not having sex anymore, and so forth.
Acknowledging that I'm not an expert and I don't have any data, I personally believe that porn is part of that equation. I think it's probably part of that equation, but probably a small part of that equation.
I've raised four kids, and my kids are all between the ages of 20 and 30 right now. Clearly, this generation has more anxiety. They seem to have a greater propensity for anxiety and other types of related complexes than my generation.
I grew up in the late '70s, early '80s, and maybe our parents were like, "Toughen up or whatever." But it seems like these kids are struggling with a whole different package of problems, and more of them are struggling. And I'm sure that social media is part of it. I'm sure that video games are part of it. I think pornography's part of it, but my guess is it's a whole cocktail of things and not just one thing. So I would never blame all of that on pornography.
This interview has been edited for length and clarity.