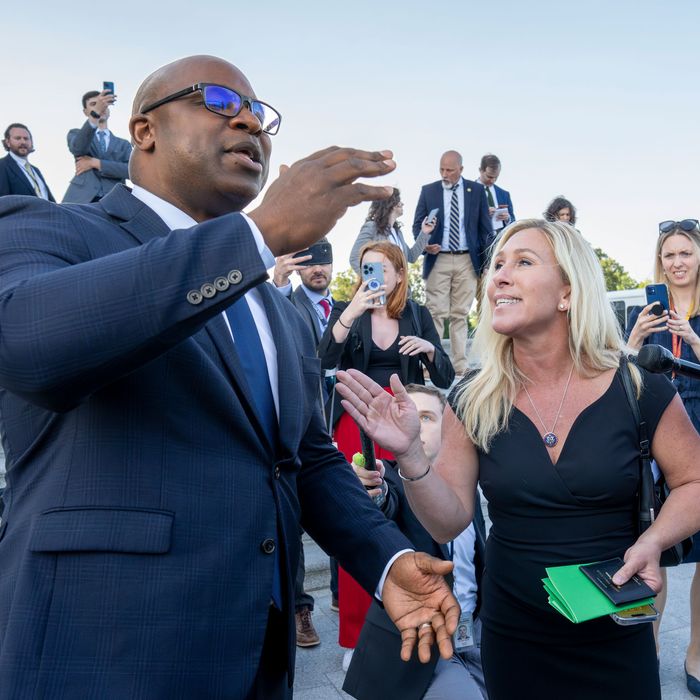 Photo: J. Scott Applewhite/AP
Recently, some of the most attention-getting debates in Washington have been outside Congress. As in literally just outside Congress. That's where New York Democrat Jamaal Bowman has had a number of widely shared interactions challenging and heckling some of his Republican colleagues over the past few months. Unlike the debates that happen inside the House chamber, these have not been encumbered by rules of parliamentary procedure. Instead, they are more like the everyday debates that Americans have with each other about politics, be they at the end of the bar or over a dinner table. They are impassioned and they are messy.
On the steps of the Capitol, Bowman has gone back and forth with his friend and fellow native New Yorker, Byron Donalds — teasing each other about the state of the 2024 campaign. This week, an encounter ended with Marjorie Taylor Greene shouting talking points at Bowman and later accusing him of threatening her.
Bowman, a progressive who was elected to the House in 2020 after defeating a longtime Democratic incumbent, insists this wasn't all pre-planned but a public demonstration of his ongoing evolution as a legislator. "During my freshman term, you know, I was just learning the ropes. Just learning where the bathroom is, learning how to write a bill and introduce a bill. … I guess I've not found my voice, because this is naturally who I am. But I'm still learning and figuring out how to use my voice in this space to have an impact."
"You're just seeing Jamaal Bowman authentically be himself. The black male educator, husband and father of three, trying to work with others to change the world, you know?"
The first viral encounter was on an unseasonably warm March day with Donalds, a Republican who represents southwest Florida. The two normally discuss sports, but this time outside the Capitol in full view of reporters, they went back and forth over what they saw as the respective flaws of their party's likely presidential standard bearers.
"DeSantis doesn't have a shot," argued Bowman, "he's a white nationalist." Donalds, a longtime DeSantis ally who has since endorsed Trump, pushed back. Bowman started touting Biden's record. "That's like saying Josh Allen is better than Patrick Mahomes, come on now," Donalds replied. When Bowman insisted "Biden would wipe the floor with DeSantis," Donalds' eyes rolled. "In what world? Bizarro world?"
The good natured debate even led to primetime televised rematches on CNN. As Bowman puts it, the discussions were "serious in terms of the topics and content … but lighthearted in terms of we are colleagues and we are peers."
Another viral exchange happened just outside the House chamber in the aftermath of the March 27 school shooting in Nashville that left six dead. Bowman, a former school principal, was imploring reporters to ask Republican lawmakers about gun violence. At that moment, libertarian-leaning Kentucky congressman Thomas Massie walked by and the two began debating the issue. Massie approached the topic with a somewhat amused detachment while Bowman earnestly argued "states that have open carry laws have more death." Massie responded that there had never been a shooting in a school where teachers were allowed to carry guns. He also asked Bowman to "calm down," to which the New York congressman Bowman responded: "Calm down? Children are dying." Bowman kept repeatedly asking him, "Have you ever worked in a school?" as Massie moved away to make his case to reporters instead.
Bowman says another part of what's driving these encounters is his unique background. "I'm not a lawyer. I'm not a business person. I'm not a millionaire. I'm not a lifelong politician. I'm an educator, and, you know, a person raised in New York culture — but also hip hop culture. And I think what everyone is seeing is an authentic representative who's not overly concerned with presenting as a traditional politician." He argued that this approach is important because "the regular everyday American can connect with what I'm saying, because I'm very serious."
The most recent debate was perhaps the least rewarding. Bowman and Alexandria Ocasio-Cortez came across George Santos giving a press conference on the steps of the Capitol, explaining why he should remain a member of Congress despite facing more than a dozen federal charges. As the presser broke up, the pair told Santos "you gotta go." With Santos walking back towards his office, pursued by reporters, Bowman ended up exchanging words with Representative Greene about the New York Republican. She didn't respond to anything about Santos or Bowman's repeated point that the Republican Party was "hanging by a thread." Instead, she mostly repeated "impeach Biden" to the assembled television cameras before telling her colleague, "you're not very smart, Jamaal." Ocasio-Cortez then pulled Bowman away, telling him, "She ain't worth it, bro." Both reporters and fellow legislators had their cell phones out recording the scene.
The next day at a press conference, Greene claimed that Bowman had somehow threatened her and insisted, falsely, that the New York Democrat had called her "a white supremacist" during the exchange — equating that to "calling a person of color the N-word."
Bowman has sharply criticized the loaded language Greene used to describe the encounter, which was witnessed by half the Capitol Hill press corps. Speaking to reporters the next day, Bowman said the Georgia Republican was "not even using a dog whistle, she's using a bullhorn to put a target on my back."
He also says it won't change him and his approach with colleagues. "I like people," he told me in our interview. "I like talking to people, I like debating people. I like learning from people. And I think it's through the process of dialogue and debate, in learning, that we build a better country and better world." But, as for Greene herself, "my next move is to stay as far away from her as possible."