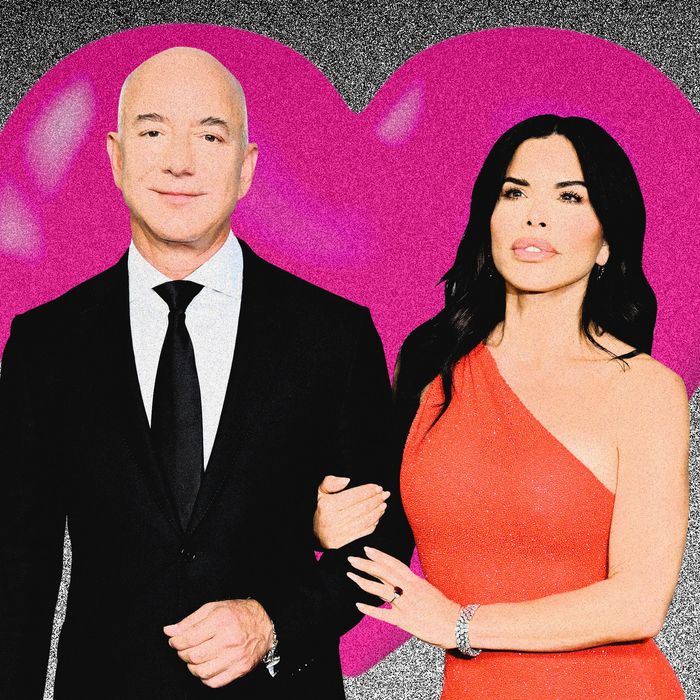 Photo-Illustration: Intelligencer. Photo: Getty Images
Editor's note: the piece originally ran in January 2023. We are republishing it today in honor of the news that Bezos and Sánchez are engaged.
I haven't been following Jeff Bezos's life all that closely, as the former Amazon CEO no longer has a say in how quickly I receive my Prime shipments. I'm aware that in recent years, the billionaire thwarted a scandal over sexts with his girlfriend with a sassy blog post, got divorced, and flew into space in a dick-shaped rocket. All I know about his partner, Lauren Sánchez, is that she was the recipient of said sexts, and they're still together.
But while perusing today's WSJ. Magazine, which I read mainly for its celebrity coverage, I discovered that I've been sleeping on one of the most inspiring couples of our time. Sánchez sat down with Derek Blasberg — the journalist and celebrity mingler once described in New York as "the Truman Capote of Instagram" — for a mini-profile and Q&A. Here's what I learned about this hardworking, humble, and totally adorable pair.
Bezos
and
Sánchez
are
all
about
philanthropy.
I'll admit that before reading the Wall Street Journal piece, I had written off Bezos and Sánchez as just another disgustingly wealthy couple who dabbled in charitable giving to distract from inconvenient facts — in this case, that they bought their superyacht its own yacht, even as Amazon employees alleged that they were forced to pee in bottles to meet their delivery quotas.
My first inkling that I might be wrong came from the subhead's description of Bezos and Sánchez as "one of the most philanthropic couples in the world."
Then in the interview, Sánchez explained, "Right now, I'm immersing myself in philanthropy and strategic giving." As a relatively poor person, I didn't realize that this task required so much dedication, but the interview set me straight:
DB: Presumably, with scams, it's not easy to give away billions of dollars. 




LS: You want to give money away and you want to know that it's helping people and it's going to continue to help people, and that it's going to the right places. You could give it not-strategically. You can just give it away! But, we take it seriously. Like the Bezos Academy: This is [a network of tuition-free, Montessori-inspired pre-schools] for kids that can't afford it and they're getting a complete free education. 
They've
faced
their
share
of
challenges.
No one wants their "ascent in the public discourse" to be "rocky." But sadly, Bezos and Sánchez suffered this terrible fate just because they were both "still legally married" (or maybe just married?) to other people when the world learned of their relationship:
The couple's ascent in the public discourse had a rocky takeoff. Both were still legally married to their respective spouses — Sánchez to Patrick Whitesell, the executive chairman of mega entertainment agency Endeavor, and Bezos to Mackenzie Scott, the writer-turned-philanthropist — when the National Enquirer leaked details of their romance. But if paparazzi snaps from their travels around the world are any indication, the two have managed a clean landing. There they are entwined in front of the Taj Mahal, hiking with King Charles in Scotland, chatting with Leonardo DiCaprio at the LACMA gala, receiving a philanthropy award at the Vatican.
I believe it was Shakespeare who said, "All's well that ends with you hanging out with a king famous for cheating."
Another
hurdle:
Sánchez
was
too
heavy
to
be
a
flight
attendant.
Don't worry, Sánchez disclosed her exact weight, so we know she wasn't, like, heavy heavy:
She left home at 18 and headed to Los Angeles to be a flight attendant. The only problem: She was told she was too heavy. "Back then, they weighed you, and I weighed 121 pounds," she says of a mandatory weigh-in at Southwest Airlines she failed in 1989. "They said, 'You need to be 115.'" (Weight restrictions for flight attendants were common practice throughout the airline industry at that time.) She knows what she would tell them if this happened now: "I don't want to be a stewardess. I want to be the pilot!" 
Sánchez
got
fashion
and
life
advice
from
Barbara
Walters.
Sánchez is an Emmy-winning TV host, and in 1999, she tested for an anchor spot on The View. She lost the role to Lisa Ling but still bonded with Barbara Walters:
Barbara Walters was a hero to Sánchez. "She really helped me with my career. Not only as someone I looked up to, but really guided me when I was up for The View," Sánchez says via text after Walters died in December. "Producers were trying to make me dress extra conversative and she saw me and said, 'What happened?' She said, 'They will try and make you ordinary. Don't let them. Then, if you fail, at least you fail as yourself.' I never forgot that." 
This may explain why, when asked why Dolly Parton received the Bezos Award for Courage and Civility (which includes a $100 million grant for charities of Parton's choosing), Sánchez focused on the iconic musician's looks, not on her philanthropy:
DB: Let's talk about this year's winner, Dolly Parton. 




LS: She's incredible! Big hair, tiny waist, big boobs. She owns it. When we were doing research on her, I found a Barbara Walters interview from [1977]. Barbara looked at all this hair and makeup [and asked], I'm paraphrasing: "Do you ever think that people might look at you as a joke?" [Parton] goes, "Absolutely not. I love it. And I think people know that I'm authentic to myself." And I thought, that's civility. She was able to handle herself when she was being criticized. And never changed. 
Sánchez
is
a
pilot
—
and
maybe
I
could
be
one
too!
Her romance with Bezos "blossomed on helicopter rides she piloted." And in 2016, she founded Black Ops Aviation, "one of the first female-owned aerial film and production companies" just to show us ladies it could be done:
DB: Why did you decide to found Black Ops Aviation? 




LS: Because there were no females doing it! Less than nine percent of pilots are women. That's it! Of that percentage, even less are helicopter pilots. How many women pilots do you see in every movie? What do you see? You see male pilots. And so [women] don't realize that they can do it. 




DB: When women find out that you're a pilot, what is their reaction? 




LS: They're shocked! They're like, "What? You're such a badass!" And I want to say it's really not that hard. I do want more women to get involved in it. 
Sánchez
has
written
a
children's
book
inspired
by
a
cool
fly
she
saw
one
time.
Love this! Our kids need to hear more positive messages from the partner of the world's third-richest man:
This year, Sánchez will release her first children's book, Flynn, The Fly Who Flew. The plotline landed literally in front of her. "I was in the helicopter, and there was a fly," she says. "I was like, 'Oh my gosh, look, a fly who flew! This is such a great children's book.' And it stuck. Except now it's a rocket [in the book]." The book's hero travels around Earth before — spoiler alert — being reunited with his family. "I hope that a reader, especially children, will see that if you wander and explore, you never know what you'll discover. You shouldn't stay in one place. Don't be typical." 
Bezos
and
Sánchez
are
total
homebodies
who
love
to
be
together
all
the
time.
Sánchez says she had never worked with a romantic partner before, but now she and her billionaire beau are inseparable — and she loves it:
LS: We love to be together and we love to work together. He's helping me with the book. He's getting his pilot's license. We fly together. We work out together. We're together all the time.
And their house or, rather, houses are like a classic family sitcom:
Sánchez and Bezos, who respectively have three children and four children from their prior relationships, share a historic Beverly Hills house built by Hollywood founding father Jack Warner, which Bezos bought from media mogul David Geffen for a then-record-setting $165 million in 2020. (The couple has other homes, including one in Seattle, where Bezos founded Amazon in 1994, and another in Washington, D.C., where the Washington Post, which he bought for $250 million in 2013, is based.) "On a typical Saturday, we hang out, we have dinner with the kids, which is always fun because you never know where the conversation is going to go with this many kids," Sánchez says. "We are the Brady Bunch!"
Bezos
is
launching
Sánchez
into
space.
Sánchez is showing the world that phallic space adventures aren't just for the boys:
However, of all her upcoming plans, she's particularly excited about leading an all-female mission to outer space on Blue Origin by early 2024. "It's going to be women who are making a difference in the world and who are impactful and have a message to send," she says of the five women joining her, who won't be revealed until nearer launch date. 




One person who won't be joining them is Bezos. "As much as he wants to go on this flight, I'm going to have to hold him back," she says with a smile. "He'll be cheering us all on from the sidelines." 
I just love her sass! The next time my billionaire boyfriend wants to crash my girls' trip to space, I'm going to say no too. (If that's okay with him. He owns the rocket ship.)