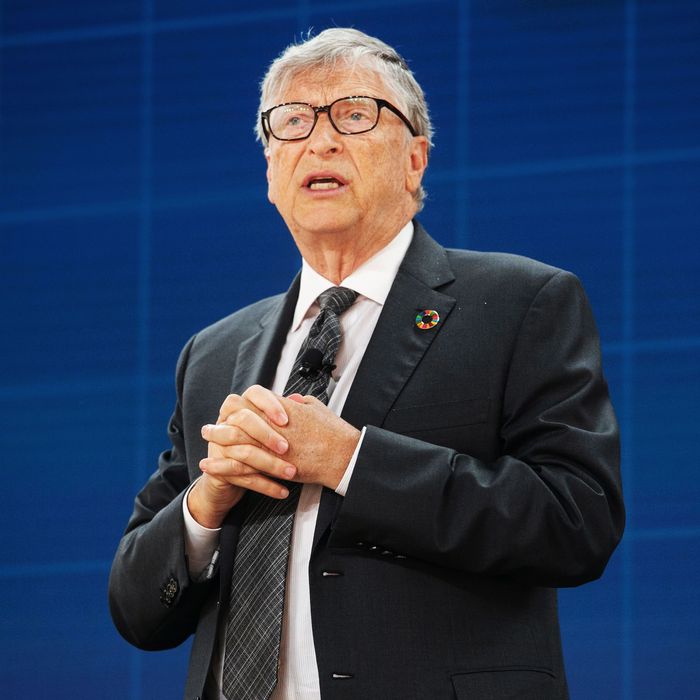 Photo: Sarah Yenesel/EPA-EFE/Shutterstock
The steady flow of new information about Jeffrey Epstein's high-society contacts is still going strong.
According to The Wall Street Journal, Epstein tried to blackmail Microsoft co-founder Bill Gates after he found out about an affair Gates had with a Russian bridge player around 2010, when he was still married to his former wife, Melinda. The report states that Gates first met the woman, Mila Antonova, in 2010, when she was in her 20s and Gates was in his mid-50s. A Gates associate later introduced her to Epstein, and in 2013, she met at his infamous townhouse on the Upper East Side, where she proposed an investment idea to him: $500,000 to stand up a company that would make online bridge tutorials.
Epstein passed on the opportunity, but when Antonova decided she wanted to become a software programmer, she says Epstein paid for her coding classes. "He paid directly to the school," Antonova told the Journal. "Nothing was exchanged. I don't know why he did that. When I asked, he said something like he was wealthy and wanted to help people when he could."
The alleged affair remained under wraps for several years, during which Epstein and Gates continued to associate with each other — until 2017, when Epstein allegedly weaponized the matter. Since 2011, Epstein had tried to set up a charitable fund at JPMorgan, where Gates and other wealthy men in his circle would pay in a minimum of $100 million each and Epstein would get millions back in fees. The plan hinged on Gates's backing, and in emails to JPMorgan executives like Jes Staley, Epstein falsely suggested that the billionaire was onboard. But Gates never joined. "The firm didn't need him as a client," a JPMorgan spokesman said — though the bank is currently being sued for allegedly enabling his sex trafficking for years.
In 2017, Epstein emailed Gates about the Russian bridge player, requesting that he pay back the meager tuition for her coding program. "The sum was immaterial for the two men, and the tone of the message was that Epstein knew about the affair and could expose it," per the Journal. A spokesperson for Gates claimed that he never made a payment to Epstein. But the account could provide some clarity as to how the man who pleaded guilty to a sex crime in 2008 managed to influence top bankers and politicians until his arrest and death in custody in 2019.