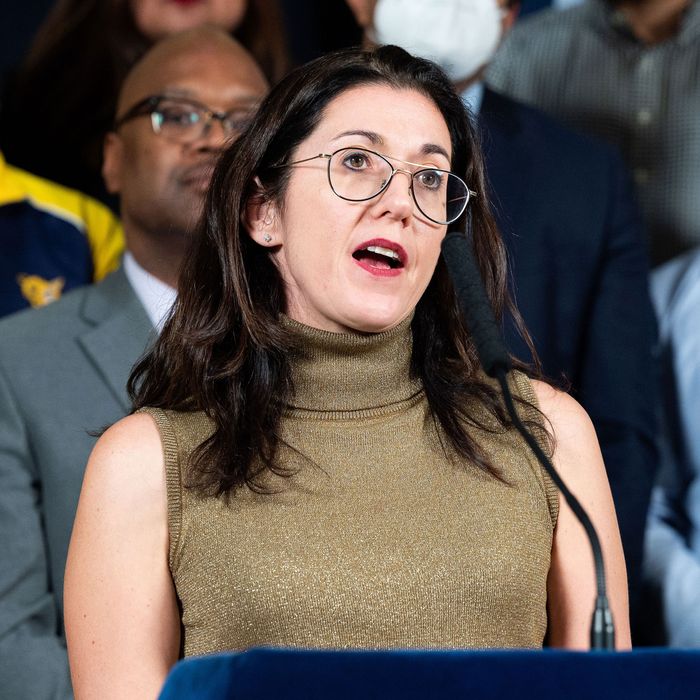 Photo: Michael Brochstein/SOPA Images/Shutterstock
The city's top housing official announced on Wednesday that she will be leaving her job by July. Gothamist reports that Jessica Katz, who serves as the chief housing officer in Mayor Eric Adams's administration, was first appointed to the newly created role in January 2022, just weeks after the mayor was sworn in. It's not yet clear who will replace Katz or if the role itself will be phased out, per Gothamist.
Katz's decision comes as the city is grappling with a critical housing shortage and an accompanying intense homelessness crisis. On Wednesday, City Hall asked the courts to suspend the city's decades-old right-to-shelter law, citing an increase in asylum seekers transported from southern states, which has added to the already immense number of people in the shelter system.
Adams has made addressing the city's housing scarcity one of his top issues, pledging to build 500,000 new homes over the next decade. That plan, though, was made much more difficult by the lack of housing provisions in the long-delayed state budget that was passed earlier this month.
In her role, Katz was selected to oversee the city's many housing agencies, including NYCHA, the Department of Housing Preservation & Development, and the Housing Development Corporation. The New York Times, citing sources familiar with the situation, reports that internal confusion in the administration regarding who was "in charge" of managing the city's housing issues contributed to Katz's decision to leave.
Katz however, seemed to push back against that characterization in a interview with Gothamist, saying the administration worked hard to "figure out a structure" to cover the myriad of issues in and around housing in the city.
In a statement to the Times, Adams praised Katz and her work.
"Jessica worked every day to ensure that New Yorkers were at the center of our housing policies, whether an individual experiencing homelessness, a family living in NYCHA, or a lifelong New Yorker struggling to stay in the neighborhood they love," he said.
Katz previously worked for the Housing Development Corporation during both Michael Bloomberg and Bill de Blasio's administrations. Prior to taking the chief-housing-officer role, she was the executive director of the Citizens Housing & Planning Council, a nonprofit.