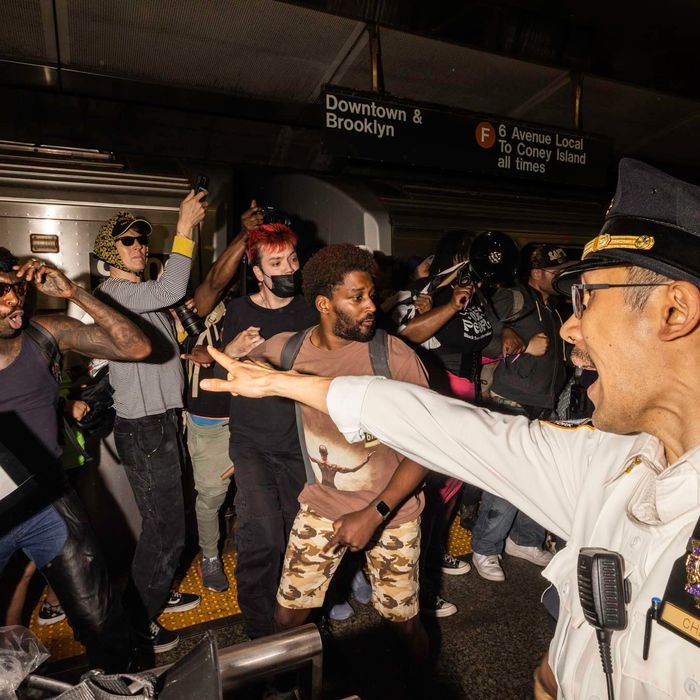 Protesters and police clash on the platform of the Lexington Av/63 St. subway station in Manhattan on Saturday.
Photo: Alex Kent
Jordan Neely once wowed straphangers with his Michael Jackson impersonation, performing on the subway with an ultrasmooth moonwalk in his red "Thriller" jacket. But years later, on Monday, he died inside the subway after an ex-Marine, now identified as 24-year-old Queens resident Daniel Penny, put him in a choke hold.
Anger has been rising over Neely's death and the lack of charges so far for the man who killed him, with protests throughout the city and Mayor Eric Adams tussling with critics such as Representative Alexandria Ocasio-Cortez. Meanwhile, investigators are poring over evidence and calling for witnesses to step forward as they weigh charges for the veteran, who was finally identified in media reports on Friday. The killing, captured on video, has become a flash point in the heated argument over public safety that has dominated the concerns of New Yorkers since the pandemic.
A few fatal minutes
On Monday afternoon, freelance journalist Juan Alberto Vázquez was headed to Yonkers on from Brooklyn on the F train when it pulled into the Second Avenue stop in Manhattan, where Neely boarded. "He started yelling," Vázquez said in an interview on Thursday evening, a day after he was interviewed by police. "He started lamenting that he didn't have food, that he didn't have water. From what I understood, he was yelling that he was tired, that he didn't care about going to jail." Neely did not ask for anything and was acting in "a very violent way, a very dramatic way," at one point throwing his jacket to the floor so hard that Vázquez could hear the zipper's impact: "The people who were sitting around him — well, yeah, they were scared, and they stood up and they moved around the train car" as Neely stood in place and kept yelling.
At that moment, Vázquez said, "this man came up behind him and grabbed him by the neck" and forced Neely to the ground. (Vázquez told the New York Times he did not actually see Penny grab Neely, just heard them go down and then saw them on the floor.) About 30 seconds later, the train reached the Broadway–Lafayette Street stop: "When the two doors opened, everyone rushed out, obviously, afraid, because now there was an actual fight."
Vázquez stepped out to tell the conductor to stop the train while the veteran told bystanders to call the police. Then Vázquez started to film the scene inside the car. For about a minute, "nothing happens; they're just lying there," he said. (Vázquez cut that portion from the video he published.) "And then when Jordan tried to escape again, they rolled over again," he said.
The video of the choke hold goes on for nearly four minutes. After two minutes, a man enters the train to warn that the choke hold could be lethal. "If you suffocate him, that's it," he says. "You don't want to catch a murder charge." One of the men responds, "He's not squeezing no more," and the veteran releases the choke hold. By this time, Neely is unconscious.
"And we were all looking at each other, like, What's going on? Did he faint? What happened?" Vázquez said.
Neely was transported to a hospital, where he died of what the medical examiner's office determined to be compression to the neck, ruling on Wednesday night that his death was a homicide. Police took Penny in for questioning on Monday, and he was released, though detectives and prosecutors from the Manhattan district attorney's office reportedly huddled on Thursday to discuss possible charges.
They can't come soon enough for many in the city who began protesting Neely's death and the Adams administration hours after the video was widely circulated. On Wednesday afternoon, protesters crammed into the Broadway–Lafayette Street station's F-train platform, where Neely's lifeless body had been removed from the train by first responders. The group stood over a spray-painted message on the concrete that read "Jordan Neely was murdered here," denouncing the increased police presence in the subways. Three people were arrested in the initial protest, and more demonstrations were scheduled into the weekend. On Saturday, a group of demonstrators marched through Manhattan from Broadway-Lafayette to the Lexington Av/63 St station, where they briefly occupied the platform and climbed down onto the tracks, before police cleared the station.
Immediately after the video of Neely's death went viral, Ocasio-Cortez took to Twitter to say he was "murdered," sharing the sentiment of other progressive officials and a segment of the city who saw the all-too-familiar scene of a Black man being killed on video by a white man — and nothing being done about it. Adams, who campaigned for mayor as a tough-on-crime former cop, said people were rushing to judgment. "I don't think that's very responsible at the time where we are still investigating the situation," he told CNN. "Let's let the DA conduct his investigation with the law-enforcement officials. To really interfere with that is not the right thing to do, and I'm going to be responsible and allow them to do their job and allow them to determine exactly what happened here."
A talented, tragic life
Neely grew up polishing the Michael Jackson routine that he first learned when his father, Andre Zachery, showed him the King of Pop's iconic music videos when Neely was just 4 years old. As a teenager and in his 20s, Neely danced in the subway for money, setting up at the 34th Street–Herald Square station. Roger Green, a subway artist who performed with Neely in 2014, recalled seeing him dance for the first time.
"He had the same magnetism as Michael," said Green, whose act included roller-skating and a mime routine. "He made people like him — and when they saw him dance, they were blown away." On good days, they could make $100 each. "He was a great kid, trying to dance and make his money, and was hustling like everybody else," Green said, adding that he never saw any violence from Neely. "He was a positive person all around. A gentleman. But I guess life can get the best of us."
Neely's mental health, however, had been deteriorating since 2007, when his mother was strangled to death by her boyfriend and found in a suitcase on the side of the Henry Hudson Parkway. Neely testified during the murder trial, answering questions directly from the killer, who represented himself. Kris Brewer, an attorney who worked in the courthouse at the time, recalls the unsettling experience of watching the questioning unfold. "It landed in my bones to sit there," she recalled. "The defendant would refer to himself in the third person or would refer to the murderer as someone else, and Jordan would correct him and said, 'You. You did X.'"
Afterward, he was never the same, according to his Aunt Carolyn. "It had a big impact on him," she told the New York Post. "He developed depression and it grew and became more serious. He was schizophrenic, PTSD. Doctors knew his condition and he needed to be treated for that." He did not get the help he needed, either. "The whole system just failed him. He fell through the cracks of the system," she said.
Neely had been arrested at least 40 times in recent years; the last time was in November 2021, after he allegedly hit a 67-year-old woman in the face as she left a subway station. The Daily News spoke with man who Neely was arrested for assaulting two years earlier, Filemon Castillo Baltazar, who told the publication Neely struck him in the face while he was waiting for a train at on a platform at W. 4th St. Baltazar said Neely "should have been in some rehab center" instead of on the streets. Neely was wanted on a warrant at the time of his death, after failing to comply with the terms of the alternative-to-incarceration program he was sentenced to after pleading guilty to the 2021 assault.
Neely's father could barely comprehend that his own son had been killed. "And now him? By somebody else?" Zachery told the Daily News. "I don't know what to say."
This post has been updated.