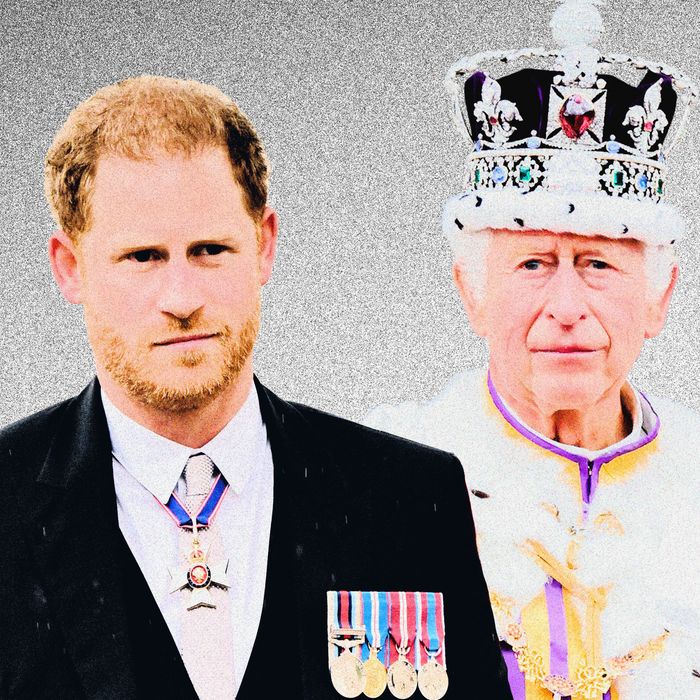 Photo-Illustration: Intelligencer, Photos: Andy Stenning/AFP/Getty Images, Max Mumby/Indigo/Getty Images
King Charles's coronation on Saturday, May 6 should have been one of the happiest days of the British monarch's life. He was finally crowned at the age of 74 along with his wife, Camilla, whose ascension to the role of queen once seemed highly unlikely. During the ceremony, Charles's eldest son, Prince William, pledged his loyalty to him as his "liege man of life and limb," while his younger son, Prince Harry, showed up and didn't do anything embarrassing. All in all, everything went about as well as could be expected.
But according to the British papers, behind closed doors poor Charles was in "sorrow" over Harry's shockingly cruel behavior. As the Daily Mail explains in this 28-word headline:
The paper goes on to explain that while "an invitation had been politely extended to Harry to join the family lunch" after the coronation ceremony, the prince immediately hopped on a commercial flight back to Los Angeles, where he lives with his wife, Meghan Markle, and their two children. While some royals "breathed a sigh of relief" when Harry left, King Charles seemed "genuinely quite disappointed that he didn't stay."
According to the Daily Mail, Britain's benevolent new king toasted his absent grandchildren at the lunch, despite his son's outrageous behavior:
The King raised a glass to his three grandchildren Prince George — who also served as a Page of Honour — Princess Charlotte and Prince Louis, who were among the stars of the show and carried out their public appearances with aplomb.




But he made a point of also toasting 'those that weren't there' and wished his other grandson a very happy birthday 'wherever he was'.




'It was apparently a very sweet moment,' the source said.
If you've been following all the royal gossip leading up to the coronation, you might find it hard to believe that Charles was actually surprised that Harry didn't stay, or upset that his children, Archie and Lilibet, weren't at the coronation. Here are just some of the ways the royals have ostracized Harry following the publication of his humiliating tell-all, Spare, in January:
• Buckingham Palace scheduled the coronation for May 6, though officials were well aware that it was Archie's 4th birthday.
• It's unclear if Archie and Lilibet were even invited to the coronation.
• The palace claimed Charles was too "busy" to see Harry when he made a surprise visit to the U.K. in March, though his schedule was actually clear.
• When the palace released a statement on April 12 announcing that Harry would attend the coronation without his wife or children, the accompanying reports said he was not expected to attend any other coronation festivities.
• Though Prince Harry is fifth in line to the throne, he was seated in the third row at the coronation with a bunch of minor royals, including Prince Andrew, who was stripped of his military titles and royal patronages after he was accused of raping an underage girl.
• Andrew was allowed to wear his fancy Order of the Garter robes to the ceremony, though he is no longer a working royal. But Harry, who served two tours in Afghanistan, had to wear a regular suit, with his medals pinned to the lapel.
• It seems that Prince William did not speak to his brother or acknowledge his presence in any way during the ceremony.
• Princess Anne's giant hat blocked Harry from the cameras' view during the coronation, just as a candle was strategically placed in front of Meghan Markel during the broadcast of Queen Elizabeth II's funeral.
More broadly, U.K. news coverage of Harry's coronation trip fits a pattern; multiple outlets reported that the prince "snubbed" the royal family by quickly "fleeing London" on Saturday, though they'd generously offered a last-minute lunch invitation as an "olive branch." In Spare, Harry accused both his father and stepmother of strategically leaking negative stories about him to make themselves look like the victims of his bad behavior.
It all seems a bit suspect, but what do I know? I may read a lot about the royals, but at the end of the day I'm just some American who thinks stuffing a quiche full of beans sounds gross, not regal.
So boo, Harry! What kind of monster skips his dad's big coronation lunch? For shame!