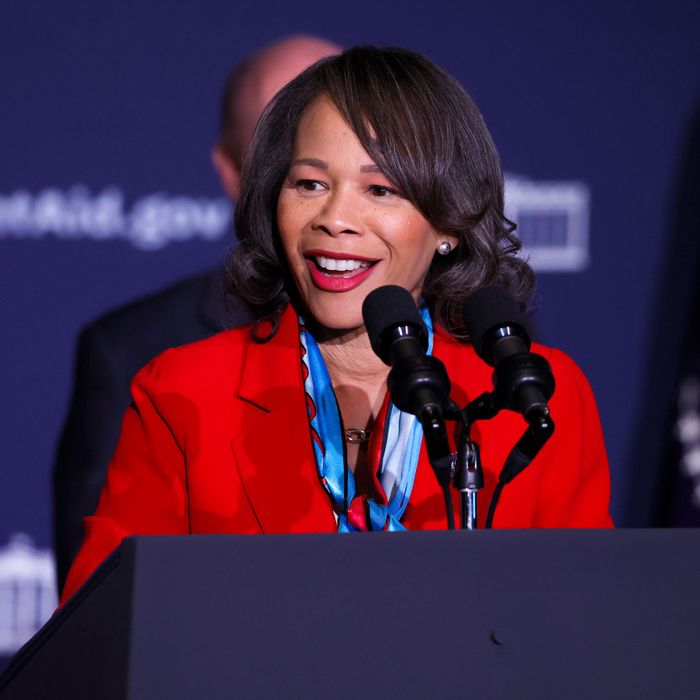 Congresswoman Lisa Blunt Rochester.
Photo: Anna Moneymaker/Getty Images
More often than not, when a very senior U.S. senator retires, there's a mad scramble of frustrated would-be senators trying to take advantage of the rare opening. In 2024, there are already very tense Democratic primaries unfolding for the seat that Dianne Feinstein of California has held since 1992 and the one Ben Cardin of Maryland has held since 2007.
You would expect the same to be the case in Delaware upon the retirement of four-term Democratic senator Tom Carper. The First State notoriously has a logjam of Democratic politicians thanks to its size and partisan leanings: With just three counties and one U.S. House seat, there are plenty of elected officials at any given moment who have experience in running statewide. Carper, in fact, won his first statewide contest to become state treasurer in 1976. In 1992, after five terms in the U.S. House, Carper won his penultimate office by essentially switching jobs with term-limited Republican governor Mike Castle. (Carper moved on to the Senate when he was term-limited in 2000 and was succeeded for two terms by Ruth Ann Minner, who had been elected twice as lieutenant governor.)
Now, however, the political heavens appear to have opened for current congresswoman Lisa Blunt Rochester to succeed Carper in the Senate, reflecting her longtime status as a Carper protégée with many friends in Delaware government and politics. Her first public-sector gig was as an intern in Carper's U.S. House office, and she later served his gubernatorial administration in two major agency positions, including secretary of labor (she was also state personnel director under Minner). After a stint as CEO of the Urban League affiliate in Wilmington, she relocated to China with her soon-to-be husband, Charles Rochester, and then co-authored a book entitled Thrive about women who reinvented themselves. She had to do so herself when her husband suddenly died and she wound up running for the U.S. House in 2016, surviving in a crowded primary.
Aside from her Carper connection, Blunt Rochester served as an adviser to Joe Biden during his 2020 presidential campaign, particularly when he was vetting vice-presidential possibilities.
The likelihood that she will avoid a difficult primary was illustrated by Senate Majority Leader Chuck Schumer, who is all but treating her as a senator-elect though she hasn't yet announced her candidacy, even informally, as Politico reported:
Senate Majority Leader Chuck Schumer spoke to Blunt Rochester on Monday after Carper's announcement. Schumer told her "he believes she could be a really good senator and he looks forward to sitting down with her soon," a Schumer spokesperson said.
Carper, even more than Biden, had a strong reputation as a party centrist in his many years in state and national politics. Blunt Rochester, who takes a very nuts-and-bolts, hands-on approach to politicking, may be more in the broader party mainstream: She is a member of both the Progressive Caucus and the New Democrat Coalition.
Presumably, Delaware Republicans will put up a credible candidate for this open seat in 2024, but since 2018, Democrats have held all nine statewide offices, and Republicans haven't won a Senate race in Delaware since 1994. This has become a very blue state, and with Biden at the head of the ticket, 2024 seems an unlikely year for a breakthrough. Assuming she does win, Blunt Rochester will gain immediate attention as just the third Black woman elected to the upper chamber. If the national Democratic ticket prevails as well, she'll be sworn into office by the second Black woman elected to the Senate, Vice-President Kamala Harris. And it's possible she'll be joined in taking the oath by another Black woman and a current House colleague, California's Barbara Lee.