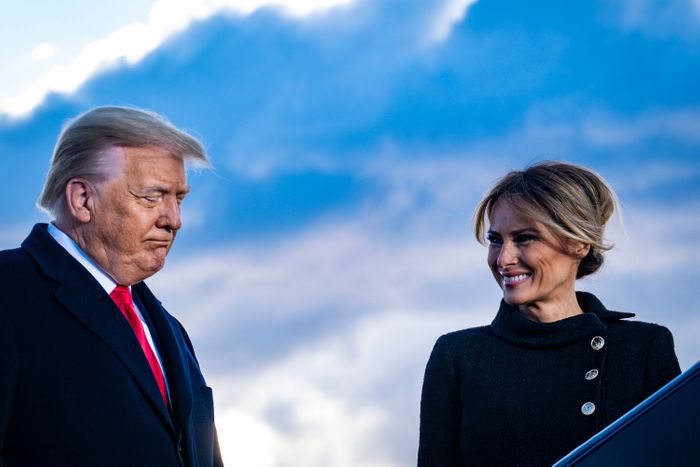 Photo: Pete Marovich - Pool/Getty Images
Ivanka Trump and Melania Trump have never seemed particularly close. Melania's former best friend, Stephanie Winston Wolkoff, claimed that they called her stepdaughter "Princess" behind her back and launched "Operation Block Ivanka" to keep her out of inauguration photos. But it seems Melania and Ivanka are sharing a PR strategy for dealing with Donald Trump as he faces growing legal trouble. Both women are keeping their distance from the former president and letting anonymous tabloid sources insist that he actually has their full support.
Ivanka pioneered this strategy when her father was arrested and charged with 34 counts of falsifying business records in New York over hush-money payments to porn star Stormy Daniels. Ivanka put out a stunningly ambiguous statement expressing love and sorrow for both her father and her country, then stopped being seen with her dad publicly. Following her very conspicuous absence from Trump's post-arrest speech, the New York Post's "Page Six" reported that Ivanka had actually made a "display of support" for her dad by swinging by Mar-a-Lago days earlier — though, weirdly, no one actually saw her there.
While Melania has been spotted having dinner with her husband at Mar-a-Lago at least twice since news of his indictment broke, she was not by his side as he went to New York to surrender to the authorities, and she also skipped his speech after his arraignment.
But Melania sort of reemerged this week in a web-only interview with Fox News Digital. The piece featured no accompanying photos or video footage and appeared just hours before a jury found Donald liable for sexual abuse and defamation against E. Jean Carroll.
The former First Lady offered this seemingly scripted statement: "My husband achieved tremendous success in his first administration, and he can lead us toward greatness and prosperity once again."
She went on to confirm that Donald has managed to convince his own wife to back his 2024 bid.
"He has my support, and we look forward to restoring hope for the future and leading America with love and strength," she said.
Though Donald praised Melania on Truth Social in recent days for her ongoing work with the Be Best initiative (weeks after failing to publicly acknowledge her birthday), things seemed a bit frosty between the Trumps.
But now the Post is reporting that Melania definitely isn't keeping her distance from her husband. In fact, sources tell "Page Six" they are "closer than ever" and things couldn't be better:
A source told Page Six that Trump is "really beaming next to Melania." Mar-a-Lago is apparently abuzz that "the couple seems … more bonded than ever. Friends say that Melania's stepping up — while Ivanka and Jared [Kushner] have stepped aside — has made [Trump] more confident than ever." The source told us, "Trump says Melania will be by his side during the campaign more than she was last time."
Prepare to be inundated with impersonal statements from Melania about how she supports her husband and definitely wants to spend another four years in the White House.