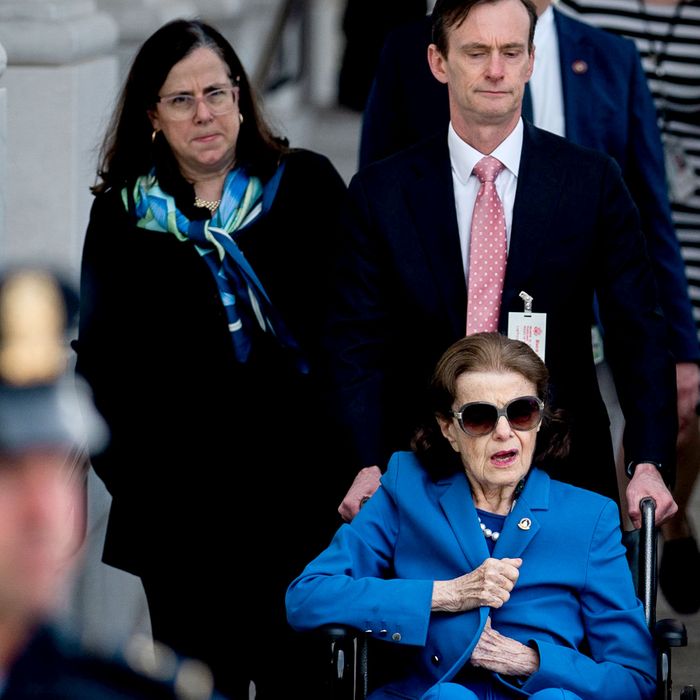 Dianne Feinstein with Nancy Corinne Prowda.
Photo: Kent Nishimura/Los Angeles Times via Getty Images
Senator Dianne Feinstein needs help. For at least three years, staffers and fellow senators have said that the 89-year-old lawmaker suffers from memory lapses and even fails to recognize colleagues she has worked with for years. Returning to the Senate last week after a three-month absence owing to shingles, she now has aides helping her do the very basics of her job and guiding her around the Capitol in a wheelchair.
Putting aside the question of whether or not Feinstein should remain in the Senate in her current state of health, a new detail raises a concern regarding the interests of who is helping her. Politico reports that Nancy Corinne Prowda, the eldest daughter of former House Speaker Nancy Pelosi, is chaperoning Feinstein as part of the swarm of aides who encircle her when reporters come asking questions. Prowda, who works in the corporate offices of Hilton Hotels & Resorts, has recently become a key aide, helping Feinstein around the Capitol as she recovers from shingles.
On its face, this is not unusual: Pelosi and Feinstein are the two most powerful politicians to come out of San Francisco in decades, and Pelosi's communications director says that both Pelosi and her daughter are friends with Feinstein. But it could mean that the Pelosis have extra sway in choosing a successor should Feinstein resign before her term is up in 2025. California governor Gavin Newsom has said he would appoint a Black woman lawmaker, which could influence the contested Democratic primary already underway.
"If DiFi resigns right now, there is an enormous probability that Barbara Lee gets appointed," a source close to the Pelosi family told Politico, referring to the representative running for the Senate seat in 2024. That would be a problem for Representative Adam Schiff, whom Pelosi has endorsed in the race next year. With Prowda in Feinstein's ear at a vulnerable moment, the family confidant added that the relationship between Pelosi, her daughter, and Feinstein is "being kept under wraps and very, very closely held."
Meanwhile, the secret of Feinstein's acuity is getting out more and more as she remains in public life. Days after her return to the Senate, she told a reporter that "I haven't been gone" for the past three months. She was promptly wheeled away by an aide after the short exchange.