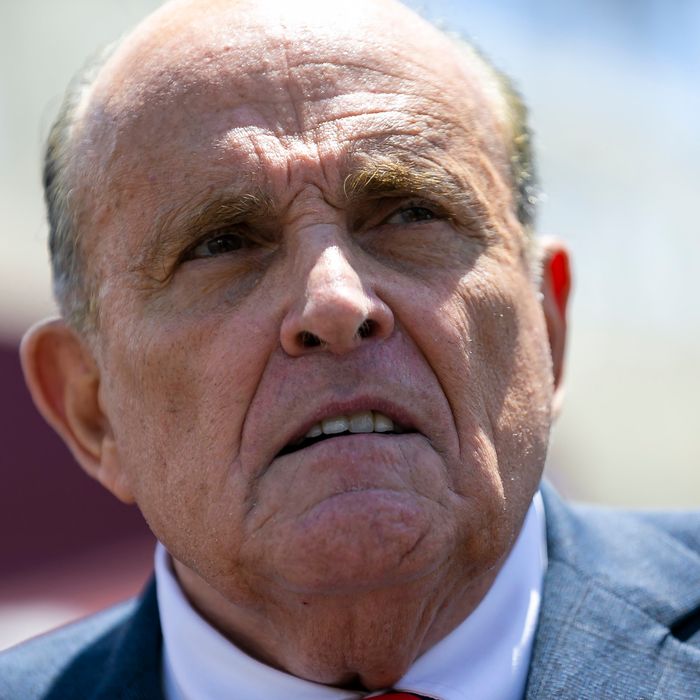 Photo: Matias J. Ocner/Miami Herald/Tribune News Service via Getty Images
Rudy Giuliani was sued on Monday by a former employee who alleges he sexually assaulted and harassed her and is seeking $10 million in damages.
Noelle Dunphy, who says she went to work for Giuliani as his director of business development in 2019, claims in a lawsuit filed Monday in New York that from the start he "made clear that satisfying his sexual demands — which came virtually anytime, anywhere — was an absolute requirement of her employment and of his legal representation."
Giuliani did not respond to a request for comment, but a spokesperson told WABC that the former mayor "vehemently and completely denies the allegations in the complaint and plans to thoroughly defend against these allegations. This is pure harassment and an attempt at extortion." Giuliani's attorney, Ted Goodman, told Rolling Stone that Giuliani "unequivocally denies the allegations raised by Ms. Dunphy."
In one instance detailed in the lawsuit, Dunphy, 43, says that a few days after she began working for him, Giuliani insisted she stay overnight at his Upper East Side apartment, pressured her into drinking, and then pulled down his pants and grabbed her by the hair to perform oral sex on him "against her will." It is unclear if Dunphy filed a police report, but her lawsuit accuses Giuliani of committing the crimes of rape and sexual abuse.
Dunphy "did not want to have any sexual encounter with Giuliani, of any kind," the lawsuit says, "But Ms. Dunphy felt extreme pressure to go along with Giuliani's demands because she could not lose her promised salary or her legal representation by the uniquely qualified and connected lawyer." It also claims that when she later told Giuliani she was considering reporting the incident to human resources, "Giuliani said that he did not have a Human Resources department and bragged that no one would ever sue him because he was connected to President Trump, and he had private investigators who would punish anyone who complained."
She also accuses him of wage theft after he insisted her employment be kept secret, and says she was owed nearly $2 million in back pay at the point she was terminated in January 2021.
In January, Dunphy filed a summons without an attorney claiming Giuliani was a "sexist sexual predator and abuser" and accusing him of breach of contract, non-payment of wages, sexual harassment, and nearly a dozen other allegations. At the time, she initially told the Daily Beast that she had been romantically involved with Giuliani, but later clarified that it was only a "physical" relationship. In response to the summons, Giuliani's attorney told the Daily Beast that the former mayor "categorically denies all of the allegations of this frivolous complaint."
The lawsuit Dunphy filed Monday contains additional allegations against Giuliani as well as far more detail.
Dunphy alleges that Giuliani "often demanded that she work naked, in a bikini, or in short shorts with an American flag on them that he bought for her" and had her perform oral sex on him while he was on business calls, including calls with then-President Donald Trump in which they discussed sensitive information, because it made him "feel like Bill Clinton."
Giuliani was regularly intoxicated and frequently took Viagra, according to Dunphy, and routinely made sexist, racist, and antisemitic comments — some of which she says have been recorded. Among the comments, according to the lawsuit, were Giuliani claiming Black and Hispanic men were abusive toward women because "it is in their culture," making sexually derogatory comments about Jewish men, and using anti-LGBTQ slurs.
Dunphy also alleges that Giuliani claimed to be selling pardons for $2 million, split between himself and Trump. According to her account, he asked if she knew anyone who needed a pardon, advising her to ask him directly and not through the official channels in order to avoid a potential Freedom of Information Act request.
The Daily Beast reported in January that Dunphy filed a lawsuit against a former paramour several years ago which was settled out of court:
In 2015, she filed a federal suit under the pseudonym Jane Doe against a real estate investor, alleging that he viciously and repeatedly abused her. He counter-sued and claimed her allegations were a shakedown. In his complaint, he accused her of trying to "defraud high net-worth men" in the past, including a allegedly false rape claim that he said resulted in a $5 million payout. Court records show they settled their suits, with him agreeing to pay her $10,000 and her agreeing to halt a Family Court petition for a permanent order of protection against him. Dunphy later tried to back out of it, citing psychological distress, but an appeals court shot down her bid.
According to her lawsuit against Giuliani, Dunphy is being represented by the New York-based law firm Abrams Fensterman, LLP.
This post has been updated.