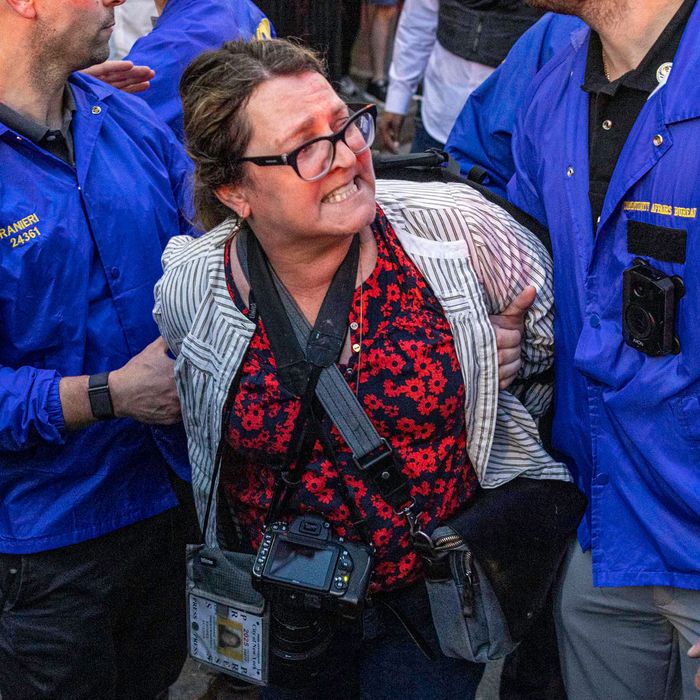 Photojournalist Stephanie Keith is arrested by the NYPD during a vigil for Jordan Neely, who was killed in the subway a week ago.
Photo: Alex Kent
In the days since Jordan Neely was killed on a subway train after being placed in a choke hold, demonstrators have taken to the city streets to call for his killer to be charged. The police have responded with increasing hostility to demonstrations, and on Monday, officers arrested what were described by the press and eyewitnesses as nonviolent protesters, as well as an NYPD-credentialed photojournalist doing her job.
It all began with a planned vigil at the Broadway-Lafayette subway stop, where Neely was choked to death a week ago. The New York Post reports that people on the station platform chanted Neely's name, surrounded by a heavy police presence. A crowd of protesters formed aboveground on the sidewalk outside the station, giving speeches. Soon, officers began to clash with the group, arresting several of the participants. One man was seen with blood streaming down his face as he was led away to a police van.
Stephanie Keith, a well-known photojournalist, was also arrested despite wearing a credential identifying her as a member of the press. She was released a short time later.
"The fact that their reaction to protesting the lynching of Jordan Neely is more aggressive than the attention that they gave to Jordan Neely's actual murderer speaks volumes," Kimberly Bernard, a protester at the scene, told CBS New York.
NYPD chief of department Jeffrey Maddrey spoke at a press conference later that evening, saying that there were approximately 150 demonstrators at the scene and that officers made about 11 arrests. Maddrey also said that a Molotov cocktail was later discovered on the ground at the scene.
At an unrelated event Monday night, Mayor Eric Adams was asked about the protests happening in the city. Adams, a former NYPD officer himself, seemed to point the finger at non–New Yorkers.
"Agitators that come from outside our city with Molotov cocktails, we should all be concerned about that," Adams told The City.