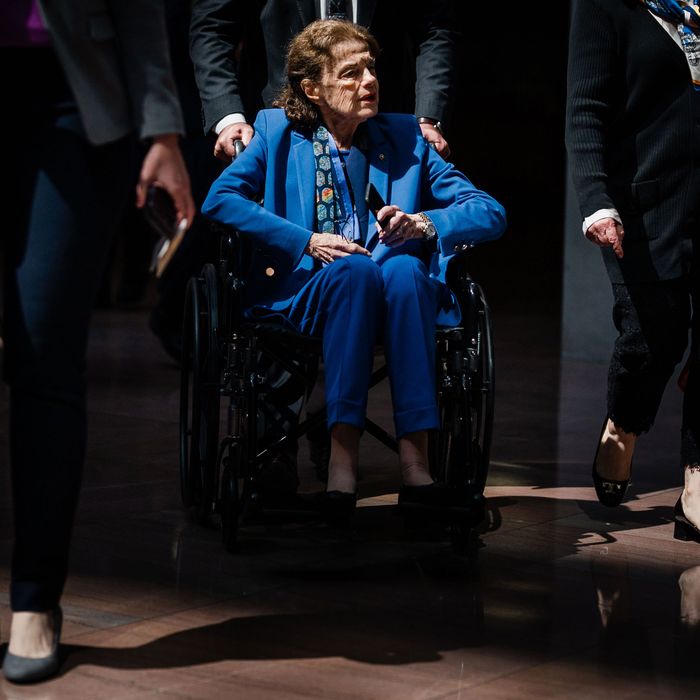 Feinstein is struggling on many fronts at the end of her distinguished career.
Photo: Kent Nishimura/Los Angeles Times via Getty Images
Dianne Feinstein's poor health, absences from the U.S. Senate, and alleged mental lapses have been a big story in Washington this year. That's mostly thanks to the 89-year-old's position on the Judiciary Committee, which clears the nominations for the federal judgeships that Joe Biden really needs to get approved in case Democrats lose control of the Senate or the White House in 2024.
But it's clear Californians have been paying attention as well. A new poll from IGS/UC Berkeley shows Feinstein's political standing deteriorating. Fully 67 percent of respondents to the survey agreed that "Feinstein's latest illness underlines the fact that she is no longer fit to continue serving in the U.S. Senate." The poll doesn't provide a partisan breakdown of that particular result, though we are told "agreement extends to voters of all political stripes."
Partisanship emerged, however, when poll respondents were asked about the obvious next step for a senator unfit to serve: Should she "resign from office and allow Gov. Newsom to appoint a successor?" Fifty-two percent of Democrats support that scenario, but the reminder that the controversial Gavin Newsom would have the power to fill a vacancy drives Republican support for a resignation down to 22 percent. Similarly, Feinstein's favorability ratings per IGS/UC Berkeley were already so low among Republicans (11 percent the last time she faced voters in 2018) that her most recent problems are mostly reflected in her loss of support among Democrats (her favorability is down from 75 percent in 2018 to 43 percent now) and independents (44 percent in 2018; 22 percent now). Her overall favorability ratio is now at a dismal 29 percent approve to 52 percent disapprove. The political capital she built up during a highly distinguished career in San Francisco and in Washington has finally begun to run out.
The IGS/UC Berkeley poll also provided one of the few public-opinion insights available so far concerning the already red-hot contest to succeed Feinstein when her term runs out at the end of 2024 (the primary that will cull the field to two candidates is in March). Given a choice of four major announced candidates — Democratic U.S. House members Barbara Lee, Katie Porter and Adam Schiff, and Republican attorney Eric Early, a failed candidate for attorney general and for Congress — an unsurprising 32 percent were undecided (55 percent of respondents apparently don't know enough about Barbara Lee to have an opinion of her and 71 percent have no opinion of Eric Early). But it's interesting that the lightly regarded Early narrowly leads the field (with 18 percent, compared to 17 percent for Porter, 14 percent for Schiff, and 9 percent for Lee).
These results are a reminder than in a statewide race with three competitive Democrats, even a serial loser like Early could very easily make the general election under the state's top-two system (in which the two leading primary candidates, regardless of party, qualify for the November ballot). So Democrats are probably battling for a single general-election spot instead of the two won by the party in the 2016 and 2018 Senate contests. That has a lot of impact on campaign strategy, though not as much as the possibility of Newsom picking one of the current candidates for an interim position if Feinstein does resign (it would have to be Lee since he's promised to appoint a Black woman if there is a vacancy). There could be a lot more drama ahead regarding the Feinstein Senate seat.