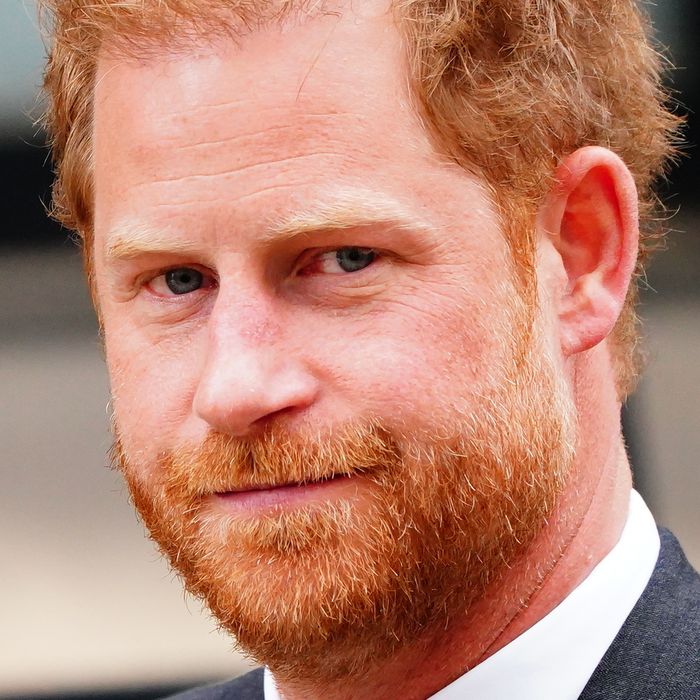 Photo: Victoria Jones/PA Images via Getty Images
On Tuesday, Prince Harry lost his bid to legally challenge the British government's decision to bar him from having police protection while visiting the U.K., even if he covers the costs himself. After the Duke and Duchess of Sussex relinquished their roles as working members of the royal family and moved to California in 2020, the Royal and VIP Executive Committee decided the couple would stop receiving the police protection regularly afforded to senior royals. (The group is made up of officials from the British government, London's Metropolitan Police Service, and the royal household.)
The high court rejected Harry's request for a judicial review of the Home Office's decision to reject his application to pay for police protection when he's in Britain, the New York Times reports. The couple pays for private protection when they are in the U.S. or traveling, but their security guards can't carry guns in Britain and do not have access to U.K. intelligence.
At a hearing last week, Harry's lawyers argued, "RAVEC has exceeded its authority, its power, because it doesn't have the power to make this decision in the first place." They said that there are already provisions in U.K. law allowing private payment for "special police services."
Lawyers for the Home Office countered that it's improper for police officers to be hired as private security for individuals, as a "wealthy person should [not] be permitted to 'buy' protective security."
But high-court justice Martin Chamberlain rejected Harry's argument in his ruling, according to CBS News, writing that the security services the prince is seeking are "different in kind from the police services provided at (for example) sporting or entertainment events, because they involve the deployment of highly trained specialist officers, of whom there are a limited number, and who are required to put themselves in harm's way to protect their principals."
A separate legal case about whether Harry should have his state security restored is ongoing. It is one of half a dozen lawsuits the prince has pending in U.K. courts.
The decision may only widen the gulf between Harry and his family. Last week, a spokesperson for Harry and Meghan said the Sussexes, along with the Duchess's mother, Doria Ragland, were involved in a "near catastrophic car chase at the hands of a ring of highly aggressive paparazzi" in New York. While everyone from New York mayor Eric Adams to the ladies of The View weighed in on the incident (which reminded many of the car case that killed Princess Diana), Buckingham Palace made no official statement on the matter. The Telegraph reports that King Charles "has not made contact with the Duke of Sussex" following the chase either.
Charles was not directly involved in his son's latest legal defeat. But Harry's current court drama has its roots in Sandringham Summit, a January 2020 meeting attended by Queen Elizabeth, Prince William, Charles, and top royal aides to discuss the terms of Harry and Meghan's retreat from royal life.
In Harry's book, Spare, he wrote that he told his family all he really cared about was retaining the same armed police protection he'd had from birth, as his family was now a target of "unprecedented hate."
"I offered to defray the cost of security out of my own pocket. I wasn't sure how I'd do that, but I'd find a way," he wrote. "I made one last pitch: Look. Please. Meg and I don't care about perks, we care about working, serving — and staying alive."
His pitch was ultimately rejected.