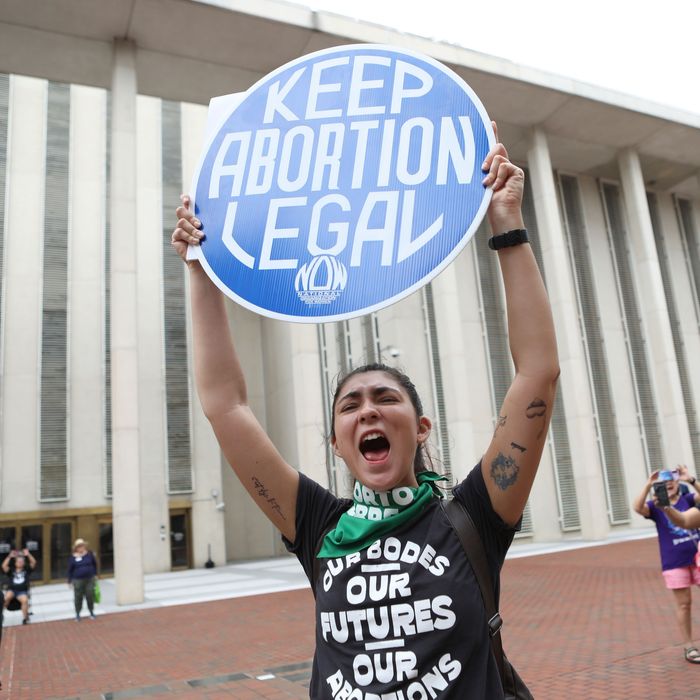 Florida abortion-rights protesters after Republican legislators passed a near-total ban.
Photo: The Washington Post via Getty Images
When Ron DeSantis let Florida's GOP-controlled legislature know he would be happy to replace last year's 15-week abortion ban with a near-total six-week ban, he was taking a calculated risk. A draconian ban would put him in good standing with the very powerful anti-abortion movement (and a closely aligned conservative Evangelical leadership) that awaits unwary presidential candidates entering the Iowa caucus competition like the world's most vicious highway troll.
Yet there were abundant signs that Florida voters were not particularly happy with the 15-week ban, much less one that would all but wipe out abortion rights. A University of North Florida survey taken as the 15-week ban was moving through the legislature early in 2022 showed a 57-34 majority opposing the proposed law. In Florida and nationally, pro-choice sentiment seems to have been galvanized by the U.S. Supreme Court's reversal of Roe v. Wade in June 2022. A Public Religion Research Institute survey around that time showed 64 percent of Floridians wanted to keep abortion legal in "most or all cases." And an early 2023 UNF poll showed an overwhelming 75 percent of Floridians (62 percent "strongly") opposed a six-week abortion ban (though it did describe the law as having no exceptions, while the bill DeSantis signed has difficult-to-obtain exceptions for pregnancies caused by rape or incest).
Having defied public opinion in his state to appeal to national right-wing constituencies, DeSantis could now face some embarrassing, potentially disastrous blowback thanks to the state's provisions allowing citizen-generated ballot initiatives, as Politico explains:
The multi-million-dollar initiative, the details of which were confirmed to POLITICO ahead of an announcement next week, would roll back one of DeSantis' signature policies by allowing abortion until a fetus is viable at about 24 weeks of pregnancy.




Planned Parenthood and its partner organizations intend to spend millions of dollars as they seek to gather roughly 890,000 valid signatures by Feb. 1.
It won't be easy. Aside from the large total number of valid signatures that must be collected to place a constitutional amendment on the ballot in Florida, the signatures must come from at least half of the state's congressional districts. And even if the measure is on the ballot, passage requires a 60 percent supermajority.
Mobilizing pro-choice Floridians may also take a while since both the six-week and 15-week abortion bans are temporarily on hold pending review by the Florida Supreme Court, which has in the past recognized a state constitutional right to an abortion. Thanks to DeSantis's appointments to that court, no one expects it to stand in the way of the new laws, but for the moment, neither has been enforced.
Anti-abortion activists and their Republican allies will naturally move heaven and earth to keep the pro-choice initiative off the 2024 ballot. But denying his own state's voters a say over abortion policy is not a particularly good look for presidential candidate DeSantis, particularly if he makes it to a general election. And even if he somehow keeps his distance from the in-state effort to impose a near-total abortion ban on his people, it will keep the topic alive on the campaign trail. DeSantis already has some tough decisions to make on abortion policy beyond the six-week ban: So far, he has avoided taking a firm position on the national abortion-ban proposals that anti-abortion groups are making into a 2024 litmus test for federal candidates, especially those running for president. Every step he takes in the direction of pleasing the forced-birth crowd is a step away from public opinion in Florida and virtually all the 2024 battleground states.
No matter what happens to the Florida ballot initiative, Democrats will ensure that abortion is a big issue everywhere (and there will likely be pro-choice ballot initiatives elsewhere, particularly in Arizona, Colorado, Maryland, Missouri, Montana, Nevada, New York, and Ohio). But if Florida's abortion-rights effort catches fire and looks likely to succeed, it will be a constant irritant to DeSantis and other Republicans in a state where voters likely didn't think confirming their power in 2022 meant the abolition of reproductive rights.