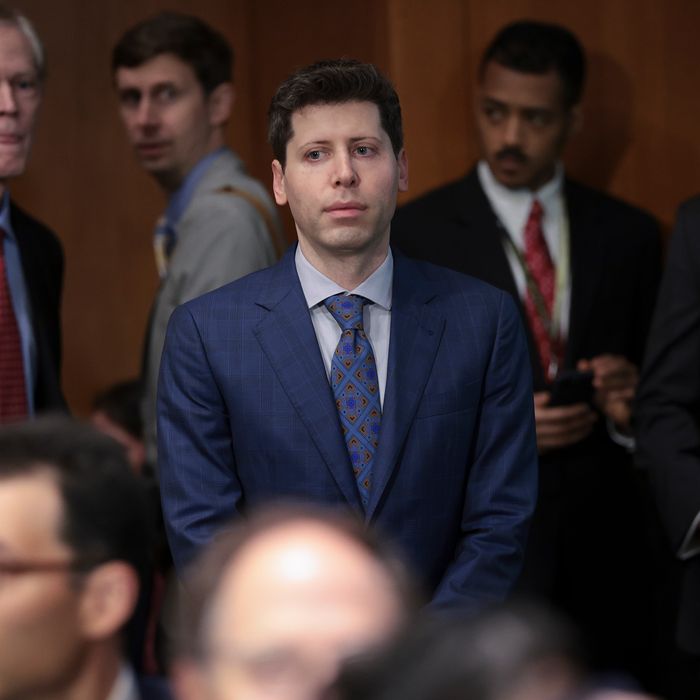 OpenAI CEO Sam Altman.
Photo: Win McNamee/Getty Images
It's rare for a CEO to unveil a new technology and testify before the Senate on that product just five months later, but artificial-intelligence apps are moving at a nearly unprecedented pace since their November debut. To get a handle on the large-language AI models rapidly transforming the internet, the Senate Judiciary Subcommittee on Privacy, Technology and the Law held a hearing with Sam Altman, the CEO of OpenAI, the company behind ChatGPT and GPT-4. Those apps may be better known as the software for writing mediocre college-application essays and for passing the bar exam around the 90th percentile, respectively.
Unlike a recent House hearing with the TikTok CEO in which representatives showed they have no idea how the social-media platform works, the Senate Judiciary subpanel demonstrated a strong understanding of the current capacity of AI models and the threats they could pose involving everything from job automation to the end of humanity. And unlike some CEOs who are resistant to government intervention, Altman claimed to be supportive of regulators' stepping in. Below are highlights from his first congressional appearance, in which he answered questions along with Christina Montgomery, IBM's chief privacy and trust officer, and Gary Marcus, a New York University professor emeritus and writer on AI.
Richard Blumenthal comes out with a ChatGPT impersonator
"Too often, we have seen what has happened when technology outpaces regulation," Senator Blumenthal said to open the hearing. "The unbridled exploitation of personal data, the proliferation of disinformation, and the deepening of societal inequalities." But this wasn't Blumenthal — it was an AI impersonator using computer-generated voice cloning and text produced by GPT-4.
The move was obvious but effective, considering the threat of what the real Blumenthal then called the "looming new industrial revolution" that AI poses. The senator emphasized the importance of the moment to regulate artificial intelligence before it's too late. "Congress failed to meet the moment on social media, and now we have the obligation to do it with AI before the threats become real," he said.
An atom bomb or a printing press?
As the public figures out what the current generation of artificial intelligence can do, lawmakers threw out some heavy-handed metaphors for the technological revolution underway. Ranking member Josh Hawley asked if OpenAI's platforms were more similar to the printing press or the atom bomb. Marcus said the power of the AI models is like a "bull in a china shop." And Blumenthal upgraded that image, suggesting it was more like a "bomb in a china shop."
Altman, for his part, said he believes "this can be a printing-press moment." But he did acknowledge the threat of AI. His worst fear? "That we cause significant harm to the world," he said.
"Regulation of AI is essential"
It's an obvious political play for a CEO to appear before Congress and agree to calls to regulate a transformative new technology. Altman did just that, saying in his opening statement that "regulation of AI is essential." He agreed with Blumenthal's suggestion to add something similar to a nutrition label — a warning that would inform users when they are interacting with AI. Altman also agreed to the idea of a licensing process that would restrict the range of use of AI models. To limit the possibility of a doomsday scenario, he also suggested safety tests to determine if AI was getting to the point where it could "self-replicate" and operate on its own. Marcus went a step further, suggesting a "Cabinet-level organization" would be needed to properly regulate AI.